An optimal layout is just as important in your bedroom as a quality mattress: They can transform a cluttered lair into a dream retreat. Moreover, it's the answer to creating a bedroom that's perfectly suited for you and your home—whether it's a studio apartment requiring a little ingenious styling and bohemian allure or a master suite that serves as a bastion of calm.
With that in mind, we've homed in on a few layouts with furniture and style tips to help you create a divine boudoir that combines form, function, and a sense of restfulness. Check out our illustrated guides for bedroom ideas for your own dreamy oasis below.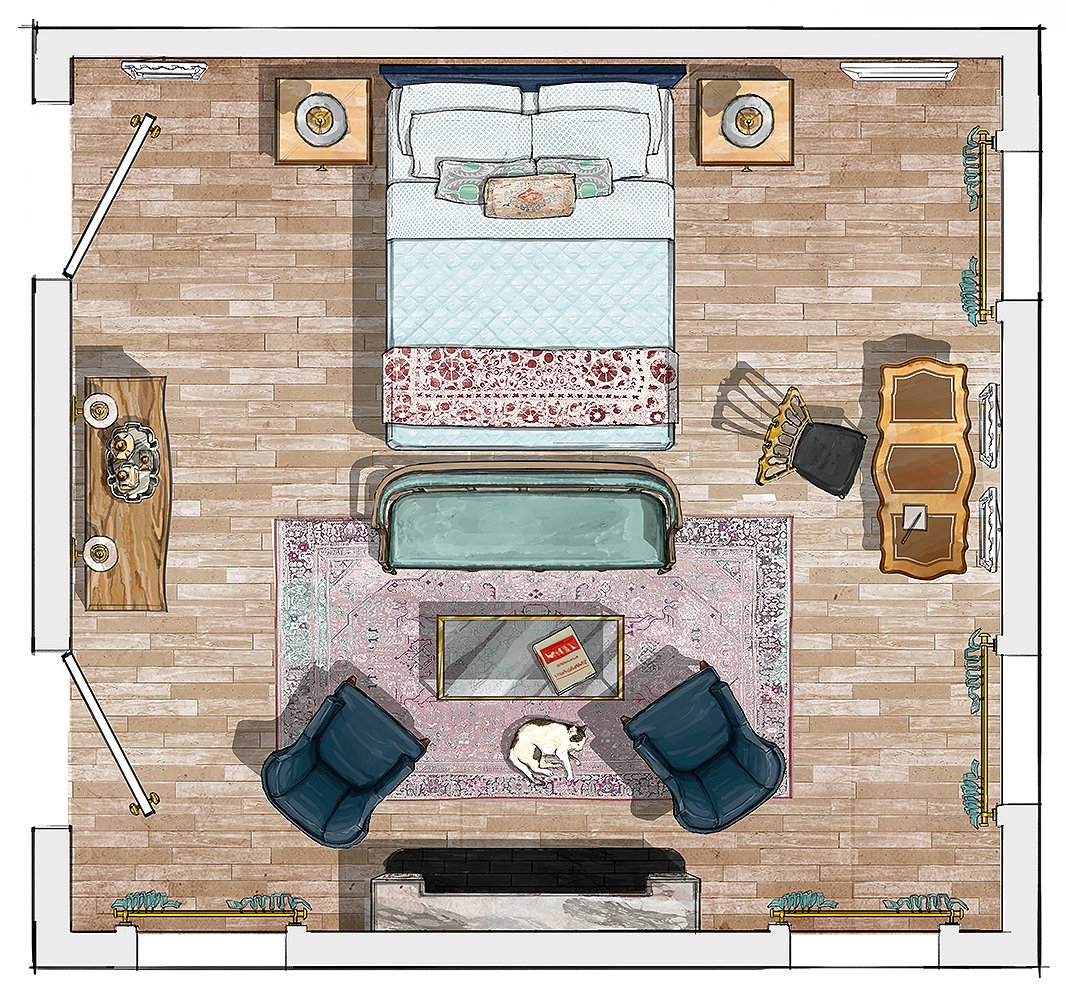 The Grandmaster Suite
---
Room size: 15′ x 17′
Layout tips: If you've got the room, try creating a seating area at the foot of your bed. It's a layout move we've seen in some of the world's best hotels as well as the personal residence of design maverick Mark D. Sikes. It'll transform your bedroom from a pit stop for sleeping into a space you actually want to spend time in.
The anchor pieces: A settee at the end of the bed makes a perfect spot for reading, perusing the web for home decor inspo, or setting down your coat and bag. The key here, though, is scale: You should use your bed as a benchmark. If you have a California king that's 79″ wide, choose a settee that's equal length, or 12″–15″ shorter to allow room for a side table or two. Throw a coffee table into the mix and you'll want at least 15″ of space between it and the edge of your seats—anything less and things will start to feel cramped.
A good place to start: Furniture in classic shapes combined with worldly elements such as embroidered suzani pillows and an Oushak rug make for a look that's Continentally chic. For this room design layout, we were inspired by rooms found in hotels such as the Hôtel Plaza Athénée in Paris.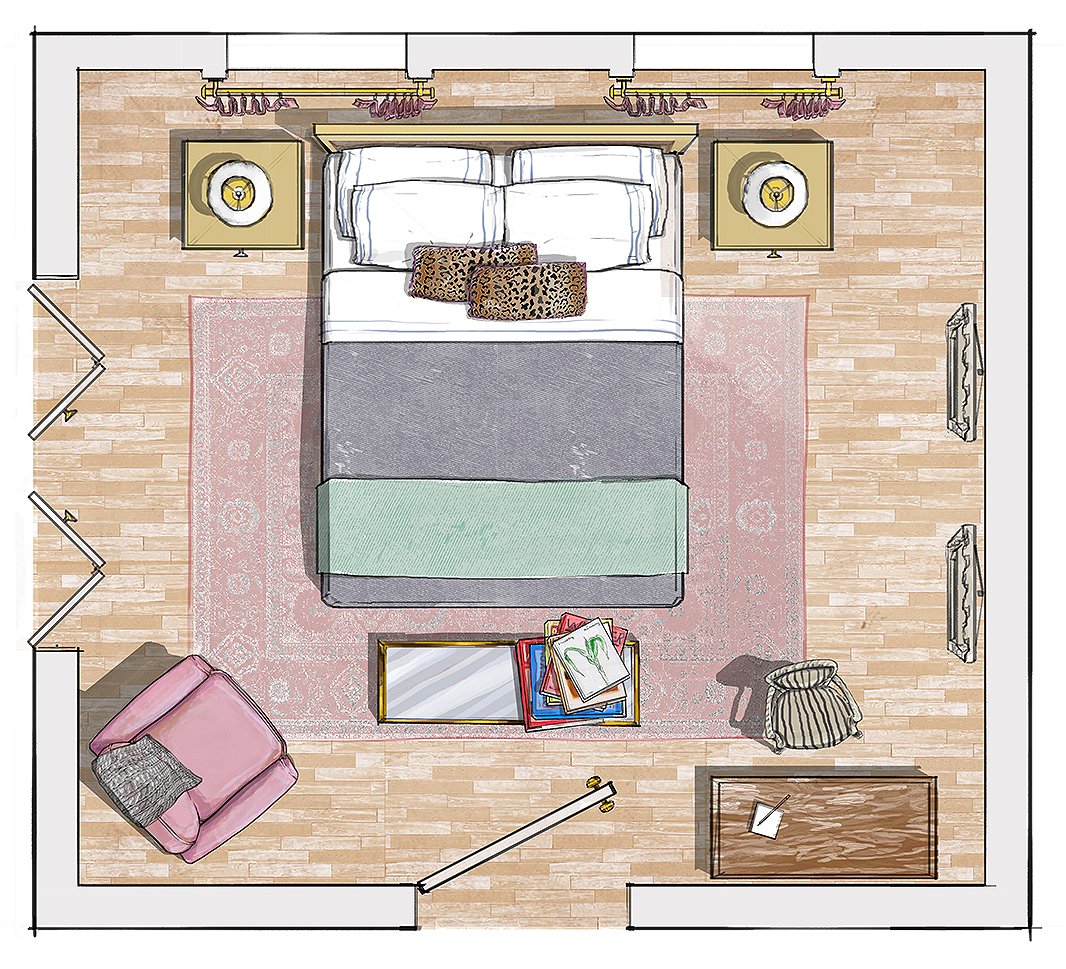 The Luxe "Lily Pad"
---
Room size: 12′ x 11′
Layout tips: You don't need to sacrifice style or function just because you live in a small space. To quote public relations expert Cole Wilson, cramped quarters often operate as "lily pads"—nothing more than spots to rest and catch our breath. All it takes, however, are a few quality pieces to revolutionize your lily pad with a luxe feel.
The anchor pieces: Here, two vignettes flank the bedroom's entrance. On one side, a secretary in lieu of a small dresser provides a spot to catch up on emails up top and enough drawer space to store your go-to knits, T-shirts, and weekday workout gear. Opposite, a wingback chair converts an unused corner into a spot to relax. The key with a small layout is to maximize storage—a slim bench at the tip of your bed and two nightstands with drawer space for socks, belts, and seasonal accessories can easily do the trick. The pro tip? Don't fret if your bed intrudes on your windows; just make sure your headboard sits in front of extra-wide drapes instead of a bare window frame—it'll trick your eye into thinking you have more wall space.
A good place to start: Gather a few fashion-forward elements, such as animal-print pillows and pretty hues (blush, purple, red with black and white), to play up a modern glam aesthetic.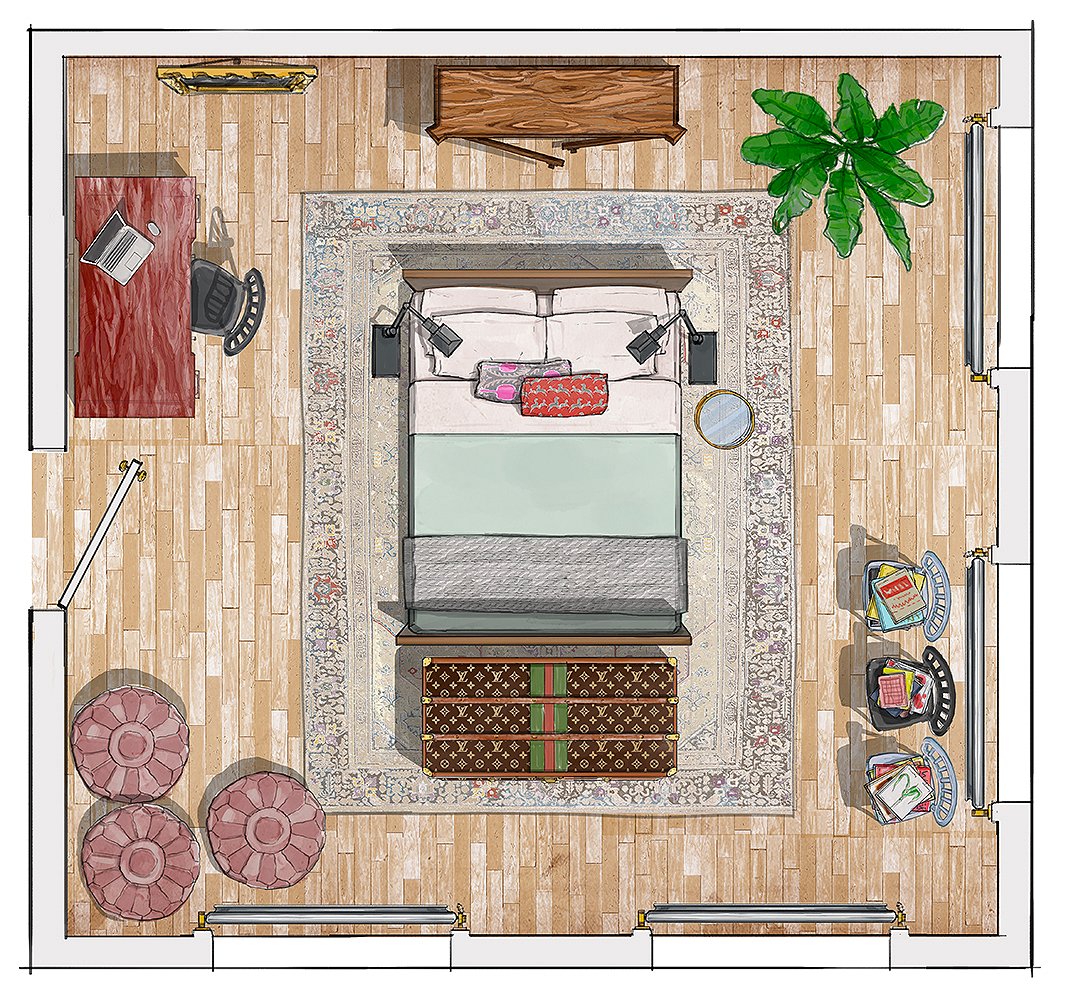 The Nomadic Nest
---
Room size: 18′ x 18′
Layout tips: Floating your bed is a daring move and more easily achievable than you might think. The key to this layout, which is best suited for large, square rooms, is framing the arrangement with an oversize rug. It builds a visual pedestal, making your bed the main point of focus, and lends the room a circular sense of flow.
The anchor pieces: A bed with a statement headboard and footboard or a canopy version makes a captivating centerpiece here. For lighting, opt for practicality with a pair of swing-arm lamps—they take up minimal floor space, play up the loftlike vibe, and allow for versatile light control. When it comes to the cord, run the wires underneath the bed and cover with a conduit to the closest wall outlet. With this setup it's all about getting creative with storage and using pieces in unexpected ways; think a vintage steamer trunk, an armoire in place of a closet, and mismatched chairs for stacks of nighttime reads.
A good place to start: Nomadic living and the loft of interior designer Vicente Wolf were the inspiration for this illustration. Approach this open layout as if the room were your canvas for displaying favorite finds. Aim for uncluttered but personal with global nods and a wanderlust vibe; it's as much a showcase as it is a unique sleep space that's devoted just for you.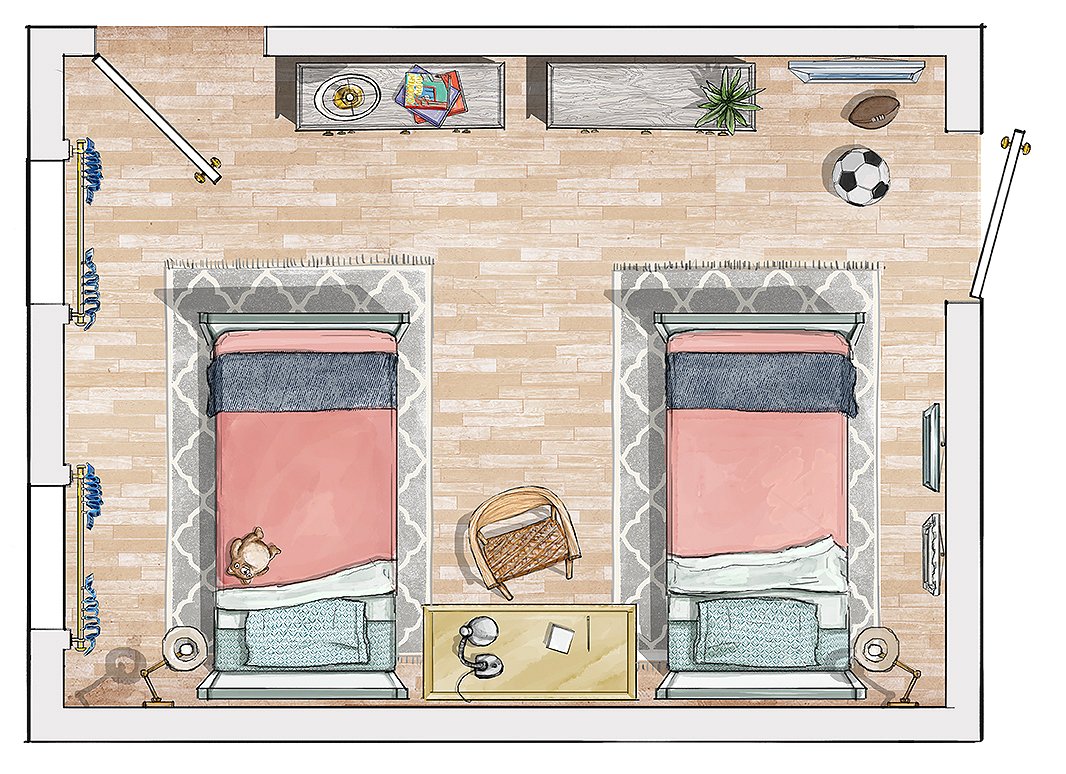 The Transitional Twinset
---
 Room size: 13′ x 12′
Layout tips: For families with children who share a room, creating spatial separation where there is none can be tricky. Boundaries can be set, though, and it starts with twin beds grounded with two separate 6′ x 4′ rugs.
The anchor pieces: Seen above as well as in a guest room of our lake-house makeover, twin beds are a cost-effective solution that gives everyone his or her own sense of personal space. Symmetry reigns here: You'll want to continue the twin theme with two dressers, shorter in width (about 48″) for good visual balance, and swing-arm sconces for lighting that moves. Between the beds, slip in a desk that doubles as a nightstand and further delineates the two sleeping zones.
A good place to start: Given that this is a transitional space you'll likely update over time, it's best to forgo anything superfluous and focus on furniture and basics that'll stand up to daily wear. Where you can get creative is in colors and textiles; preppy, polished, and poppy combine for a no-frills look that's easy to maintain.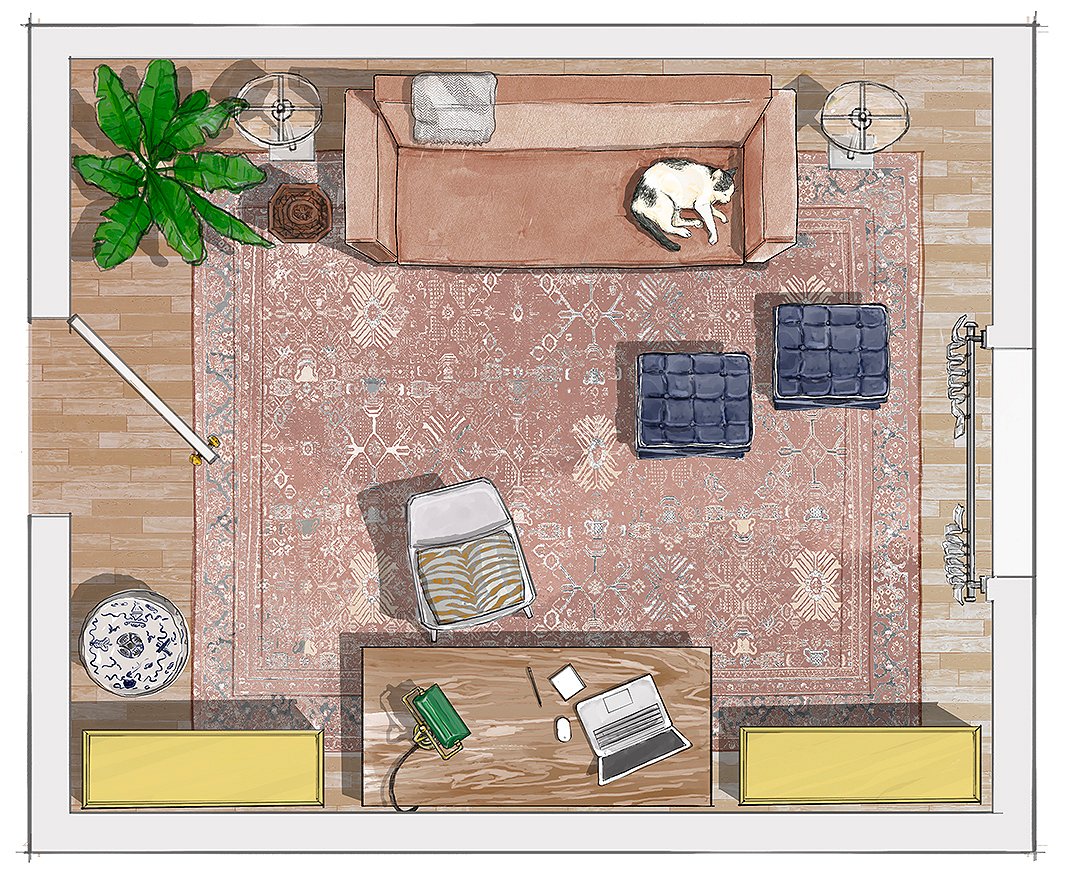 The Double-Duty Den
---
Room size: 12′ x 12′
Layout tips: We've all got that one room that needs to serve more than one purpose, and it usually involves a place for visitors that stay the night. With multipurpose spaces, perhaps the greatest challenge is maintaining a sense of permanence as a space of its own that extends beyond accommodating guests; in other words, you don't want a den that doubles as a guest room to seem as if it can be easily dismantled or feel like little more than temporary digs.
The anchor pieces: A tailored sofa bed is of course vital, and there are now more stylish options than you can imagine. Perfect for dens, nurseries, and at-home offices, it's a high-functioning piece worth investing in. Situate it opposite a desk or media console flanked by bookcases and you've got a configuration that's pleasantly packed. Rule of thumb says that the front legs of any sofa (whether it hides a bed or not) should sit atop your rug, so be sure to get one large enough to apply this rule (6′ x 9′, 8′ x 10′, and 9′ x 12′ are all good sizes to reference.) And instead of a coffee table, consider two ottomans that can easily be maneuvered into nightstands when guests come to stay.
A good place to start: Your sleeper sofa will command the focus of the room, but design with the space with you rather than your guests in mind and let your personality shine. Play up pattern with chinoiserie mixed with zebra, or lay down a rug with Eastern appeal for a far-flung look. A space that's colorful and appealing to you is one that will make guests feel right at home too.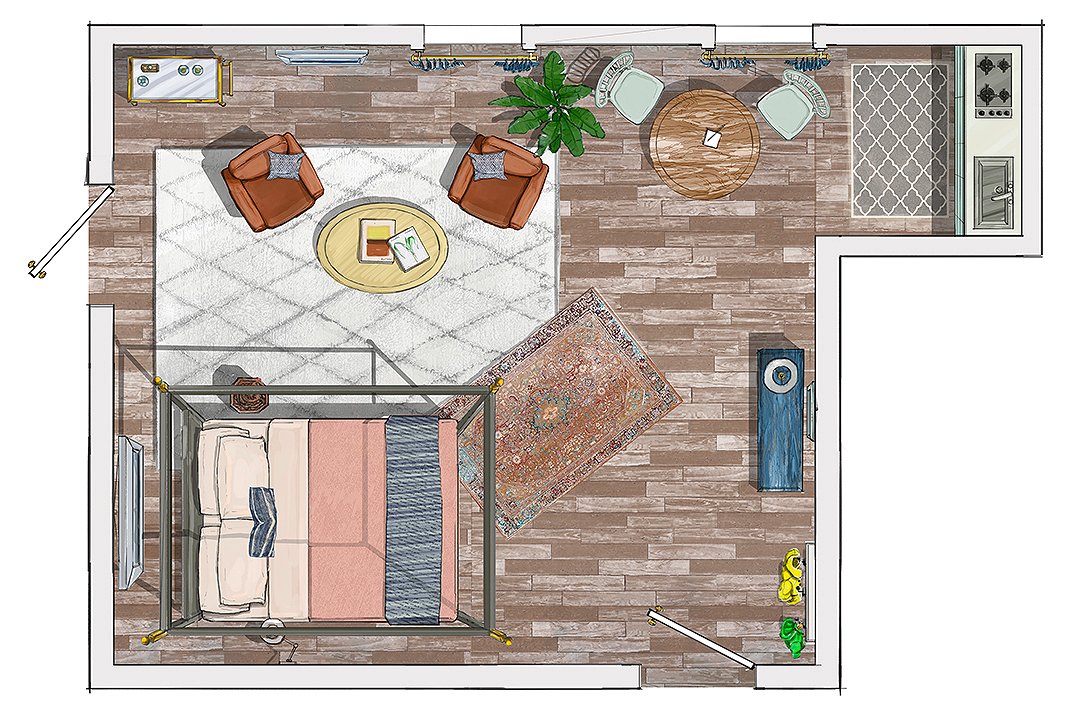 The Boho-Chic Studio
---
Room size: 17′ x 15′
Layout tips: Of all spaces, studio apartments can benefit most from a thoughtful layout, given their often-irregular shape and the need for clever furniture arrangements to make the most of every nook and corner. To begin, you can add architectural interest and spatial definition to your studio with an iron-framed canopy bed. 
The anchor pieces: A canopy bed may not be the first thing that comes to mind when you think about living in one room, but being an architecturally inspired piece, it's an excellent choice if you're looking to define a sleeping area without putting up a wall. Placing it in a corner or an alcove leaves the rest of the space free for play, and incorporating it as part of the main seating area allows it to function more like a daybed when guests are over. Layered rugs can work to visually separate the sleeping area—set one slightly askew to generate a sense of movement as well. For storage, think beyond a console with a bar cart. Easy to move, it's as well suited for holding books, dishes, and small table lamps as it is for stashing booze. As for the dining area, keep it compact, cozy, and close to the kitchen with a 36″ round table (perfect for two). 
A good place to start: For a studio apartment, a layout and a scheme that you can easily change up with ease is paramount. Experiment with color and texture, and curate without perfection in mind. A little bohemian allure is a look that works well with studio apartments.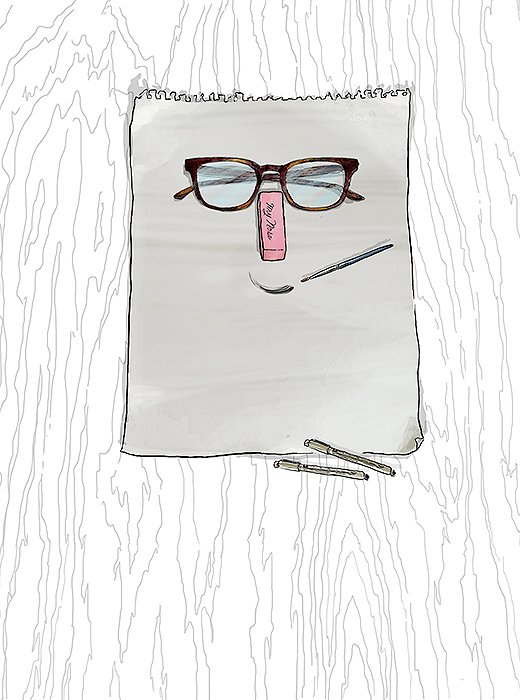 About the illustrator: Jeremy Alan of Brooklyn-based The Ellaphant in the Room paints murals and print illustrations by commission. His commercial work can be found above as well as in New York, Real Simple, and Reader's Digest. Inspired by everyday people, places, and objects, his creations prove our world as one of magic, whimsy, and humor.