Although (or perhaps because) we now look to our smartphones and GPS to navigate the world, the good old-fashioned paper map retains a certain allure. From inspiring new adventures to reminding us of favorite locales to simply providing a dose of worldly character, maps and globes make welcome additions to any space. Check out a few of our favorite ways to display them below—and get inspired to give your home a well-traveled update.
Curate a Collection
With their curved forms and variegated hues, globes function as sculptures—especially when used in multiples. Here, a set of collected globes, all with a rich Old World patina, lends a sense of antique allure to a corner vignette.
The key to making your display feel cohesive rather than cluttered? Choose globes in a limited color palette, such as the warm browns and creams of the pieces above. A variety of sizes and heights will make for the most interesting display, creating a sense of movement and depth that keeps the eye engaged.
Go Big and Bold
A single large map can have major impact, whether neutral in hue or rendered in rich colors, as seen here. We love to display these pieces above a sofa or a console table, alone or flanked by smaller pieces. The key is in the presentation: A handsome frame and an elegant picture light will elevate any map to the level of high art.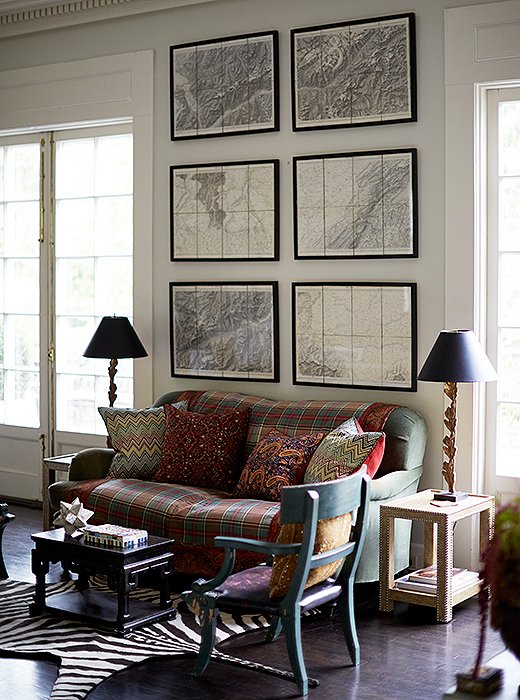 Grid It
Using either one large map divided into framed sections or a series of maps in identical frames, the designer-favorite grid treatment often has a more traditional, formal feel. Yet there are endless ways to customize the look. Here, for instance, classic topographical maps get a graphic update with bold black frames. Paired with a striking zebra rug and crisp black lampshades, the antique maps feel surprisingly modern.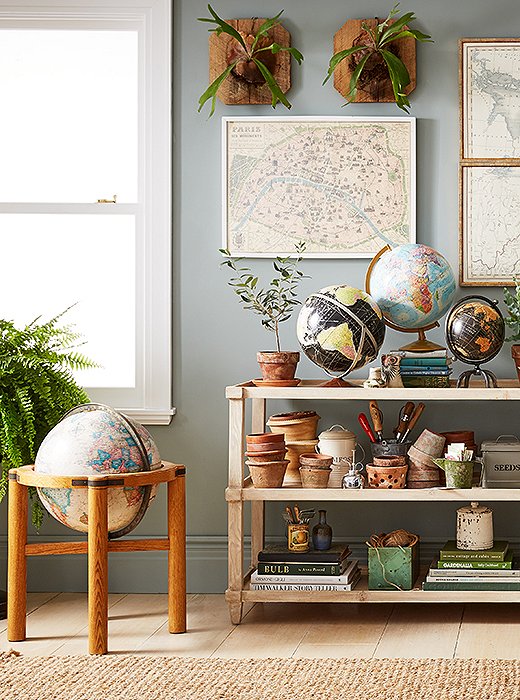 Embrace a Mix
For an eclectic look that speaks to a sense of adventure and curiosity, work both maps and globes into a well-collected display. Amid terracotta pots, stacks of books, and plenty of lush greenery, an assortment of framed maps and colorful globes adds a playful freshness.