Craving a fresh look for your bedroom but not quite ready to invest in a major new piece like a bed or a dresser? Here, we're highlighting three easy tweaks that will give your retreat a completely new feel. Sweet dreams await.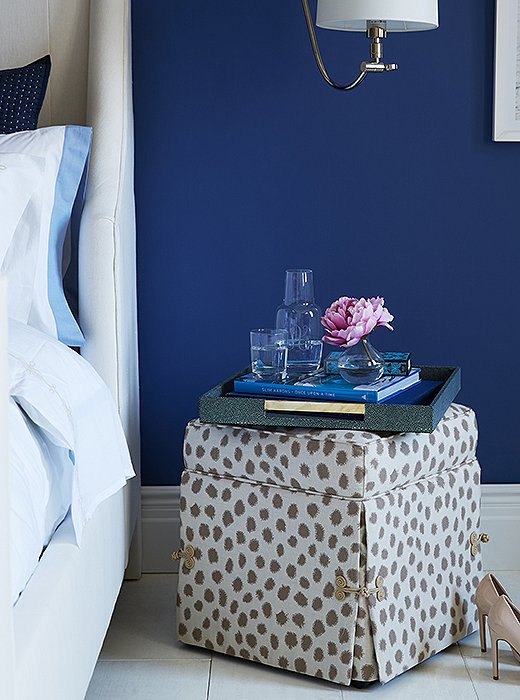 Think Beyond the Bedside Table
For a quick and high-impact refresh, look no further than the bedside. With the addition of a tray, almost anything can be transformed into a beautiful and functional bedside table—try an accent chair, a bar cart, or even a stack of oversize books.
Here we opted for a skirted ottoman in a fun spotted print. The patterned fabric adds a pop of interest to the space that a wood furniture piece couldn't, while the skirt creates a soft and feminine look. To complete the setup, we added a glamorous faux-shagreen tray to corral some bedside essentials: a stack of books, a petite bud vase, and a classic carafe.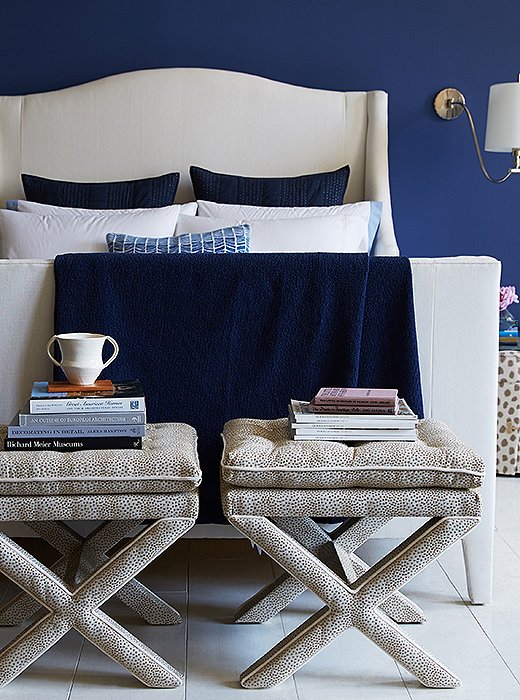 Decorate That Empty Spot
The space at the foot of the bed offers endless design opportunities. So if yours is currently bare, consider adding an accent piece—whether that's a trunk for extra storage, a small settee for lounging, or a bench to provide a place to perch while dressing.
Or go for double the impact with a pair of ottomans. These X-base styles have a graphic punch that instantly dresses up the neutral bed. They're also endlessly versatile, as they can easily be moved around the house wherever an extra seat or surface is needed.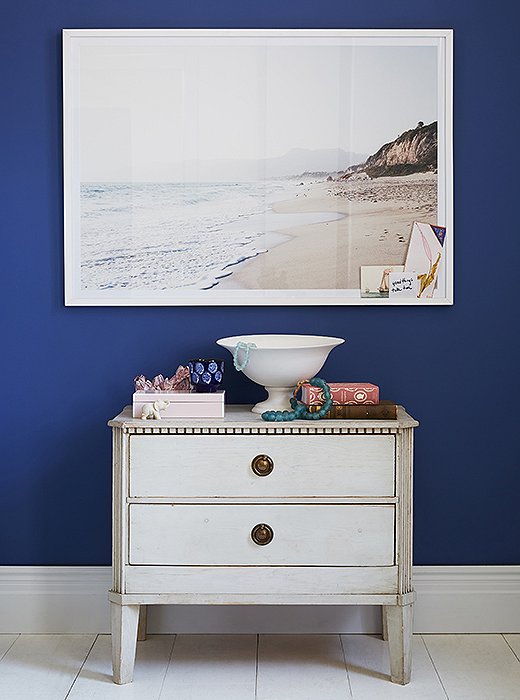 Create a New View
While you can't necessarily switch up the scene outside your bedroom window, you can majorly transform the atmosphere of your space simply by changing the artwork.
To inject a feeling of serenity, there's nothing like a dreamy large-scale photograph. With its soft focus and serene hues, this beach scene is particularly transporting and will help you channel a relaxed, summery state of mind each night—a pretty perfect way to drift off to sleep.