Terrariums can be complicated, but ours is quite easy to make. We wanted to compose a woodland-inspired scene, so we chose ferns and clover—species commonly found in these areas.
We chose an easy-to-access container. A lantern with a hinged door makes it simple to arrange the plants inside. While most terrariums require multiple layers of planting material, we opted to use a bed of moss, which covers the root ball and helps retain moisture naturally. Learn how to create your own little piece of Sherwood Forest below.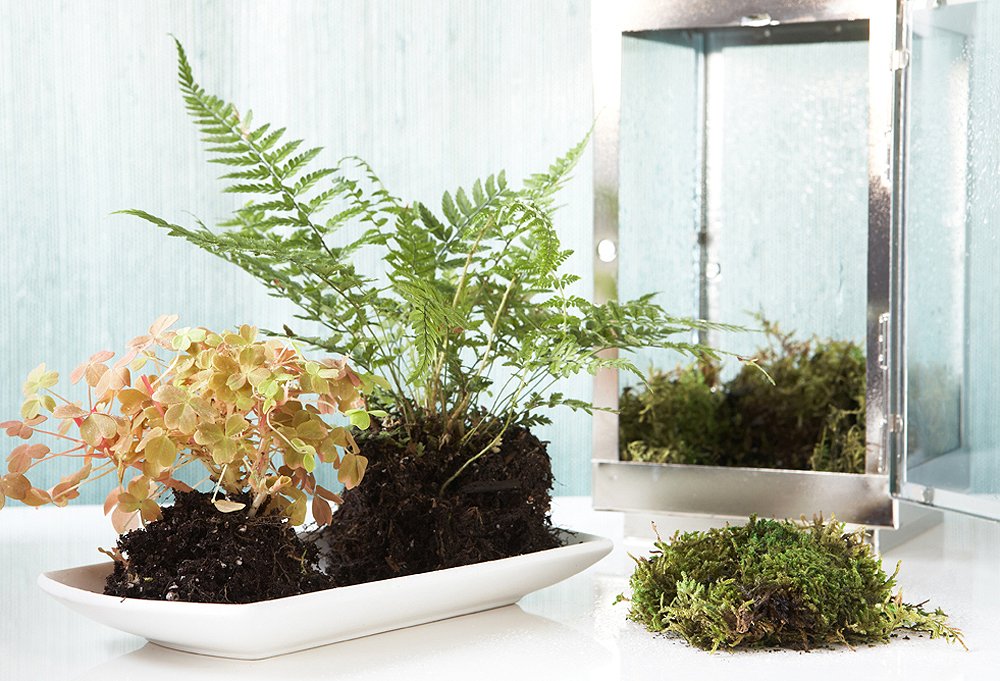 What You'll Need:
An outdoor lantern with glass sides
1 bag of preserved moss
1 young, bird's nest fern
1 sunset velvet oxalis plant (available at local garden centers)
How-To:
1. Cover the bottom of your lantern with a bed of moss about 1 layer deep.
2. Remove plants from their containers, leaving the root ball intact. Place plants inside the lantern on top of the bed of moss; use leftover moss to cover the root balls.
3. Water plants with about ½ cup of water. (Your plants will need about ½-1 cup of water per week).
Tips:
As your arrangement grows, trim the new growth to keep your plants proportional to the lantern. Also remove any brown or dead leaves.
If you notice precipitation on the glass of your terrarium, particularly when it's in full sun, this means the plants are too hot. To remedy, open the lantern door and let in some fresh air.
Sources: preserved moss from amazon.com; bird's nest fern from Logee's
The best part about using a lantern is that you can also hang your terrarium. Cluster several in different sizes for a hanging garden.