Seeking privacy? Need a room divider? Want to hide unsightly storage? Whatever your reason, the folding screen is a time-tested piece of decor that offers beauty and function. And if you're just considering this project for a fun and stylish refresh, know that if you ever tire of the look, the whole thing can easily fold up and be stored away. Scroll down to learn how to make your own show-stopping piece.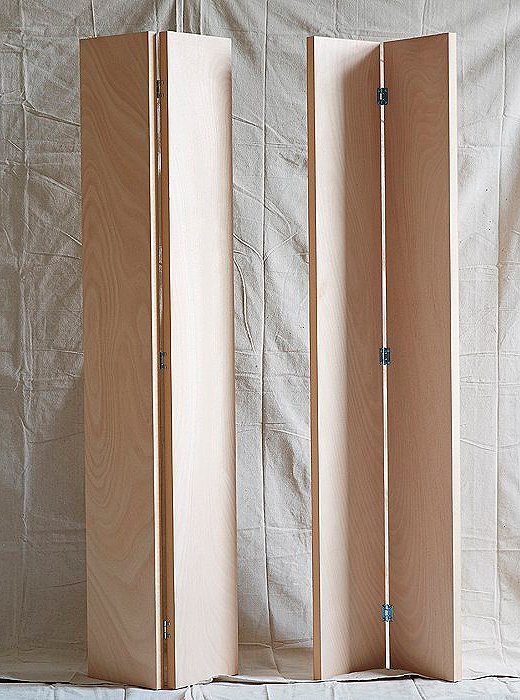 What You'll Need
Simple bi-fold doors from a hardware store
Drop cloth
Two unfinished 24" x 80 ½" two-door bi-fold closet doors
Philips head screwdriver
Small plastic zipper bag
Small wood blocks to raise door panels up from work surface
1" foam brush
1 qt. all-in-one paint & primer in semi-gloss finish
Four rolls or sheets patterned wallpaper (long enough to cover your doors)
Pencil
Cutting mat
Metal ruler
Utility knife
Premixed clear wallpaper glue
Two small paint roller trays
Two small paint rollers
8" plastic smoother
Small plastic bucket
Natural sponge
Adjustable leveling feet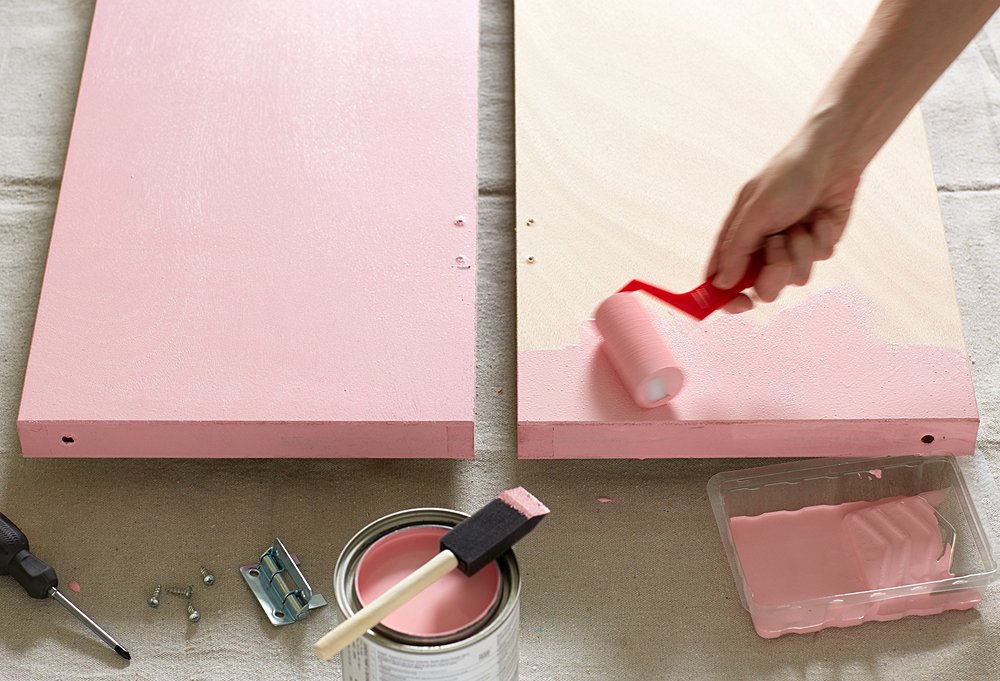 Painting the Doors
Spread out drop cloth over work area.
Lay doors open flat with hinges facing up and remove hinges with Philips head screwdriver and place in zipper bag to reattach later.
Position small wood blocks under door panels to elevate.
Apply paint with 1" foam brush to door edges of door panels.
Fill one roller tray with paint and roll paint on hinge sides of door panels using small paint roller.
Let paint dry completely and apply second coat.
Applying the Wallpaper
Flip doors over to unpainted sides.
Determine order of wallpaper patterns on door panels.
Measure the size of each door panel adding 2" on all sides; mark this measurement on the backs of the wallpapers with a pencil—aligning patterns if necessary.
Cut wallpaper on cutting mat using utility knife and ruler.
Pour premixed clear wallpaper glue into second paint roller tray.
Using second small paint roller to apply glue evenly to the backs of the paper one strip at a time.
Apply the wallpaper to the door panel, smoothing from the center outward using the 8" plastic smoother. Once a piece is applied, you have about 10-15 minutes to perfect its placement.
Wash off excess glue with damp natural sponge, continuing to smooth wallpaper as you wipe.
Neatly trim excess overhang with utility knife.
Reattach hinges in existing locations on painted side of door panels.
Screw in leveling feet to bottom edges of door panels to help protect floors and make your doors stand even.
This is fun way to add a punch of pattern and color without having to commit to a whole wall or room.