One Kings Lane head stylist Andrew Stewart is no stranger to the challenges of decorating—from overseeing photo shoots at our New York offices to revamping a rooftop terrace in Brooklyn. So when he heard that co-founder Susan Feldman's daughter Kim was hitting a decorating roadblock with her new one-bedroom apartment, he immediately offered to help.
"This is my first time living on my own," says Kim, who had been sharing a tiny apartment with a roommate for the past five years. "I have never been one to take any risks when it comes to decorating, and Andrew really pushed me to see things and love things I would have never picked out on my own," she explains. "I really wanted to make the apartment a home that feels very comfortable and welcoming and is a true representation of me," she adds. "I think we accomplished that perfectly."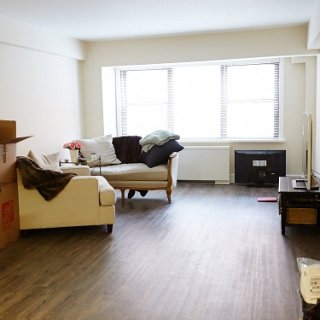 The Living Space Before
"Kim's apartment is long and narrow, so it was important to divide up the space while keeping it light and airy," says Andrew. Aside from the challenging layout, the apartment also had low ceilings and only one source of natural light, which meant that tall bookshelves and big armchairs were immediately ruled out as they would crowd the space and block out the natural light.
"I wanted to make sure it was a good balance of comfort and style for her," adds Andrew. The result? A polished pad that's at once glamorous and functional.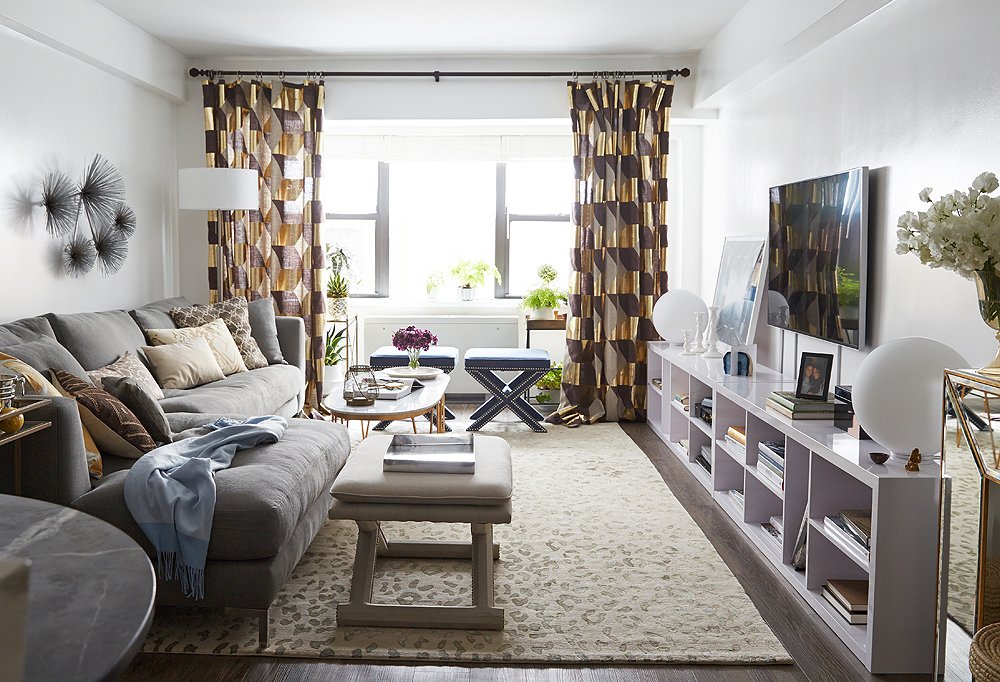 Spacing Out
To tackle the narrow and open floor plan, Andrew chose a large sectional over a more traditional sofa. "It's great for dividing spaces without making a room feel restrictive," he says. "The L-shaped arm almost acts like a wall between the seating area and the rest of the apartment." Plus, it's big on comfort—just what Kim wanted. "It's what makes the living room feel comfortable and welcoming for me," Kim adds. "It's where I spend the most time now."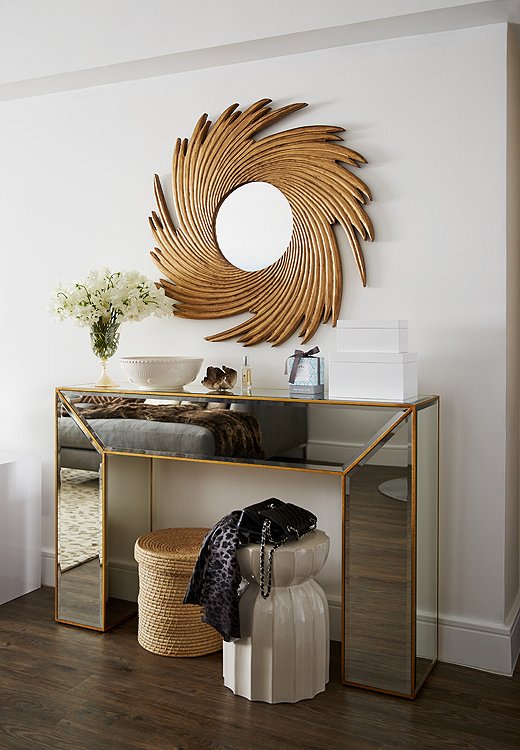 Statement Pieces
A show-stopping entry, anchored by a heavy-set mirrored console and an opulent sunburst mirror, sets the tone in the apartment. "Storage wasn't an issue in the living area so I looked for pieces that felt clean yet bold to really carve out an entry area," Andrew explains. "Because we went with a mirrored console, I chose a mirror where the focus was more on the frame for visual balance. Pairing bold pieces like these together is a great way to set apart any space in an open floor plan."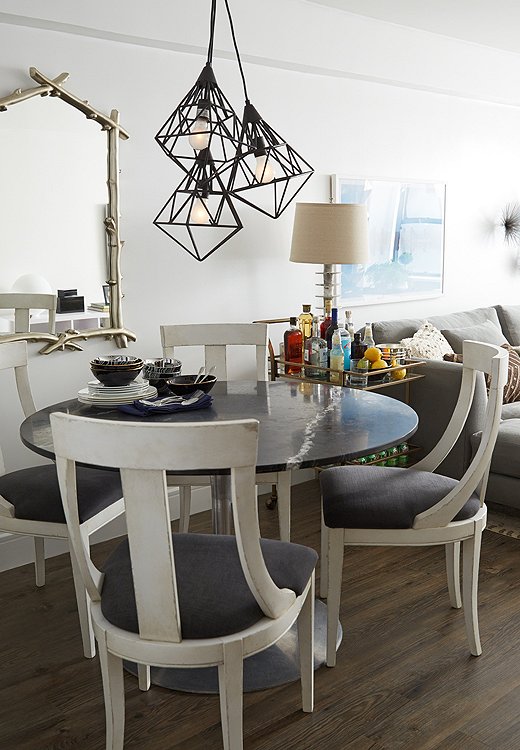 Vintage Cool
The vintage marble table was the furniture piece that everything was built around. The slope-arm chairs (to reiterate the table's round form) and silver-frame mirror (to reflect light and give the illusion of more space) help round out the dining space along with an unexpected cluster pendant. "They're a contemporary, fun juxtaposition to the vintage table, and it's a fun way to mix aesthetics," Andrew says.
But beyond just vintage good looks, Andrew knew the table was perfect for Kim. "I love cooking and always have people over," says Kim, who's finally ready to entertain more at home in her new dining space. "It's her first dining room," adds Andrew. "I wanted her to have a table that's durable and has longevity, and this is a piece that could move with her to other places in the future."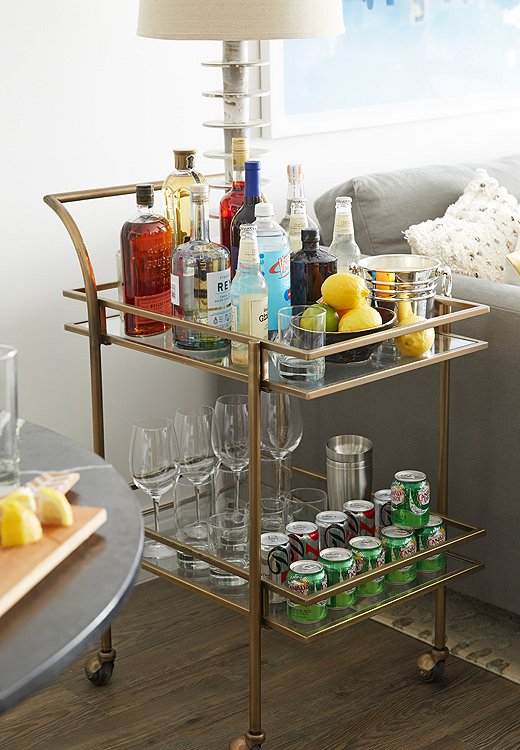 Up the Bar
With little space to spare between the living and dining areas, Andrew opted for a bar cart and had it work double. "We placed a lamp on the cart as a footprint reducer," he explains. "We couldn't put another side table next to the sectional and a floor lamp would've taken up too much space, so it was the best space-saving alternative."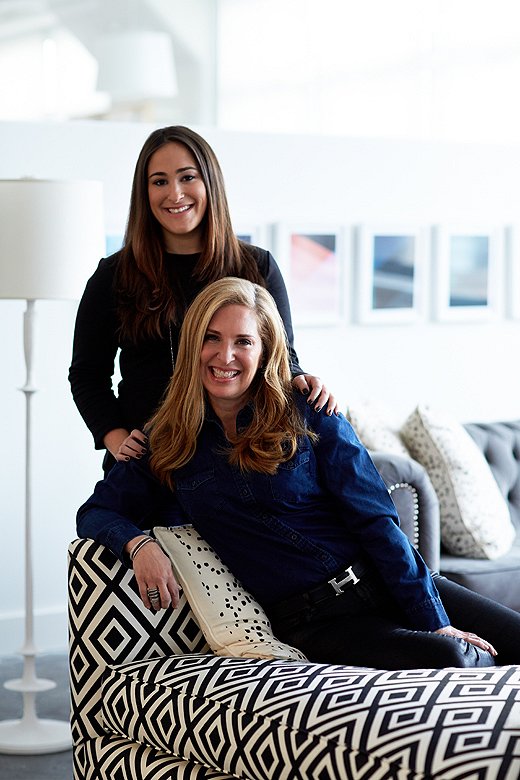 Like Mother, Like Daughter
The leopard rug in the living room was actually the first piece Kim picked out for her apartment. "The first thing I said to Andrew was, 'I must have a leopard rug in the living room'," says Kim.
Unbeknownst to her, Andrew has a soft spot for animal prints. But they weren't the only ones who were wild about the rug. Kim's mom, co-founder Susan Feldman, chimed in with the same idea as well. "I said to Andrew, 'We should do a leopard rug in Kim's living room'," she said. And so it was decided. ("He said 'DONE!'," as Susan recalls.) "It was clear we were all on the same page and big fans of the leopard print," laughs Susan.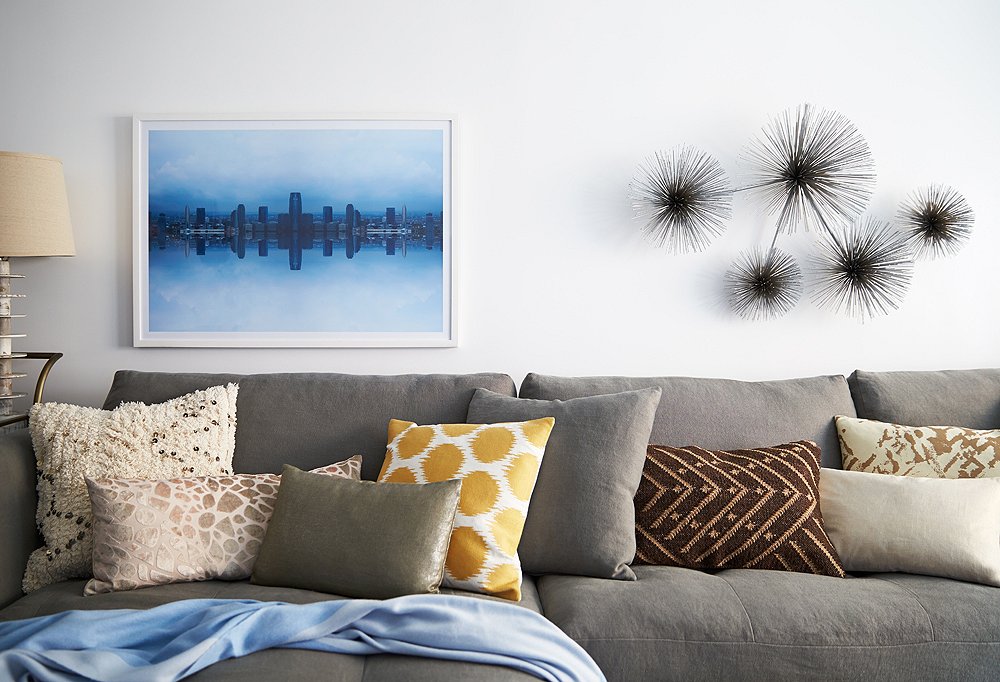 Perfect Pairing
"I didn't want to clutter the walls with a lot of things; it would've made the space feel stuffy," Andrew explains. Instead, he chose only two pieces of art for the large white wall behind the sectional—a photograph and a metal sculpture. "They're similar in scale, so they work really nicely side-by-side to add dimension to the white walls—even if they are different styles of art," he says.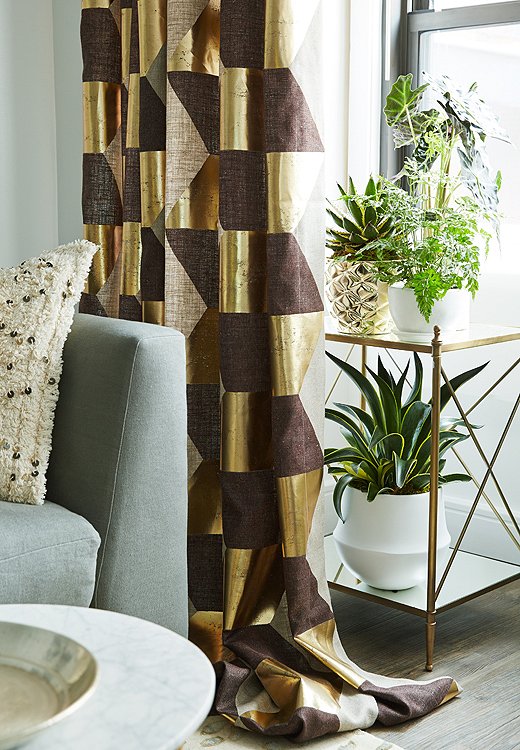 Go with the Flow
In keeping with the glamorous style and notes of gold in the apartment, Andrew brought in a Pierre Frey fabric (Kubus) featuring a geometric print that recalls a classic tumbling block pattern. "It's one of my favorite classic patterns and this one has a contemporary spin to it," says Andrew. "They let in just enough light and we puddled the bottom of the curtains as a way to soften the overall look and feel of the room," he adds.
Art Show
To bring an artful touch to the area surrounding the large flat-screen television on the wall, Andrew leaned a framed photograph as "a nice way to display art without having it compete with what's playing on-screen," he says. To round out the angular shapes of the television, the white art frame, and the low shelving, Andrew layered in a globe light fixture and curvy accents for balance.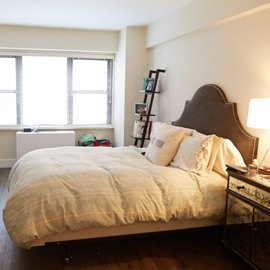 The Bedroom Before
Kim's original bedroom had little storage space and the walls were completely bare, so Andrew made it his goal to make the space comfortable and functional for the everyday. "The bedroom felt a little cold and impersonal," says Andrew. "So I really wanted to warm it up and make it a place that energizes her in the morning."
"Before, my bedroom was very sterile and boring," says Kim. "Now it feels so cozy and warm."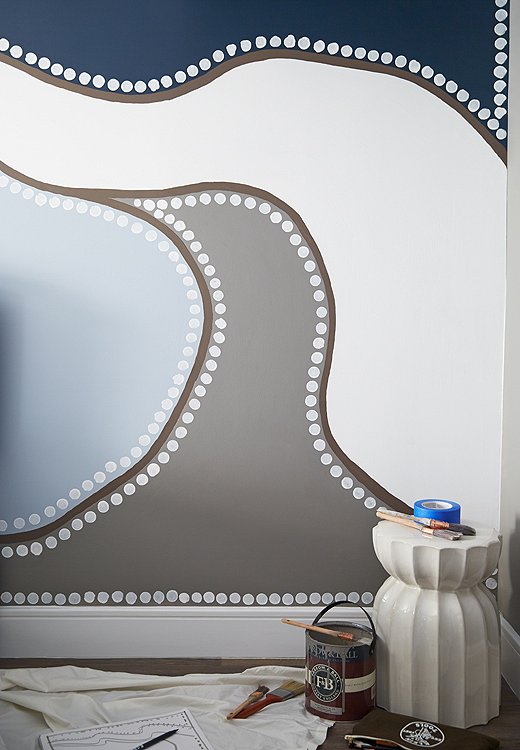 Wonder Wall
Instead of hanging art in the bedroom, Andrew decided to transform an entire wall into a floor-to-ceiling piece of art for visual impact. "The bedroom didn't have a lot of wall space, so my team and I hand-painted the wall with a mural design that's based on contemporary aboriginal art," says Andrew. "We wanted to play with pattern outside of textiles in the bedroom, so this was a fun way to achieve that."
Sweet Dreams
"The dot motif in the wall mural inspired our choice for the nail-studded headboard and the flowering scroll design on the inlaid dressers recall the fluid pattern on the wall," explains Andrew. However, everything else had to stay white—from the headboard to the bedding to the upholstered bed. "We kept the bed all white to temper the overall look and make the bed feel cloud-like and almost ethereal."
I have never been one to take any risks when it comes to decorating, and Andrew really pushed me to see things and love things I would never have picked out on my own.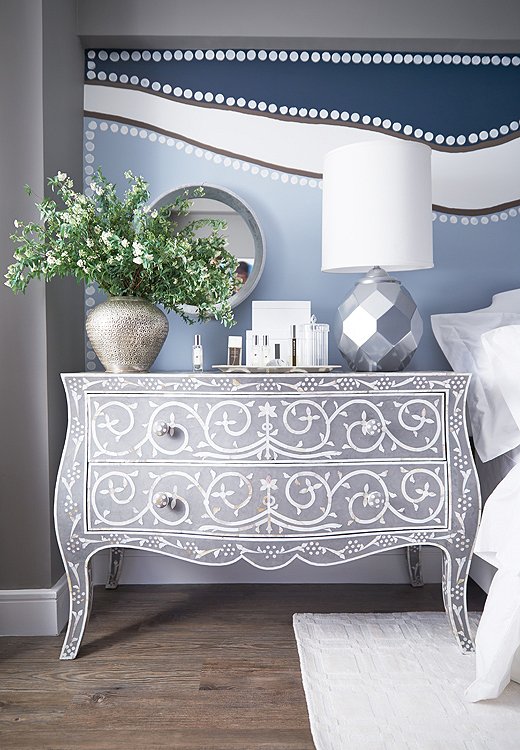 Beauty Spot
While Kim had ample storage in her living space, the bedroom was a different story. "Storage was a big concern for her since she only had one small closet," Andrew recounts. "So we chose a pair of inlaid dressers for both sides of her bed to serve as nightstands and also as storage." And with a bit of ingenious styling—geometric lamps and trays for jewelry and perfume—Andrew turned the dressers' surfaces into instant vanities for Kim as well.