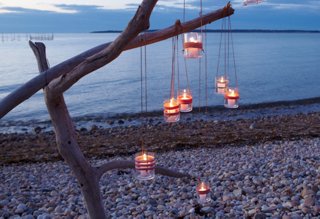 Cast a magical spell over your outdoor space with beautiful lanterns. All you need are glass tumblers, rubber bands, and leather cord.
Lantern How-To
Start with any simple, lightweight juice glass or tumbler. Just make sure you can fit a votive candle inside your glass. The two other materials needed are several lengths of leather cord and a package of multicolored rubber bands from the office-supply store.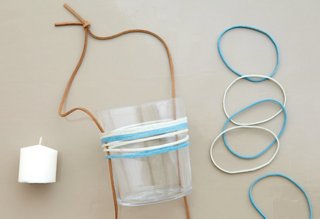 1. Put one rubber band around the glass. Thread a piece of leather cord through the rubber band to hold the strap. Thread a second piece of leather through the opposite side. Tie the two ends of leather together at the top. Make sure you have at least eight inches between the leather knot and top of the glass.
2. Continue adding rubber bands in stripes in the desired color palette. Be sure you have enough rubber bands to hold the leather straps securely in place.
3. After you have completed the striped band, trim and knot the leather ends hanging below the rubber band design on both sides.