Even for the most seasoned decorator, filling a large empty wall—such as the one over a console table or a sideboard—can be daunting. Luckily you've got options. Below, we're breaking down a few of our favorite tried-and-true art arrangements, each one perfect for customizing to suit your space and style. Read on, get inspired, and get ready to give your walls a fresh new look.
A Singular Statement
When your art is this showstopping, it's one and done. An oversize artwork (where the longest side measures 40 inches or more) can stand alone, creating an instant focal point for the room. It will also give everything around it more presence; here, the white sideboard becomes an integral part of the larger vignette.
To hang the work, center it above your piece of furniture, leaving several inches between the bottom edge of the frame and the furniture surface—a few more for a horizontal work, a few less for a vertical piece.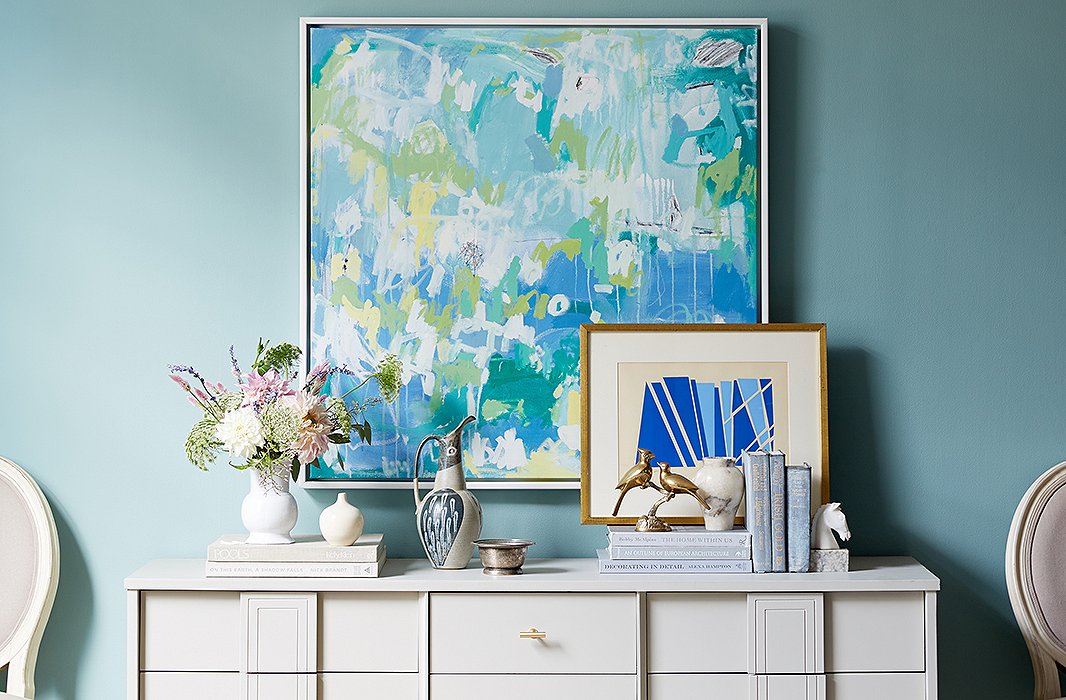 The Layered Lean
For a slightly more laid-back, eclectic look, layer a smaller piece in front of the oversize work by simply leaning it against the frame. This approach is ideal if you like to change up your artwork often; whenever the mood strikes, you can give the arrangement a fresh feel by swapping out just the smaller piece.
As for size, aim for a happy medium: You don't want the smaller piece to feel lost or overshadowed, but you don't want it to cover up too much of the larger work either. A good rule of thumb: Look for a piece that's roughly a quarter of the size of the larger artwork.
Two (or Three) of a Kind
If you love the look of multiples but still want a classic, symmetrical feel, a diptych or a triptych is the way to go. Ready-made sets are guaranteed to look good together, so there's no guesswork—but collections of same-size pieces work great too.
To hang, use a laser level to ensure you've got a straight line, and leave at least two inches between the frames.
Gorgeously Gridded
If your wall calls for oversize art but you don't want to invest in a larger piece, the gridded arrangement is a superchic solve. Hung with the frames touching, a series of prints (matching sizes and frames are key) has the impact and presence of a single oversize work.
What's more, the pattern of the repeated frames can create a pleasingly graphic effect—especially if the frames contrast strongly with the wall.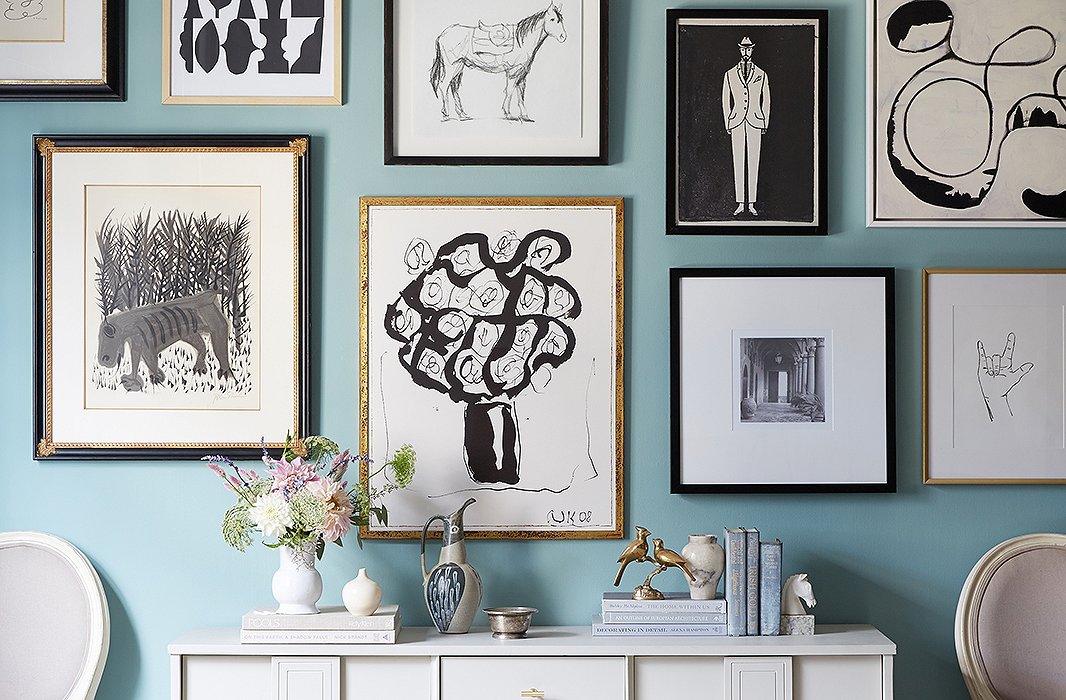 The Grand Gallery Wall
The most eclectic of the bunch, this arrangement takes a bit more strategizing—but the payoff is huge. If you're not confident in your ability to select pieces that complement one another, start with an already-curated collection of artworks. From there, take your largest piece of artwork, placing it off-center, then build the arrangement around it. Be sure to keep at least two inches between the frames, and aim for a visual balance: Space out darker pieces, and mix up the mediums.
It's a good idea to mock up your arrangement on the floor before picking up a hammer. Move things around and experiment until you land on a look you like, then transfer that configuration to the wall. And as a general rule, the bottom edge of the arrangement should be roughly eight inches above your piece of furniture.