Tools: Jigger, shaker, strainer, stirrer, citrus squeezer, muddler, channel knife (if you fancy a twist), bottle opener, wine corkscrew, and ice bucket and tongs.
Serveware: Highball and old-fashioned glasses, wineglasses or tumblers, champagne flutes or coupes, punch bowl, pitcher, decanter, serving tray, and wine bucket.
Booze: Vodka, gin, tequila, rum (both white and dark), bourbon, Scotch, whiskey, vermouth (both sweet and dry), champagne, St-Germain, Campari, orange liqueur (triple sec, Cointreau, curaçao), beer (light and dark), and a red and a white wine.
Mixers: Lemon, lime, orange, and grapefruit juice (fresh, please); different sodas (there's always a rum-and-Coke guy in the house); tonic and soda water; simple syrup; pasteurized egg whites; and bitters (Angostura, Peychaud's, and orange are the three to start with).
Garnishes: Fruit slices, berries, pomegranate seeds (they float!), herb sprigs, crushed ice and ice cubes, and sugar and kosher salt for rimming glasses.
Accessories: Swizzle sticks, straws (paper or sterling silver feel special), umbrellas, coasters, and cocktail napkins.
Required reading: Well, it's not really required so much as strongly suggested, but a cocktail "cookbook"—a bartending bible like The Craft of the Cocktail or a lighthearted recipe roundup like the brand-new Illustrated Guide to Cocktails—will have you mixing, stirring, and shaking your way to cocktail gold in no time.
Cucumber Lemon Cooler
With temperatures rising we took a moment to cool down with lemonade, cucumber, and some chilled vodka, natch.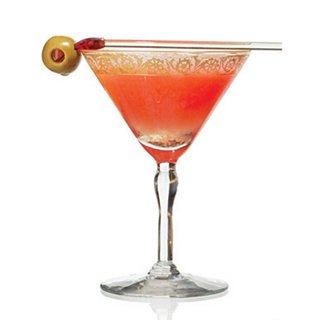 Light and refreshing, not too sweet, and with neither a feminine nor a masculine bent, this summer cocktail is our crowd-pleasing go-to. Aside from its appealing subtlety and thirst-quenching quality, we love that the crispness matches the freshness of summer salads and grilled dishes—just like a cold white wine or rosé. Add a fragrant note with aromatic herb sprigs, and let the summer sipping begin.
Serves 8
Ingredients:

2 cups vodka, chilled
2 cups lemonade, chilled
1 English cucumber, ½ peeled and diced, and ½ sliced into rounds for garnish
1 liter club soda
1 lemon, sliced into rounds for garnish
Herb sprigs for garnish (mint, basil, rosemary, oregano, or other fresh green herbs of your choice)
Puree vodka, lemonade, and diced cucumber in a blender, then strain mixture into a large pitcher. Refrigerate until ready to use.
To serve, pour mixture into ice-filled glasses until ¾ full. Top off each with club soda and allow guests to customize cocktails with cucumber, lemon slices, and herb sprigs.
Tip: Tearing the leaves off herbs releases their oils and fragrance. Encourage guests to do this when garnishing their cocktails for a stronger herbal flavor.
Ready to stock up? Start here: