If there's anyone to jump-start that meditation practice you've been meaning to begin, it's Kelly Morris. With a cultlike status in the worlds of yoga and meditation, Kelly has taught everyone from Russell Simmons to Michelle Williams, not to mention crowds of thousands. These days she does private meditation instruction and coaching in her luminous Brooklyn apartment (and hits her many Instagram followers with daily inspiration).
In case you haven't heard, meditation has gone mainstream. Every new study seems to turn up fresh evidence that it can amp up productivity, lift depression, help us sleep—in short, transform our lives. Meanwhile, apps like Headspace are popping up to help squeeze the age-old Eastern practice into our busy Western lives.
I'd been meaning—for years—to start meditating. I've dabbled a bit: an afternoon workshop in the Costa Rican jungle, an exalted moment on Ojai's Meditation Mount. But I've always heard a regular, unglamorous practice is where the magic happens. My goal was to find something to help me hush daily anxieties and stop stress-eating mochi ice cream. Most of all, I wanted to carve out that time just for me, every day—beyond the occasional pedicure or a postwork glass of pinot noir—and I loved that meditation could be done at home with minimal fuss (and for free). What I needed was a jump-start, which is how I found myself a few weeks ago climbing the stairs to Kelly Morris's apartment.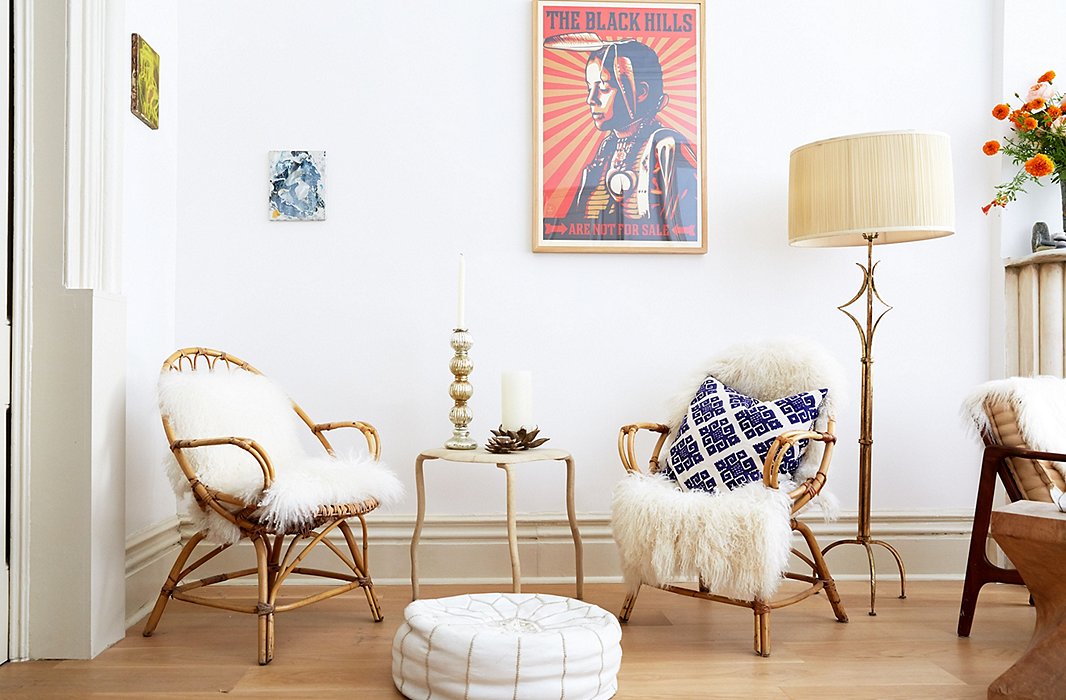 First Impressions
Kelly lives on the parlor floor of a Brooklyn brownstone. As I walked in, the first thing that hit me was classical music—not softly playing but going full-tilt as the afternoon sun streams in and aromatic candles burn. I later realized that this is a good proxy for her meditating style: It's grounded in history but richly sensual and not monkish in the slightest.
As someone who's a tad uncomfortable around too many crystals or other signifiers of New Age-y-ness, I found my fears totally assuaged by her elegant home. It was calm and lovely, dominated by creams and natural woods, with cushy John Robshaw pillows and a pink Otomi blanket. Kelly may help people with their inner worlds, but she grasps the impact of the outer one as well. "You know when you hate a lamp, and then one day you put it in a different spot and think, 'Ahhhh, perfect.' That's what meditation does—it's like feng shui for your mind," she says.
Meditation is like feng shui for your mind.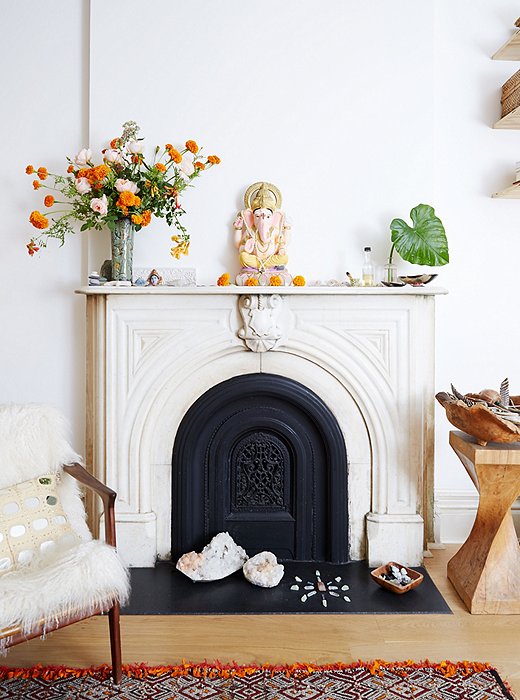 Getting Enlightened
Kelly brings rich context to her teaching: an early childhood spent in Japan, intensive studies with Tibetan Buddhists, training as a shaman, a voracious appetite for studying the ancient texts and making them her own. In casual conversation, she tosses off terms that might make some feel as if they've stumbled into Esalen when they were looking for Elizabeth Arden, but I was there to get enlightened.
As those more schooled in meditation than myself know, there are plenty of ways of doing it—Transcendental Meditation (popularized in the West by the Beatles), Zen (grounded in Buddhism), and many other versions of mindfulness meditation in between. Kelly describes her own style as "a shamanic perspective of self with Buddhist methods of presence." To a layperson, that means it's not on the superstrict end of the spectrum. As she says, "A lot of people think meditation has to feel like sitting in a superclean Zen garden, with all perfect edges. Actually, it can feel like being in a beautiful blooming forest. Or like dipping into the celestial waters of the universe."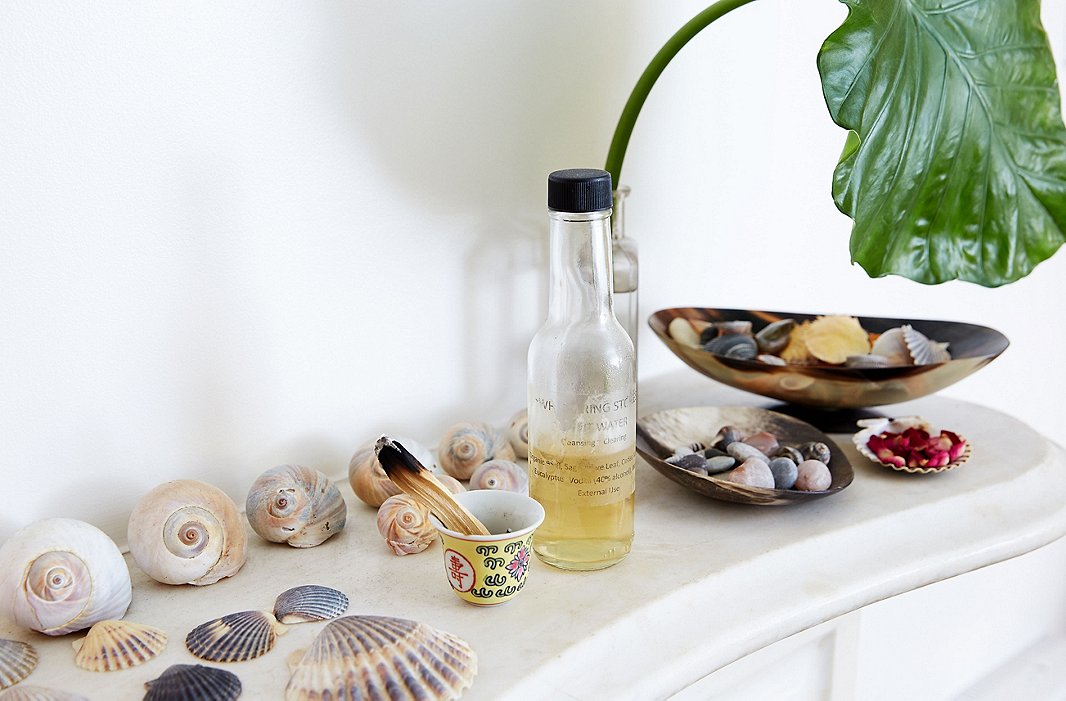 Convincing Any Holdouts
Kelly starts any new client session with some compelling facts about meditation. Here are a few she shared:
It slows aging: Studies have shown that a 36-year-old woman who regularly meditates has the brain of a 23-year-old.
Those who meditate need less sleep: You go into alpha breathing, which is deeper than the rushed, irritable beta breathing we're typically doing—and alpha brings calm, clearer intuition, relaxation.
It encourages self-reliance: "Once you create this extraordinarily still internal world, you stop looking for everyone else's opinion—your shrink, your priest, your bodega guy on a bad day! You start looking to yourself."
Everything looks, feels, tastes better: "Instead of needing two slices of cake, a few bites taste so delicious—because you're finally actually tasting it, you're finally in your body."
Yet even with such motivation, Kelly admits, "It can be so tough to get going. It feels boring, at first, to just watch your breath. And there's no outer glory, no one praising you for waking up at 6 a.m. and sitting there." But, she reassures me, "even beginners go into alpha breathing, which brings relaxation, creativity, and new ideas."
Even beginners go into alpha breathing, which brings relaxation, creativity, and new ideas.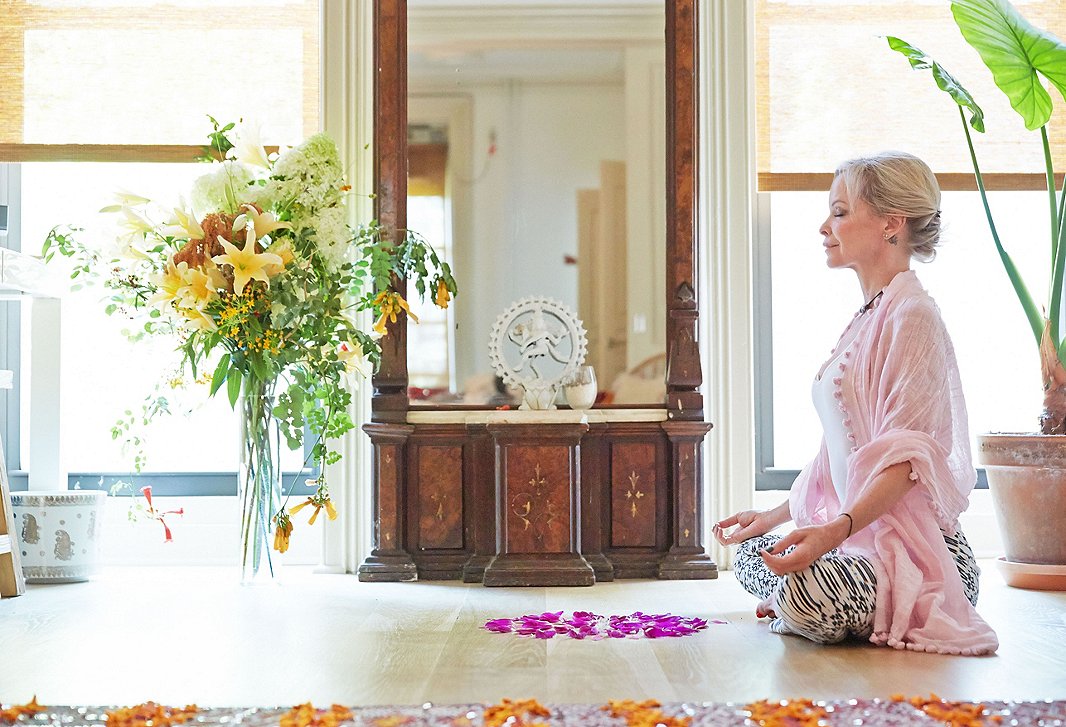 Giving It a Shot
The goal here is simple: trying to stay with your breath. Since our minds constantly zip back and forth from the past to the future—regretting, speculating—the breath, Kelly says, is the best portal into remaining in the present (even for a few seconds at a time). I sat on Kelly's floor as she sat in front of me facing away (as she pointed out, it would feel a little awkward to face one another). Once my eyes were closed, she spoke, transporting me to a slightly elevated but still-real world: "Imagine yourself sitting in a pristine forest, Nordic forest, where the trees are hundreds of years older than you. Feel the trees as they root deep into the earth." She had me at "Nordic."
I felt that if I could just stay softly focused, slightly lifted above my usual thoughts, I could stay there. For 10 minutes, she led me through focusing on visualization, then hearing, then breath. The North Star was mentioned somewhere, and butterflies. It was a still world, but rich.
After thanking Kelly and leaving, I came home and put my son to bed. Reading Goodnight Moon for the 300th time, I found new nuances in that "great green room," and when I was cooking dinner, I felt slower, better, clearer. Was this a meditation high?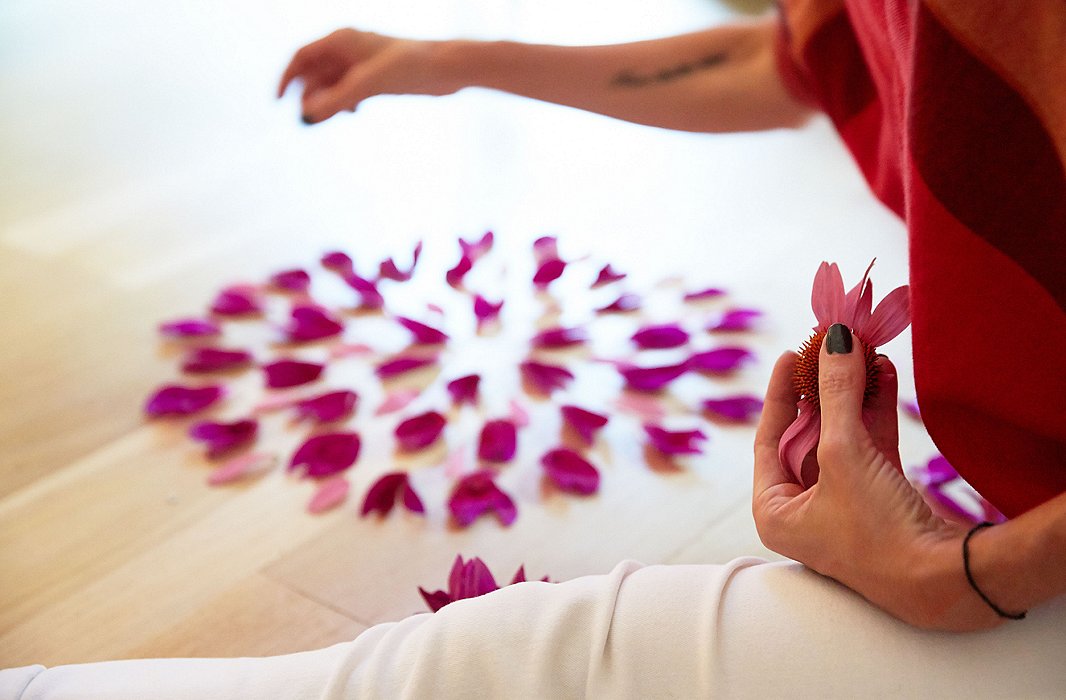 Returning to Reality
I quickly ran into one glitch to the first-thing-in-the-morning meditation plan Kelly and I had discussed: I have a toddler who needs every millimeter of my attention once he's awake, and I consider sleep sacred, so I've never purposely woken up before him. But for the sake of finding that time for myself, I set an alarm for 20 minutes before he usually wakes up.
The first morning after seeing Kelly, I was ready to hit that same suspended-in-the-air feeling. Instead, my mind pinged from the past to the future, more or less like a furious bee. Kelly prepped me for this: "The untrained mind is like a wild horse. You can't try too hard to control it—give it space to run, gently guide it back, and eventually it will wind down." I tried to stay with it, but I did sneak a few peeks at my timer.
I'm now a week in—not long, but longer than I've ever sustained any meditation habit. While the actual sitting can be tough going, I've noticed the rest of the day has been unfolding more easily, more pleasurably, and that bumps feel more manageable. I'd love to know how this goes for you. I haven't dipped into the celestial waters quite yet, but I'll be happy with a Nordic forest and a few butterflies.
Meditation 101
When:
The same time every day, preferably first thing after you wake up. Kelly says, "When you first wake up, you aren't totally keyed into the day and its stresses. You still have some of that innocence of sleep." Don't even check your phone—those texts can wait a few, and you'll have better responses post-meditation.
How:
Without much caffeine, heavy foods, or alcohol running through your system, and wearing clothing that won't make you feel pinched anywhere. Such a pure state is probably easiest to come by first thing in the morning.
Where:
It doesn't really matter, as long as it's pretty quiet—your bed, a corner of the living room, even sitting on a sofa with pillows supporting your back. Most important is that your spine stays straight and perpendicular to the ground "so the chakras can move up" and you don't fall asleep. Also, tuck your chin slightly—for me, that relieves my neck and saves me from feeling like I'm in posture school.
A lot of people think meditation has to feel like sitting in a super-clean Zen garden, with all perfect edges. Actually, it can feel like being in a beautiful blooming forest.