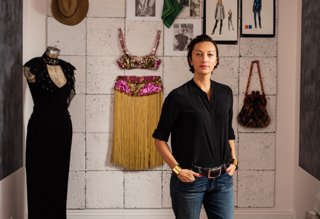 Imagine spending your days dreaming up the wardrobes of fictional characters played by the likes of Reese Witherspoon, Drew Barrymore, Jennifer Aniston, and Ben Affleck. Well, London-native Sophie de Rakoff doesn't have to imagine; it's her job! When we found out she was curating a sale of chic, theatrical finds, we asked to stop by her offices to see how someone with one of the coolest jobs we've ever heard of sets up her work space to maximize creativity.
Sophie set up a mini living room right in the middle of her office, perfect for casual meetings or book browsing.

What was your goal when it came to setting up your office?
"My office is set up to be a teeny tiny library. I have about 1,500 art and photo books that I've collected over the years (and stolen from my husband). Many function as reference materials for projects. They are my passion and my obsession, and are all catalogued and categorized."
How do books fit into your creative process?
"Visual references are a huge part of my process. First comes the script, and then comes the research. I don't sketch, so over the years I have come to start the creative process with found images."
This swatchbook was discovered on eBay, but she's always on the lookout for vintage swatchbooks at flea markets.
How did you first get into costume design?
"I fell into it by accident. When I moved to L.A. I needed a job and worked as a stylist assistant in the music-video heyday. An actress I knew asked me to come and interview for a really tiny indie movie, and I got the job. It was career love at first sight."
What's your favorite thing about your job?
"Being part of a collaborative process."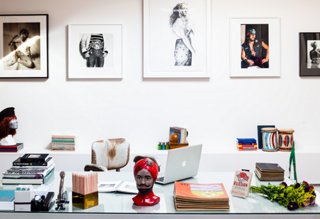 Some of Sophie's extensive art collection, a mix of flea market finds and pieces purchased from artists, adorns the wall behind her desk.
What does your average day look like? 
"It always starts with my husband and my son, and I eventually end up at my office. Mainly it's trying to stay focused on the design process. Research and visualizing the movie come first, followed by designing and building or shopping the actual clothes, then fittings and the hijinks of filming the movie. No day is the same, which is what's so stimulating about the film business."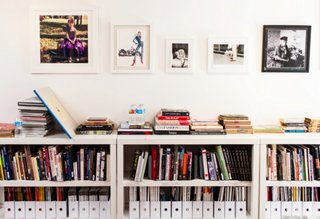 Sophie's collection of reference materials includes a huge archive of magazines.
Was the all-white palette of your office an intention choice?
"It was. I dream of being a minimalist, but it's never going to happen. I knew it would ultimately end up full of books and art, so I tried to start off with as little visual noise as possible."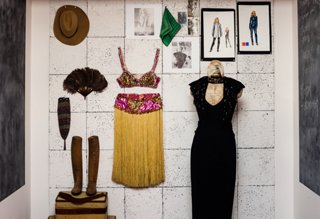 Bookshelves were pulled out to create room for this giant pinboard wall, made of inexpensive cork tiles glued to the wall.
How long have you been collecting vintage costume pieces, and how did the habit start?
"I have been in love with vintage for as long as I can remember. As a child my grandmother would sell antique china once a month at a local antiques fair, and I would spend my day helping her. She would always buy me a little something, sometimes a feather, an old hat, a dusty book. They were all treasures to me."
A few of Sophie's vintage treasures include this beaver-skin top hat and a pair of Victorian opera glasses.
What's the coolest thing you've scored over the years?
"A very rare edition of Arthur Miller's The Misfits, published in 1961."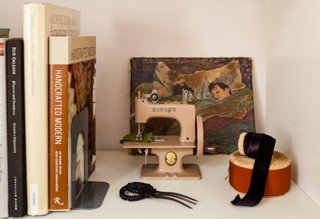 This miniature Singer sewing machine belonged to a dear friend of Sophie's, and the hairpin was a discovery she made while on location in Puerto Rico.
Seeing as how you shop for a living, any secrets or techniques you're willing to spill?
"The Vanves flea market in Paris. Whenever I'm lucky enough to be in Paris I get up super-early and head over there in a taxi with a delicious French roast. I've found some of my favorite pieces there. I prefer to go Sunday, not Saturday, as it is less about clothes and more about objects. My shopping technique is to make a list of all the things I've found and want, and then I circle back to see if I am still excited about them."
(Photography by Nicole LaMotte)