Lucy Sykes has worked in fashion for years—as a stylist, editor, fashion director at Marie Claire magazine; she even launched her own children's clothing line and currently advises friends in the fashion business. This resumé might lead you to believe she's someone who takes il mondo della moda quite seriously, but her debut novel, written with Jo Piazza, makes it clear this is not entirely the case. A modern All About Eve, The Knockoff centers on the trials of the aging editor-in-chief of a fashion magazine whose rule is threatened when her hyperambitious, tech-obsessed millennial assistant stages a workplace coup. The book skewers millennials, bad bosses, and the fashion world's bizarre rituals with equal glee.
This same sense of irreverence and fun is very much in evidence in the loftlike two-bedroom apartment in New York's West Village Lucy shares with her husband, Euan Rellie, and their sons, 11-year old Heathcliff and 8-year-old Titu. The home—bright, stylish, heavily punctuated with color and playful touches—is filled with things she loves yet tough enough to handle the real-world demands of rambunctious kids and imperfect adults.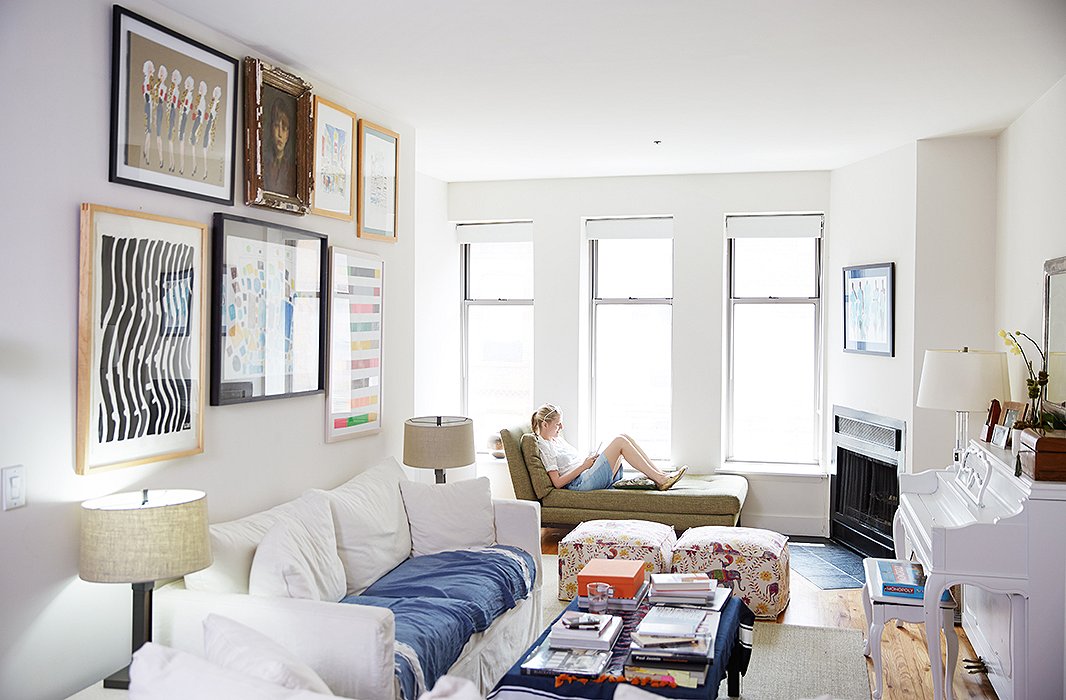 Family and Writing Central
The apartment is the family's weekday workhorse living space; on the weekends they decamp to a house, "a real house," the British-born Lucy says, in the Hamptons. But during the week this is where Lucy writes, which for her often consists of transcribing the writing she does in her head as she walks home from exercising. "I have what I call a mobile, or satellite, office in my apartment, meaning I sit either at my dining room table or my green sofa by the window. I find it really calm and really quiet when my kids aren't there in the day." Then the school day ends, life reenters, and things change. "My boys bring their friends over, and they do their homework and spill popcorn everywhere," Lucy says with quintessential British ease. "It has to be boy-friendly, and that's what it is." Lucy stays away from delicate, high-ticket items—"they'd get ruined by my sons!"—and makes sure what she does buy is durable, replaceable, washable, or all of the above.
If my kids make a mess it doesn't matter, because nothing is super-valuable. It's really a rough-and-tumble apartment.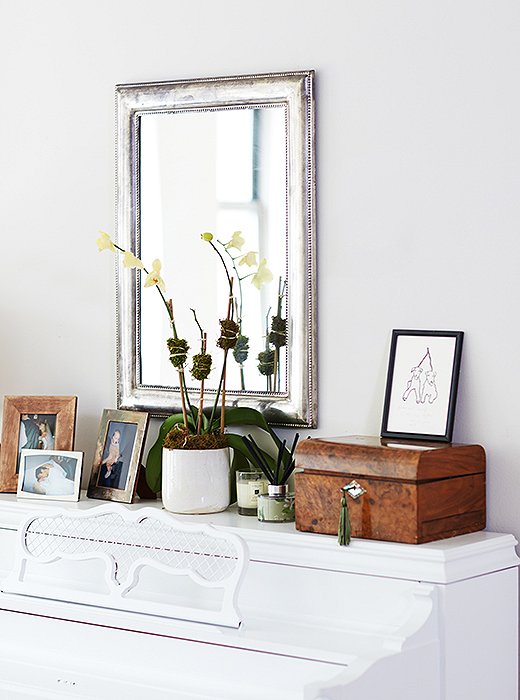 Making It Personal
The apartment may be child-ready, but it's no playpen. It's chic and full of family history. "I wanted to have my personality in here. So it has a little bit of an English feel. It's not exactly boho, but it has a little vintagey-esque old-school feel." Adding to the sense of a loved and lived-in home are sentimental objects including a handful of family photos, a portrait of her father as a child brought back from her home in London (he's the brown-haired boy wearing a red necktie), and atop the piano, an antique burl-wood box given to them by Lucy's mother as a wedding present.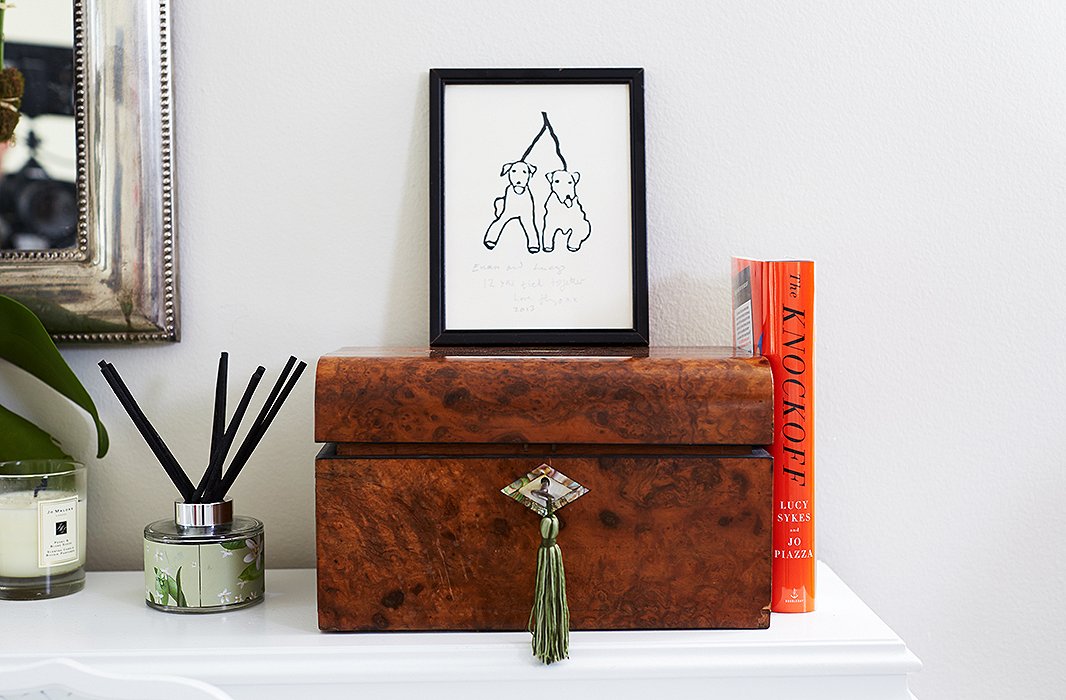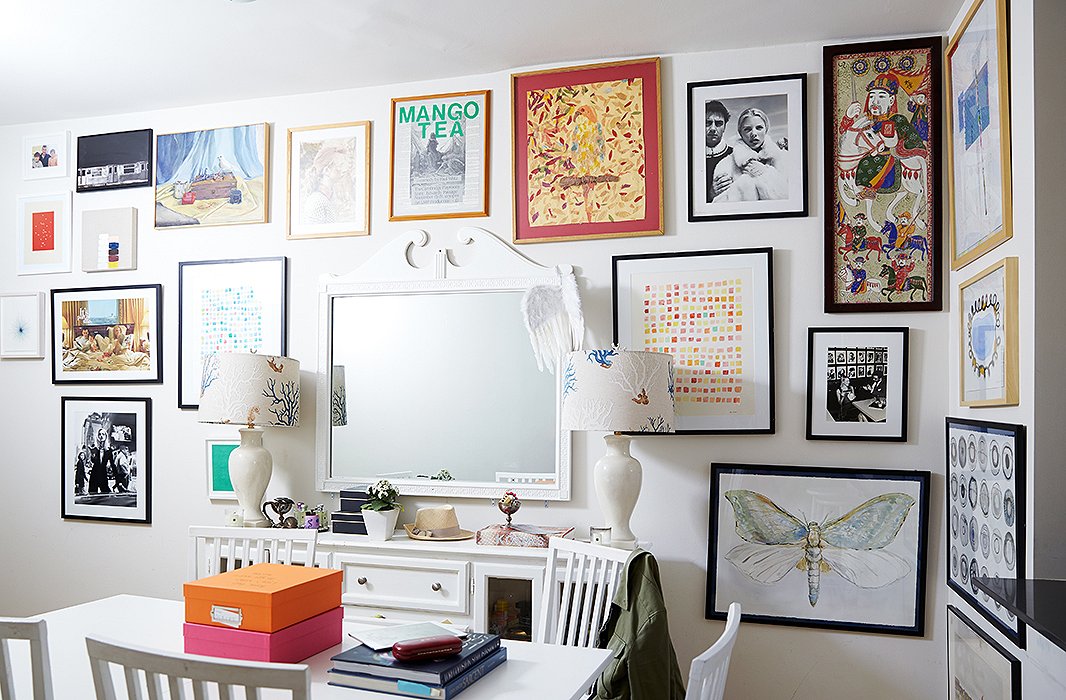 The Perfectly Imperfect Collector
The apartment is energized by multiple salon-style groupings of art mixing photography, prints, oil paintings, and drawings. A couple of works by well-known artists share wall space with flea market finds and hand-me-downs. "In England a lot of people do this: They just have such a great mix, and it doesn't really matter what the paintings are." Lucy happily credits her husband for suggesting they try such an arrangement in their home to showcase the varied assortment of work that attracts them. "It's an emotional thing," says Lucy. "Like if we see something we love, we'll get it, or sometimes they're gifts or they're pieces by friends of ours or artists we're interested in. And it's fun, it's not serious. If it were serious it would be millions of dollars!"
Keeping things white is actually a very simple way to bring things together in not a super-expensive way.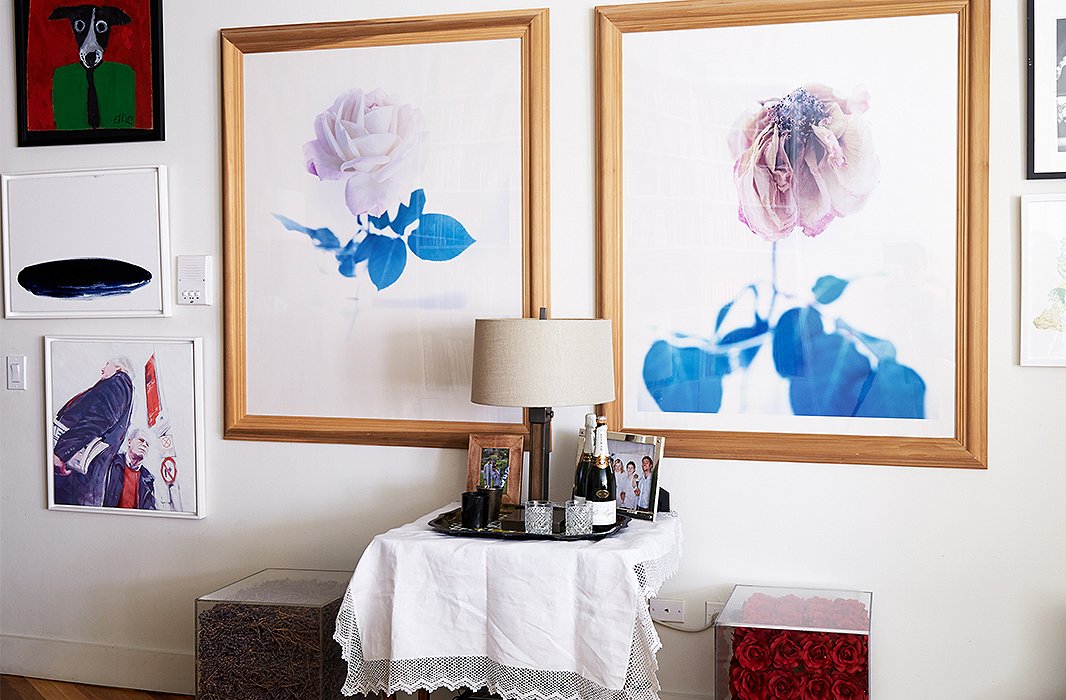 Getting Clever with Textiles
Lucy's decorating decisions are seasoned with a refreshing dose of pragmatism. By draping her coffee table in fabric, was she trying to add texture to the room? Nope. "I didn't like the coffee table," she says. "But my husband bought it, so I had to work it in, if you know what I'm saying." So she covered it in a piece of fabric she'd bought while vacationing in India. (Incidentally, yes, it does add texture and pattern and color to the room, but it also keeps the objectionable coffee table out of sight.)
An 1830s end table that once belonged to her grandmother and has suffered much abuse at the hands of her children ("it's literally been broken five times") is also covered—though not out of distaste. Draped in a vintage lace-trimmed linen tablecloth, given to her by her sister, the table's prettiness, sentimental value, and Britishness are heightened, not hidden.
Lucy Sykes's Current Favorite Reads
The Girl on the Train by Paula Hawkins
Brideshead Revisited by Evelyn Waugh. ("An amazing book," says Lucy. "My grandfather Christopher Sykes wrote his biography and was a good friend of his. Waugh was one of his contemporaries, and Brideshead was inspired by my grandfather and his friends.")
The House of Mirth by Edith Wharton
Me Before You by Jojo Moyes (This best-selling British author is "a huge inspiration," says Lucy.)
The Daughter by Jane Shemilt
The Believers by Zoë Heller
The Circle by Dave Eggers