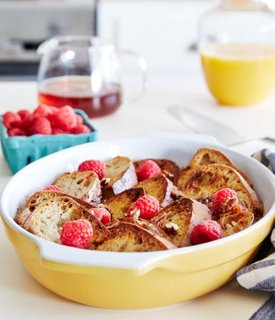 French toast, as classic and delicious as it is, involves a few more steps than we'd like to bother with this Labor Day weekend. Assembled the night before and baked fresh in the morning, our stress-free version of the breakfast comfort food is laden with fragrant cardamom and cinnamon—warm, spicy notes that feel like a big hug.
The rest is up to you. Ripe summer berries, juicy stone fruits, marmalade, chopped nuts, whipped cream… the options are endless. We added raspberries and toasted pecans, served with maple syrup, for an ideal mix of crunchy, slightly tart, and perfectly sweet.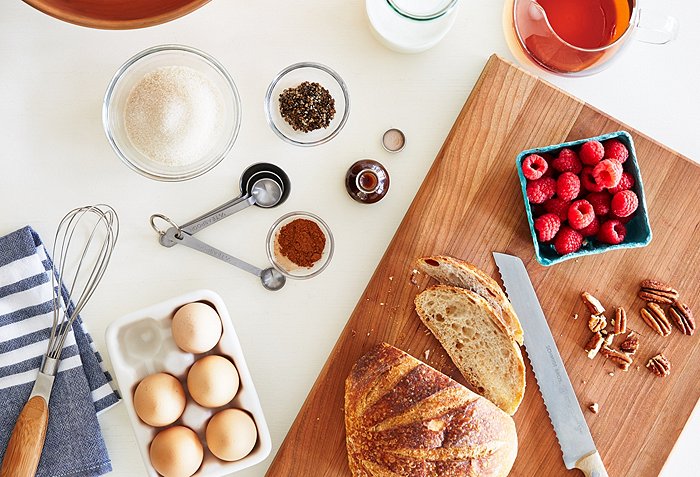 Make-Ahead Spiced French Toast
Serves 4-6
Note: You do not have to make this ahead of time. The entire dish can be assembled and baked at once for crisper results.
Ingredients:
1 loaf of sourdough bread (lightly toasted or day-old bread works best)
2 eggs
2 tablespoons unsalted butter, melted
2 cups whole milk
1/4 cup heavy cream
1 teaspoon vanilla extract
3/4 cup sugar
1 teaspoon cinnamon
1/2 teaspoon crushed cardamom
pinch of salt
1 cup chopped fresh fruit (optional)
1/2 cup nuts, toasted and chopped (optional)
maple syrup, warmed, for serving
1. Slice bread and arrange in a lightly greased baking dish, with pieces slightly overlapping.
2. In a medium bowl, whisk together eggs, melted butter, milk, heavy cream, and vanilla extract. Stir in sugar, cinnamon, cardamom, and salt, until sugar is dissolved.
3. If you're using fruit, scatter it over the bread slices. Pour the custard mixture over the bread and fruit, coating each slice, and refrigerate, covered, overnight.
4. Preheat oven to 350 degrees. If using nuts, scatter them over the top of the French toast. Bake for 50 minutes. Serve hot or at room temperature with maple syrup.
Photography by Eric Masters