The backyard of Mindy Kaling's new Los Angeles home is geared for entertaining. Rows of mature arborvitaes screen a stone terrace, grassy lawn, and swimming pool from the rest of its Hancock Park locale, giving Kaling just the right amount of privacy to live uninhibited en plein air. And since this is her first yard of this size and, dare we say, caliber, she admits she has a bit of work to do in order to fully embrace what she calls "the new Mindy Kaling outdoor lifestyle." Whereas once she merely RSVP'd to poolside fetes, she'll now actually have to throw a few herself. "I can't be this misanthropic comedy writer who doesn't invite people over," she says, "so I'll have to turn a new leaf in terms of how I socialize." And as with any other new lifestyle worth embracing, the first step toward success was new decor.
Cue Katie Ridder, the top-notch interior designer who was enlisted (via Instagram) to get the grounds into tip-top shape. "Knowing things like where the seating area should be and the dining area should be is challenging for me, so I was happy that someone else made those decisions," Kaling says. To avoid bad spatial flow (which any seasoned hostess will tell you is a buzzkill), Ridder created distinct zones for lounging and dining with an assortment of teak furniture and accessories sourced from One Kings Lane. Below, see how it all came together and hear more from Kaling on her poolside plans (Reese Witherspoon, she's expecting you).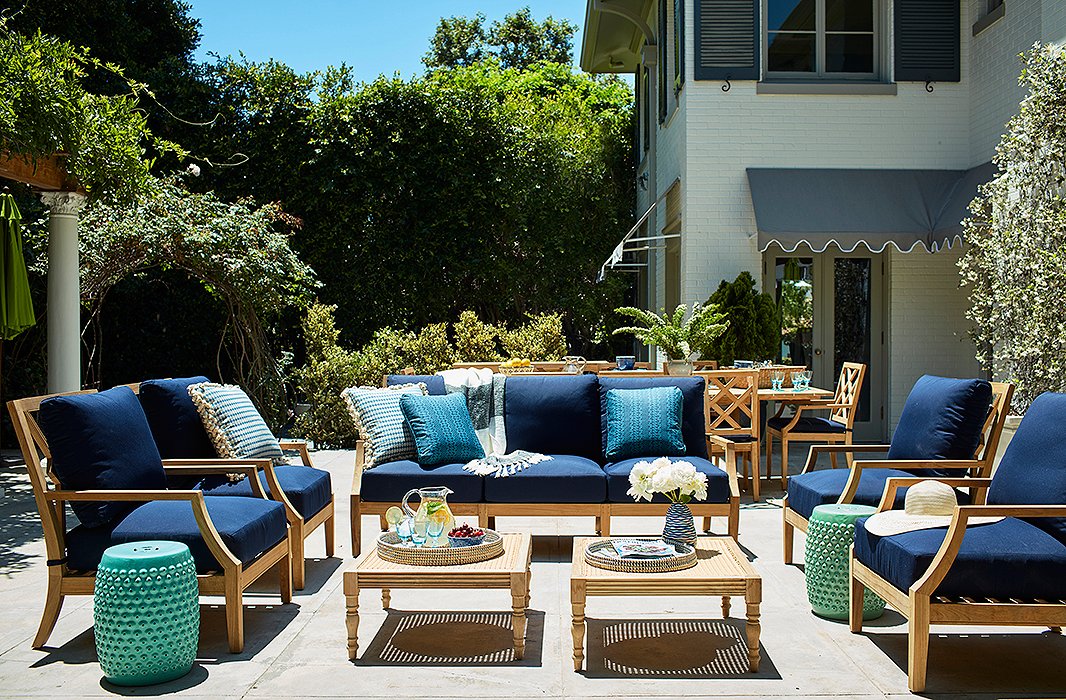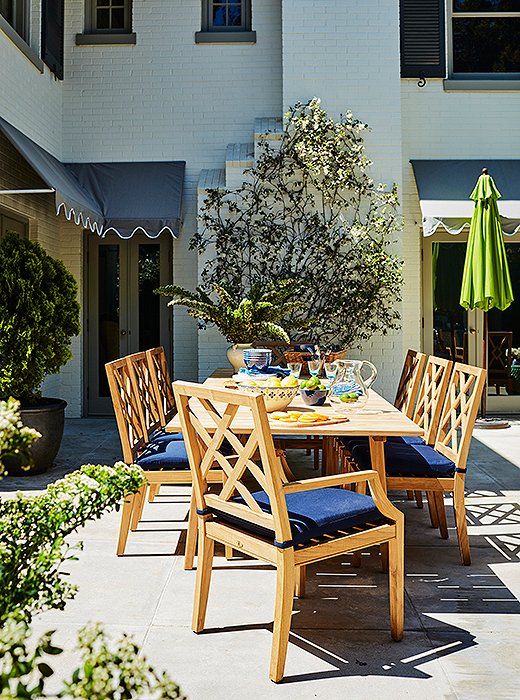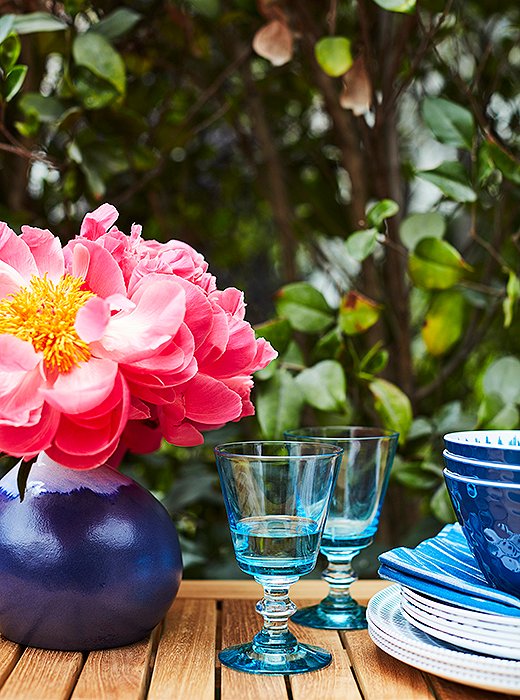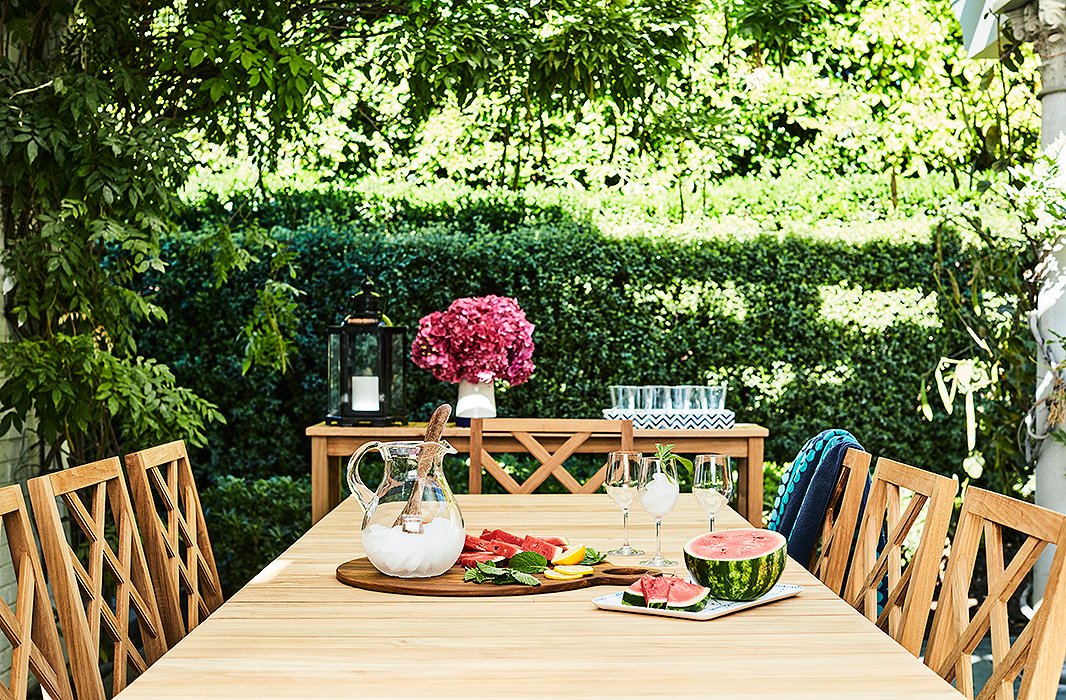 On the difference between her L.A. home and her Manhattan apartment:
"In my New York apartment I have a cleaner aesthetic—cream as the base with pops of color, which is typically what people do in L.A. And my L.A. home is just full of color and really gilded inside and out, so I kind of swapped coasts. In New York I needed to have a more sophisticated feel, which I think the apartment reflects, but out here, my style is more maximalist and full of colors and prints."
On working with Katie Ridder:
"Katie and I met through me stalking her on Instagram. Initially I was looking for an L.A.-based designer, but I kept going back to her feed, even though I knew she was based in New York. There was just something about the way she used color and scale in her homes. They're formal but also very welcoming at the same time. And the best thing about the process was not having to do it myself but instead having this incredibly talented artist show me things and then letting me decide what to buy. It was fun… like shopping, but without having to leave my house."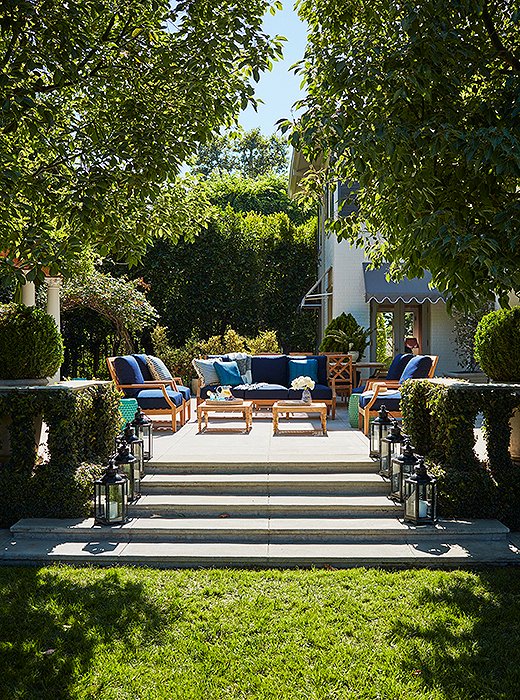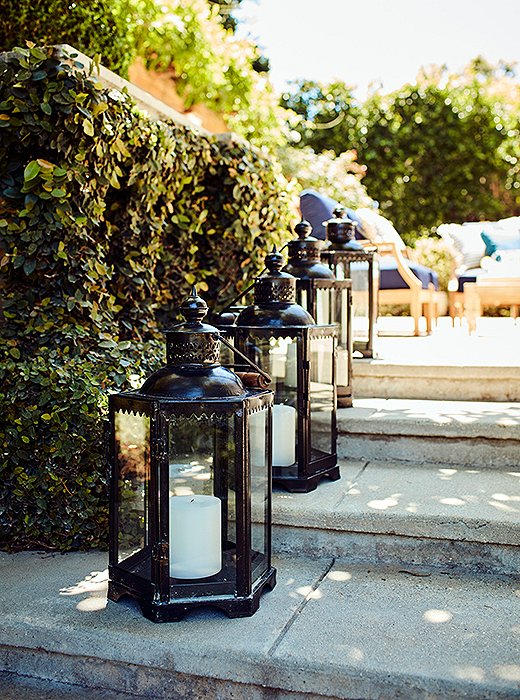 Mindy's Dream Guests
Reese Witherspoon: "She would be a great pool-party guest. Her entire Draper James line is basically made for being by the pool, she's really fun, and she could drink margaritas with me."
John Legend and Chrissy Teigen: "Maybe John would play music, and Chrissy could cook something from her Cravings cookbook… and let's be honest, she looks great in a bathing suit." 
I need to learn how to barbecue, swim better, and play croquet... those are just a few upcoming challenges for me in this new Mindy Kaling outdoor lifestyle I've decided to adopt.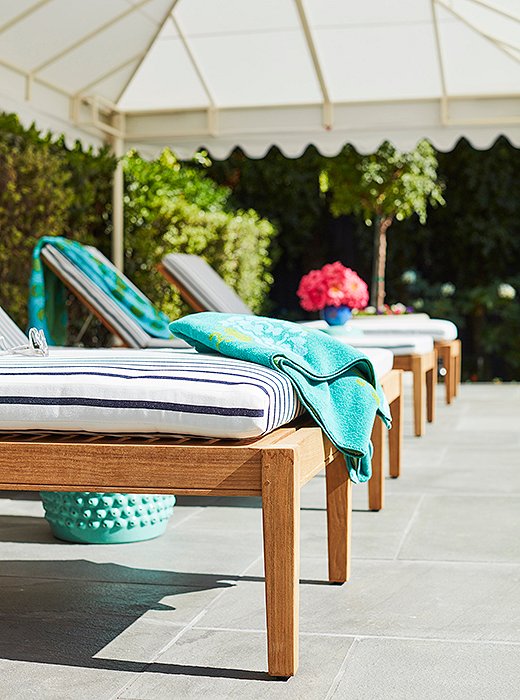 I wanted the house to be a reflection of my personality and for people to feel relaxed while they're here... to eat a lot, and drink a lot, and pass out if they need to.