Clean lines, sleek surfaces, sculptural forms… There's a lot to love about contemporary furnishings, but they can come with a serious intimidation factor—especially if you naturally gravitate to more-traditional pieces. Here, we've rounded up some of our favorite classic-meets-contemporary spaces from the stylish homes we've toured. Let them inspire you to embrace a modern moment of your own.
In the Living Room
A touch of modern edge can make a classically beautiful room that much more compelling. Here, in a space grounded in traditional style (a velvet sofa, an elegant rug, framed antique prints), the modern side table is a bit of a wild card. But its clean lines, crisp white top, and gleaming brass base add welcome freshness to the scene—making everything around it shine that much more.
In the Dining Room
For a formal dining space or even a casual breakfast nook, a sculptural modern table can be a gorgeous focal point. Pair it with a set of traditional dining chairs (such as the bistro style here) and a glitzy chandelier for an ideal blend of classic and contemporary.
In a Gallery Wall
Many of our favorite gallery walls incorporate an eclectic mix of old and new—a sure way to make an arrangement feel less like a museum display and more like a reflection of your personal style. Here, two bold abstract paintings add energy to a collection of classic works, including a gestural figure drawing and watercolor landscapes. A shared palette of muted blues, browns, and greens ensures a cohesive look.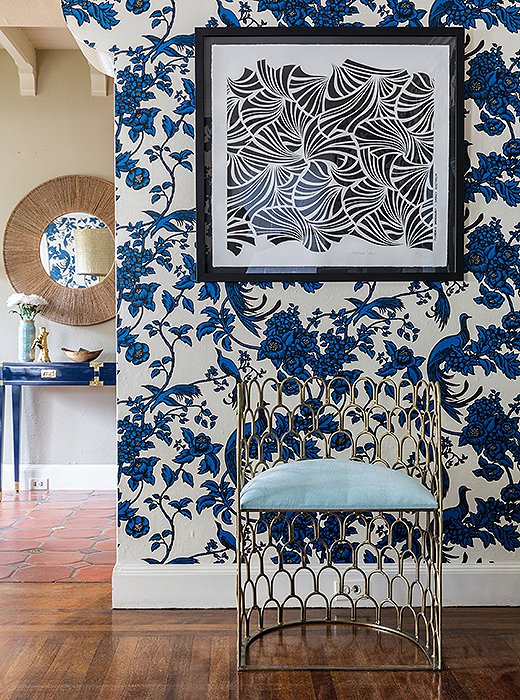 As an Accent Piece
An eye-catching contemporary piece can turn an overlooked corner into a memorable design moment. Here, a metal-frame chair placed just off an entryway pops against a traditional floral wallpaper. We love how its playful scallop shape echoes the abstract art print above—yet another stunning contemporary touch.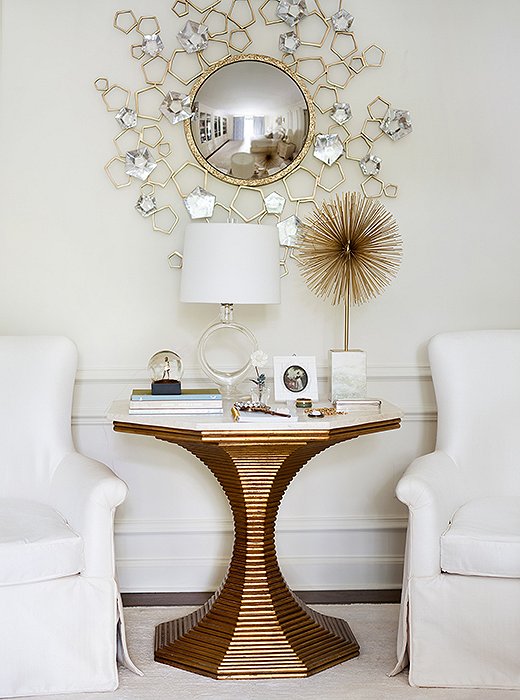 In the Bedroom
Contemporary doesn't have to mean cold and minimalist. In this bedroom seating nook, it's just the opposite: soft, glamorous, and wonderfully serene. From the celestial convex mirror to the Sputnik-style objet to the pedestal table with gilded curves, this mix of modern shapes and pared-down lines is the perfect counterpoint to a pair of classic white armchairs.