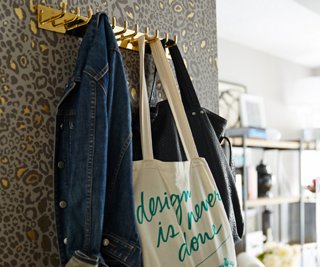 1. HANG UP STYLE
No hall closet? A coatrack or a rail can be a versatile place to hang everyday items like bags, but you can also use it to permanently store some coats. Speaking of the entry area, a bold wallpaper can really help define it as a space of its own, especially in a small apartment. The wallpaper becomes the first thing people see when they walk in and will provide a totally unexpected wow factor.

2. BRING IN THE BASKETS
With a small space, don't be afraid to let your bedroom storage spill over into your living area. Rely on storage baskets to keep clothing, pillows, and throws neatly stowed away. Tuck baskets at the bottom of a bookcase so that they're just out of sight, and mix them on the shelves with books and art objects. It's smart, stylish storage that no one will ever question.

3. THINK BEYOND SURFACE SPACE
Things get cluttered really quickly in a small space, so maximize vertical areas wherever you can. A sconce can easily replace a bedside lamp, as it does here, and the swing-arm design means it provides a greater range of light for the spot—perfect for bedtime reading.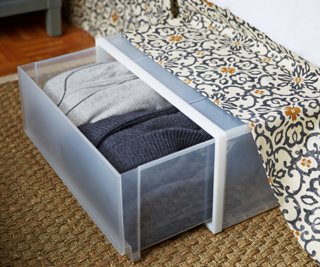 4. STORAGE UNDER COVERS
In a small bedroom, under-bed storage equates to extra closet space. Use plastic pullout bins to stow away not-in-use winter clothes and blankets. They're spacious enough for sweaters, coats, and bedding and can even keep out dust mites. And though they can stay out of sight under the bed, they're accessible in a flash.
All photos by Tony Vu.