The coffee (or cocktail) table is often the literal and figurative centerpiece of a living room. Little wonder, then, that so many people have concerns about how to style it. We asked our Instagram followers to submit photos of their coffee tables in need of TLC, then turned to Becca Roderick, director of interior design at One Kings Lane, for guidance. Below, three of the "before" photos, and Becca's suggestions for more-beautiful "afters."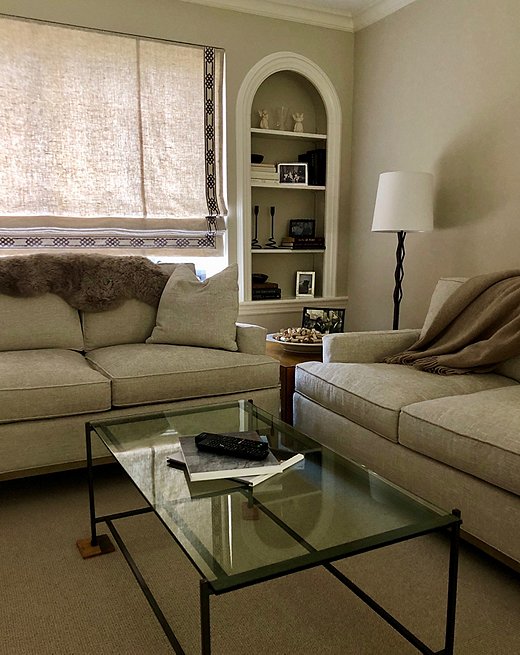 Extra Texture
"This room has an elegant neutral palette, so that should be reflected in the styling," Becca says. Since the table is glass, she suggests starting with a tray to serve as an anchor and background for the tabletop vignette, so that the objects don't appear to be floating willy-nilly. Her choice of tray is made of white marble with brass handles. Then, playing up the metallic element while introducing textural contrasts, Becca layers on a brass bowl and a sculptural mango-wood chain with a gray-washed finish.
"Finally, adding a decorative box to house stray functional items will complete the look," Becca says. Her choice, black and carved of wood, "adds texture and is a great spot to tuck away the TV remote."
Key takeaways: When opting for neutrals, a variety of textures is key. And on a glass surface, use a tray (or books) to ground your objets and add a sense of cohesiveness.
Flower Power
The existing flower-filled basket established an inviting rustic yet refined sensibility. Becca does advise refreshing the contents of the basket, though: "Now is a great time to treat yourself to a new candle and some fresh greenery in anticipation of summer." Her choice of candle scent is a bouquet of gardenia, orange blossom, and ylang-ylang; for flowers to add to the basket she favors peonies for their hit of color. Another option is to introduce green glass beads to the basket for a dash of unexpected whimsy.
"It's always a good idea to balance the shapes on your coffee table," Becca continues. "So I'd suggest a stack of coffee table books to balance the round basket." To complete the look, top the books with a decorative item—such as this trio of peony-shape bowls—that also serves as a handy catchall.
Key takeaways: Change out elements periodically, and introduce a variety of shapes into your tabletop tableau.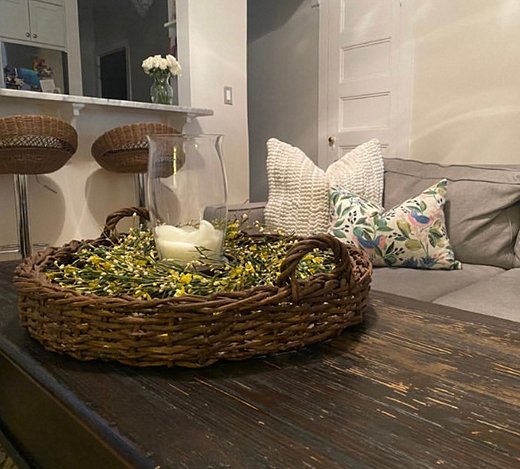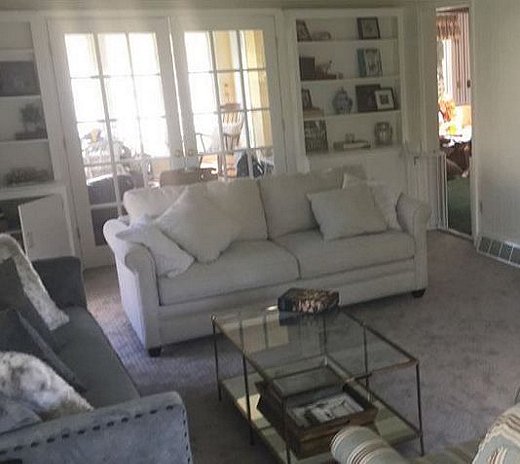 Twice As Nice
A two-tier coffee table like this one offers twice the display opportunities. "I suggest reserving the bottom shelf for items that are more solid or have heaviness such as books or a large tray to hold magazines," Becca says. Placing a bowl like this marble one on top of the reading material ensures that the vignette looks considered rather than haphazard.
The top of the table, she says, "is a great opportunity to display a favorite art book in an open position highlighting the interior. You can prop it open with a decorative magnifying glass" like this one. To add height to the display, Becca suggests adding candleholders (she's particularly taken with these).
Key takeaways: Place visually heavy items on the bottom, and add an element of height to the top.