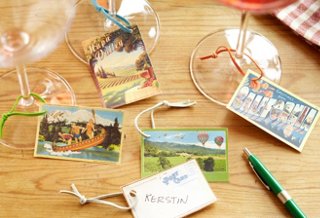 Use mini printed images (like vintage postcards) and rubber bands to make unique wine charms. Pick images that fit the theme of your event. Guests will love looking at the pictures and they'll have an easy time identifying their own glass.
What You'll Need:
a selection of images printed in a miniature size on card stock (we used vintage postcards from the Napa Valley printed no wider than three inches)
colored rubber bands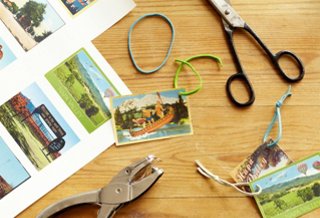 How-To:
1. Cut out images and punch a hole in the upper right or left corner.
2. Cut a rubber band and string through the punched card. Knot the rubber band.
Tip: Make the wine charms last longer than one party by covering each card in self-adhesive laminating paper, available online or at office-supply stores.
" the_field( 'quotation' ); ?>"
— the_field( 'attribution' ); ?>