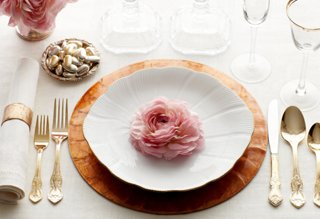 Romantic Dinner à Deux
It may be just the two of you, but that's no excuse not to pull out all the stops when it comes to setting the scene. If you've got it, this is the perfect time to break out that wedding china and crystal, even if the evening's menu includes takeout.
The flowers: Skip the big centerpiece, which can get in the way of holding hands across the table, and go for a single, heady bloom, like a peony, on each plate. Known as the flower of riches and honor, peonies are an omen of good fortune and a happy marriage.
The wine: Tastemaker Marco Pasanella suggests a very special bottle. "One of my favorites is Egly-Ouriet's Grand Cru Brut Millésimé 2002," he says. "It's rich, elegant, and so delicious that it's guaranteed to leave you glowing."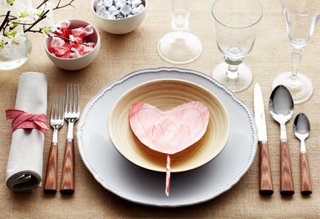 Casual Family Dinner
Set the table, strike up the slow jams, and enjoy a cozy meal together (kids included) by candlelight. Little touches like a ribbon napkin ring and a full suite of flatware and glassware will distinguish this dinner from your average weeknight meal. Place cards are also the perfect predinner project for the kids.
The flowers: Branches such as cherry blossoms or quince lend a rustic and relaxed vibe to the table. Their fragrance is also a nice reminder that spring is not far away.
The wine: Marco Pasanella suggests his wine shop's signature sparkling white, Pasanella & Son Glera. "It's crisp and zesty with golden fruit notes that make for a good apertif, and it pairs well with many dishes."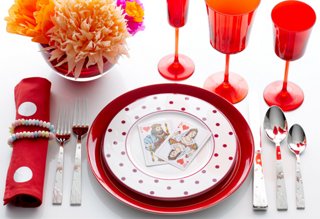 Dinner with the Girls
Let your ladies know it's going to be a fun night by adding playful touches like playing cards and candy-necklace napkin rings to the table.
The flowers: For a fresh take on the traditional Valentine's blooms, try paper flowers. Their saturated color and feathery texture create a vibrant ever-blooming garden on your table. For a great selection of paper flowers check out La Sirena.
The wine: Pasanella recommends Parigot Crémant de Bourgogne, a sparkling rosé, for a glass of bubbly. "It's pink, it's chic, it's well priced with just a hint of sweetness."