What your entryway is to your home, appetizers are to your meal: a first impression that lasts. We tapped the culinary experts at Sur La Table for appetizer recipes certain to start off any gathering, from casual get-togethers to sophisticated cocktail parties, deliciously. Just as important, these starters don't require dazzling cooking skills or rarefied ingredients. Enjoy!
Tuna-and-Avocado Ceviche
Makes 16 hors d'oeuvres servings
Ingredients
1 pound sushi-grade tuna loin, cut into ¼-inch cubes
1 bunch green onions, white and light green parts only, thinly sliced
1 cup diced (¼-inch) avocado
1 tablespoon finely minced jalapeño pepper
3 limes, zested and juiced
Segments and juice of 1 large orange or 1 grapefruit
2 teaspoons soy sauce, plus more as needed
2 garlic cloves, peeled
Kosher salt and freshly ground white pepper, to taste
¼ cup cilantro leaves for garnish
Lime wedges for garnish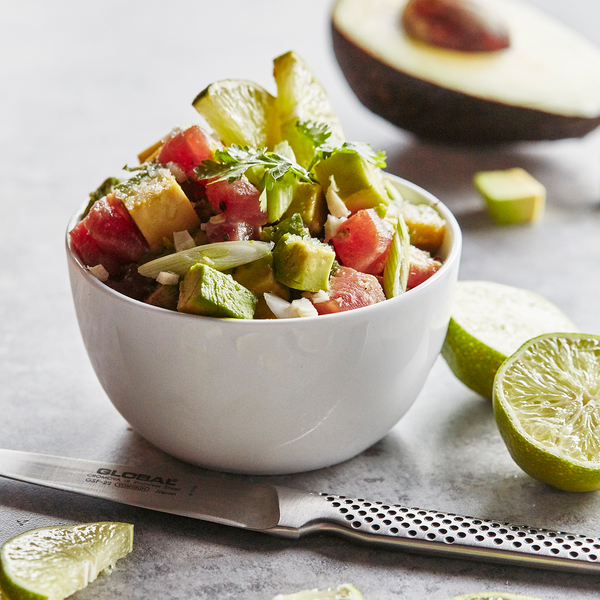 Instructions
Combine tuna, green onions, avocado, and jalapeño in a large mixing bowl, folding together gently with a silicone spatula. Add lime juice, orange or grapefruit segments and juice, and soy sauce to the tuna mixture and stir well to combine.
Place garlic cloves on a cutting board and chop roughly. Sprinkle garlic with a large pinch of salt, and using the flat side of a chef's knife, grind garlic and salt into a smooth paste. Scrape up the paste and add to the mixing bowl with other ingredients. Taste and season with salt and pepper. Cover ceviche and chill until tuna becomes firm, about 1 hour. Taste and season with additional salt, pepper, and soy sauce as needed. Garnish with cilantro leaves and lime wedges, and serve immediately.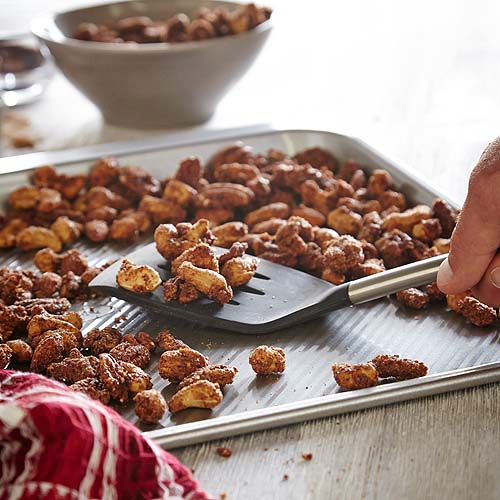 Spiced Nuts
Makes 5 cups
Ingredients
¾ cup granulated sugar
1 tablespoon kosher salt
1 tablespoon chili powder
2 teaspoons cinnamon powder
½ teaspoon all-spice powder
2 teaspoons cayenne pepper
1 large egg white
4 cups mixed raw nuts such as almonds, cashews, pecans, and walnuts
Instructions
Preheat oven to 300 degrees and position an oven rack in the center. Line a rimmed baking sheet with a Silpat mat or parchment paper.
In a small bowl, combine the sugar with salt and all the spices.
In a large bowl, use a whisk to whip the egg white until it increases in volume and is frothy, with all liquid from the egg aerated. Add the mixed raw nuts and the spiced sugar mixture and toss until well combined.
Spread the nut mixture evenly onto the prepared baking sheet and transfer to the oven to bake until the nuts are lightly browned, about 40 minutes. Stir with a wooden spoon halfway through the baking process.
Remove the cooked nuts from the oven and leave to cool on the baking sheet, stirring occasionally until cooled.
Blue-Cheese-Stuffed Dates Wrapped in Pancetta
Makes 12
Ingredients
12 dried dates, pitted
3 ounces sharp blue cheese, such as Gorgonzola or Roquefort
4 thin slices pancetta, cut into ½-inch by 4-inch strips
Instructions
Preheat broiler on high. Line a rimmed baking sheet with parchment paper.
Using a paring knife, cut a lengthwise slit in each date and gently pull open. Gather about ½ teaspoon of blue cheese into a small ball and stuff into each date. Gently mold each date around the cheese. Wrap each stuffed date with a strip of pancetta and secure with a toothpick. 
Place the stuffed dates on the prepared baking sheet and into the oven. Broil until cheese starts to melt and pancetta is browned, about 4-6 minutes, turning the dates several times with tongs to brown evenly. Remove from oven and serve hot or at room temperature.