Like most other design trends, Art Deco has waxed and waxed in terms of popularity over the decades. But those of us who never fell out of love with its glamorous fusion of symmetry and romance, sharp lines and sweeping curves, are delighted to report that it is surging in popularity more than a century after it came into being.
A Quick History Lesson
Art Deco can be seen as the less fanciful offspring of Art Nouveau, the late 19th-century movement inspired by organic and flowing silhouettes, flora and fauna, and Japonisme. The rise of Cubism in the early 1900s soon made Art Nouveau seem naïve, overblown, and old-fashioned. At the same time, the development of mass-produced aluminum, Bakelite, and reinforced concrete spurred design innovations. Add to that a dash of Egyptian revival following the discovery of King Tut's tomb in 1922 and a growing fascination with planes, trains, and automobiles, and you have a style that symbolized the fizzy optimism of the 1920s.
Just as Art Nouveau begat Art Deco, Art Deco begat Hollywood Regency, which took a "more is more" approach with layers of pattern, glimmer, and luxuriousness. And as the Great Depression put a damper on the optimism and opulence of the Roaring '20s, Art Deco segued into Streamline Moderne, which as its name indicates, was more streamlined and less fanciful, paving the way for Mid-Century Modern.
With all that in mind, let's look at the keystones of Art Deco chic and how to make them work in your home.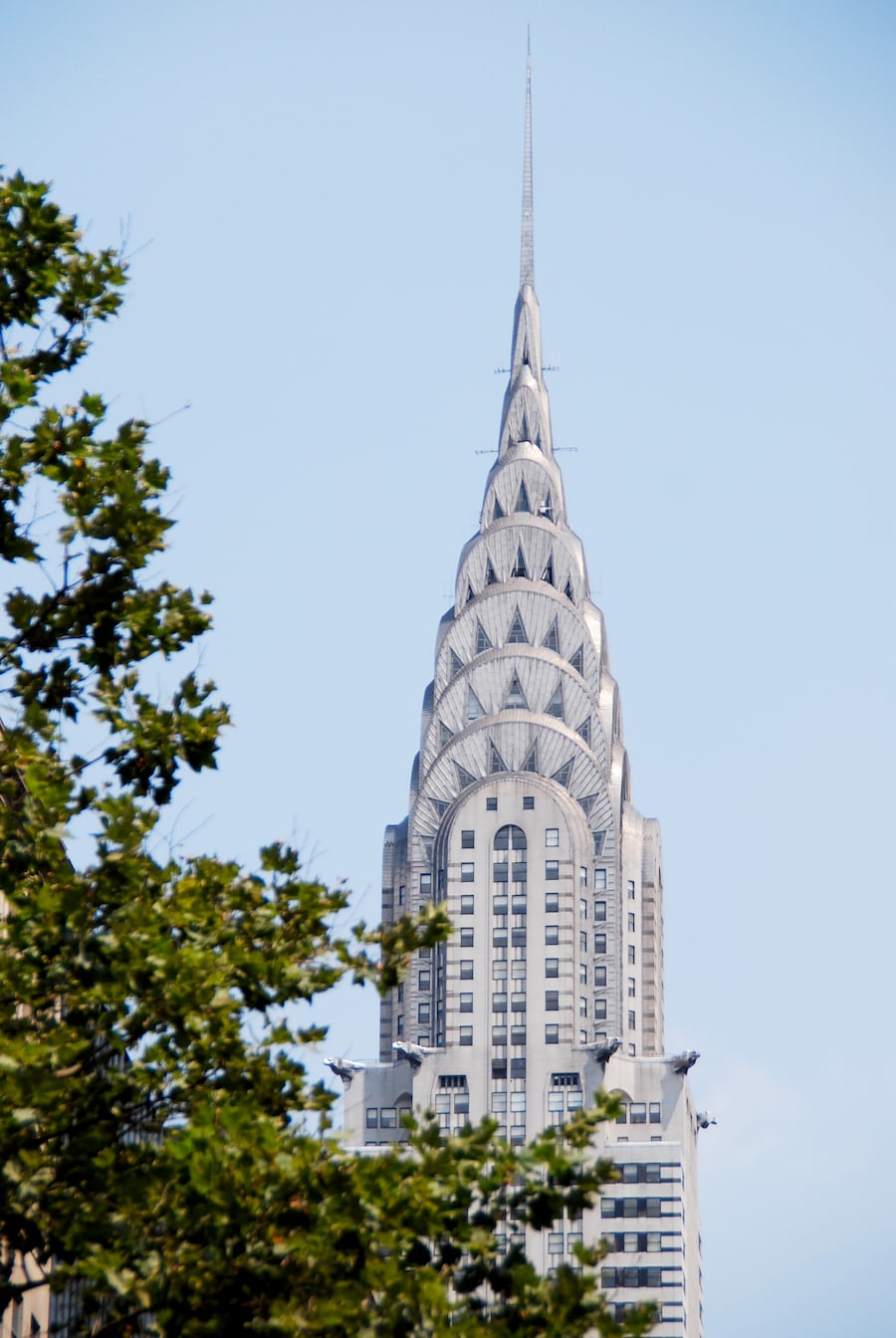 Fundamentals of Deco Chic
Sleek shapes. You won't find extraneous moldings and carvings on Art Deco-style furniture. Silhouettes are surprisingly simple for a style that has become synonymous with glamour (case in point: tuxedo sofas). Straight lines are often paired with curves, which keeps the look fluid and anything but bulky. A swoop-arm chaise, a waterfall bench, or a sofa with rounded sides will bring Art Deco grace to a room. Bonus: Because the shapes are so streamlined, these pieces work beautifully with more-ornate elements as well.
Stepped silhouettes. Pieces with tiers of increasing or decreasing width might seem the antithesis of sleek. But when the tiers are made of smooth materials, have straight lines or rounded edges, and are beautifully balanced, they hew to the sleekness that distinguishes Art Deco.
Symmetry and geometry. Where Art Nouveau is unrestrained, Art Deco is precise and disciplined, as befits a style inspired in part by machinery. Chevrons, arches, trapezoids, and triangles abound. Sometimes the geometric motifs are subtle: diamond-tufted headboards, channeled upholstery, otherwise simple tables with fluted detailing.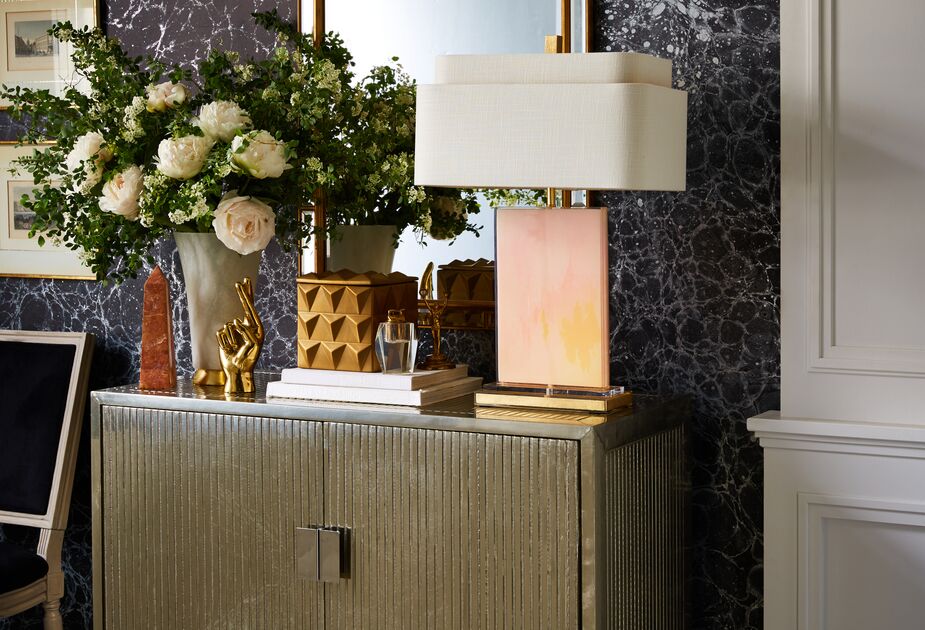 Pyramids and obelisks. Not only do their tapering lines and sharp angles satisfy the desire for geometric precision, but such pieces also reference the "Tut-mania" that followed the discovery of Tutankhamun's tomb in 1922.
Gloss and glimmer. A room isn't truly Deco without at least a few metallic glints—a marble-top coffee table with a simple golden frame, a light fixture made of tiers of glass balls suspended from a chrome ring, a drinks cabinet that offsets mother-of-pearl with gold. Lacquered walls, ceilings, and furniture also contribute the all-important Deco sheen, as do velvet, satin, and silk. Wool or hide rugs, leather upholstery, and faux-fur or cashmere pillows and throws provide textural contrast while maintaining the luxuriousness that is associated with Deco chic.
Strong colors. Feel free to use jewel tones—sapphire blue, emerald green, ruby red—for everything from sofas to wineglasses to wallpaper. Dusky versions of pink, yellow, and other pale hues work well too. For woods, opt for darker tones. Gleaming metallics and shiny finishes will keep a room of strong colors from feeling gloomy. A chocolate-brown dining table might have slender golden inlays surrounding the base; silver casters and galleries could set off a rich mahogany drinks trolley. White, ivory, and cream fabrics and accent pieces also brighten the scene while providing intriguing contrast. In fact, if deep colors aren't for you, consider leaning into Hollywood Regency glamour and make your palette primarily black, white, and silver or gold.
Shagreen. A century ago, side tables and trays would have been covered in genuine shagreen, pebbled leather made from shark or stingray skin. Today synthetic, cruelty-free, but impressively realistic faux shagreen is more common. Ivory shagreen paired with dark wood or gray shagreen set off with gold or silver exemplifies Deco panache.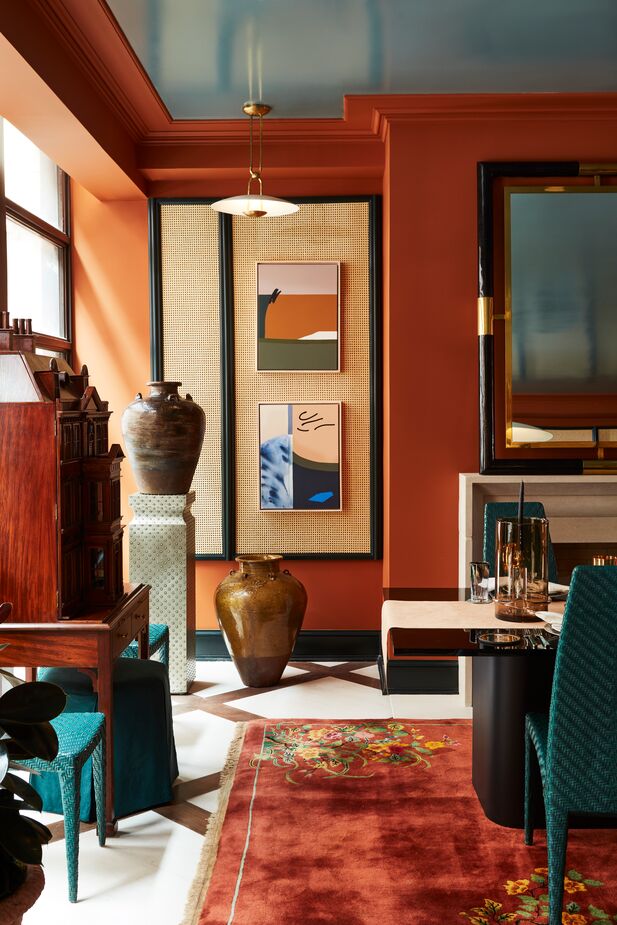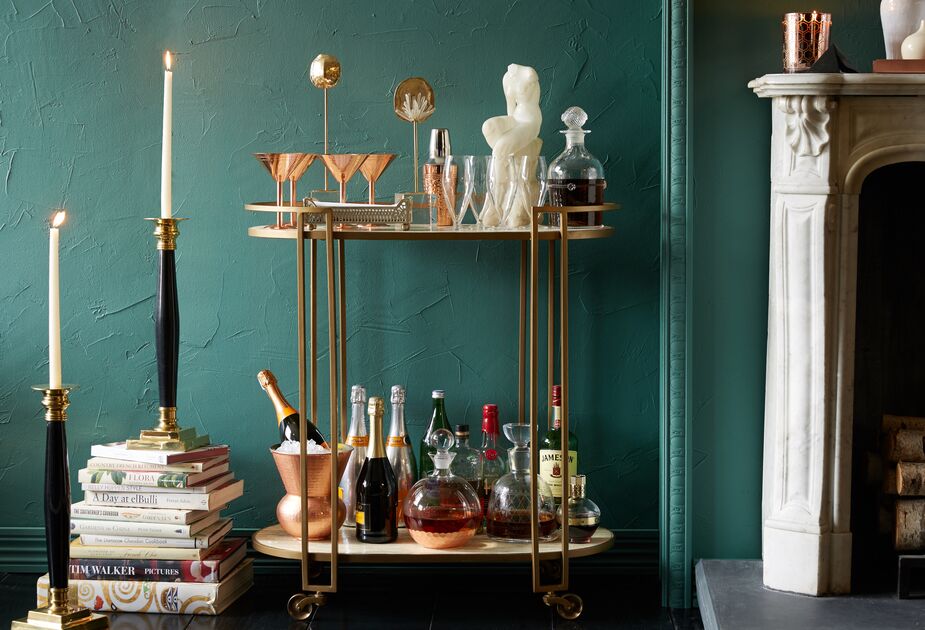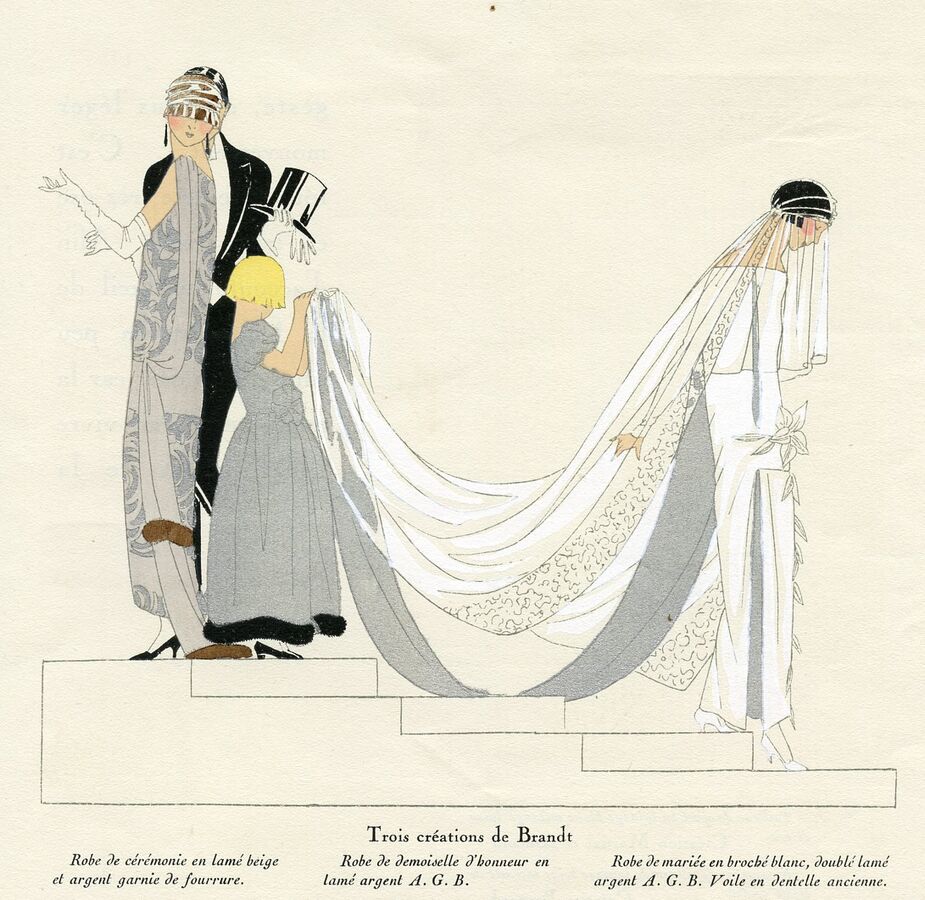 Five Favorite Vintage Pieces
Art Deco Dresser Boxes. Made of black Bakelite with silver geometric embellishments, this pair of boxes exemplify Deco chic.
Puiforcat Art Deco Silver Bowl. A fluted enameled stem connects the tiered silver base and the graceful bowl of this French tabletop piece.
Chrome-and-Bakelite Bar Set. So shiny! So sleek! With a linear serving tray, a soda water dispenser, a cocktail shaker, and more, this 27-piece set transforms an after-dinner drink into a dazzling experience.
Art Deco Low Waterfall-Style Dresser. From the zebrawood veneer to the carved detailing, this three-drawer dresser was designed to command attention—and it does!
1920s French Jet Necklace. True, this isn't decor, but it's too beautifully Deco not to include. Featuring black diamond-shape beads dangling in a graduated pattern around sparkling crystal and offset by glimmering sterling silver, this necklace is worthy of display when it's not draped around one's neck.
Five Favorite New Pieces
Datum Wall Mirror. Geometry made chic, this wall mirror pairs curves and straight lines as well as offers a trio of finishes: reflective, smoky, and golden.
Frankie Lacquer Buffet/Sideboard. Angular molding on the doors, clear acrylic legs, and a glossy finish in black or white make this storage piece a fitting tribute to Art Deco chic.
Claire Chevron Pillow. With its lined chevron motif, this blue woven pillow is a quick and easy way to introduce Deco finesse.
Basil Linear Sconce in Polished Nickel. Also available in a gunmetal finish, this sconce would look right at home in Radio City Music Hall or any other glamorous theater of the era.
Paxton Platform Bed. The stepped outline of the headboard is pure Deco simplicity.