You can take the girl out of Connecticut, but you can't take Connecticut out of the girl. This explains how Mairin and Chris Epp came to be living in a Colonial-style home in Austin—sort of. As soon as he saw it, seventh-generation Texan Chris fell in love with the saltbox house in Wilton, CT, where Mairin grew up, and it inspired the home the Epps built in Austin in 2012. 
As the Epps family grew they decided to expand their home. "The city of Austin is a lot of things, but 'easy' is not one of them," Chris says. "The project consisted of purchasing the neighboring property, demolishing the old house that was on that lot, merging the two lots together, pulling utilities to the new home, tree mitigation, and most surprisingly, the addition of a commercial-grade fire-suppression system to the entire house."
And of course, there was the matter of decorating the expansion. As it happened, the owner of Watermark Homes by David Bratton, the company building the addition, could vouch for an ace designer: his wife, Bambi A'Lynn. "I was brought into the project when the Epps started their addition," Bambi says. "However, once we started there were many things in the original home that we completely redid—so essentially it turned into the entire house."
The addition, with its 20-foot-high ceilings and great room that opens onto the rear patio and pool, needed to feel cohesive with the existing part of the home. "The Epps' main goal was to balance form and function: keeping with the consistent Colonial theme—rambling rooms, unique nooks, era-appropriate palette—and making it functional for their family of five," Bambi says.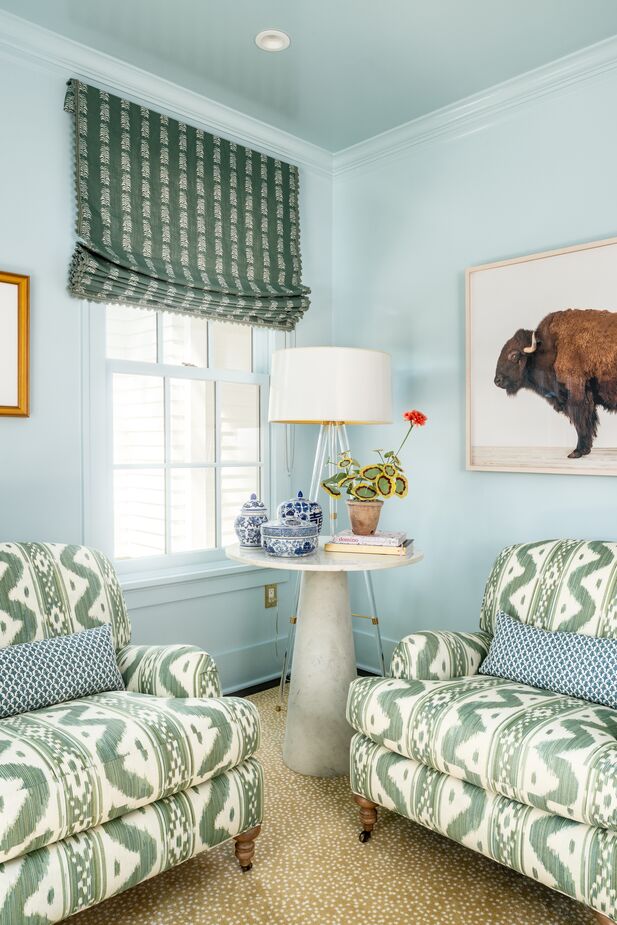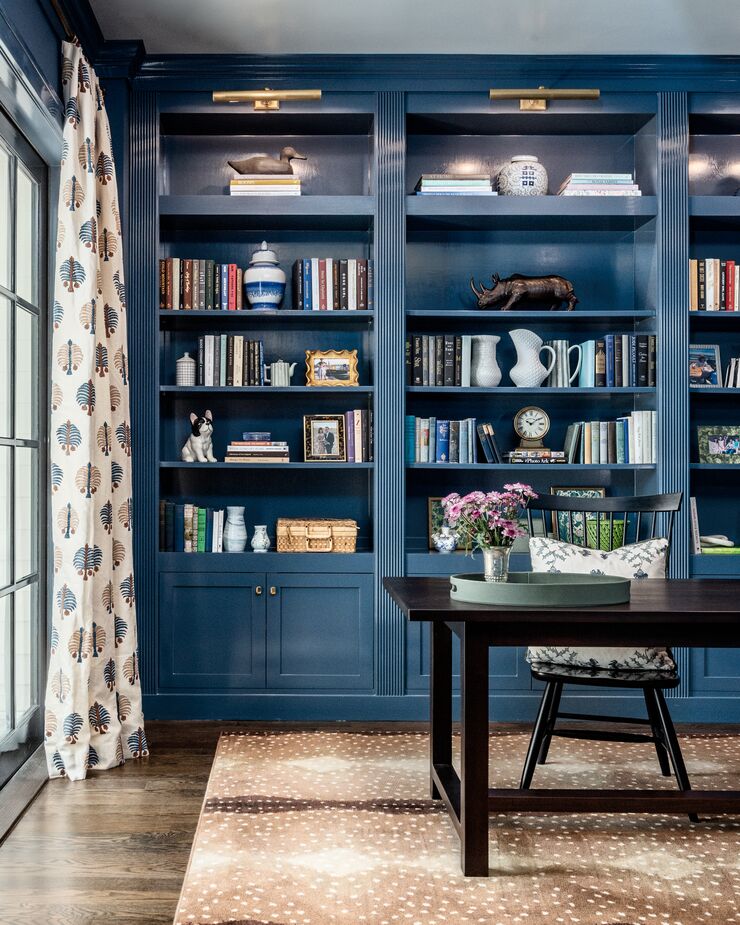 To do that, Bambi kept to a palette of blues and greens for much of the home, "just punching it up a bit" for the addition. While the living room's sofa is upholstered in a staid tweedlike blue, for instance, bold coral piping revs up the sky blue of the great room's sofa. The living room's window seats are covered in a small-scale gingham; a large-scale diamond motif adorns the great room's armchairs.
Pattern is prominent in just about every room. Even the laundry room has leafy green wallpaper and a diamond pattern painted on the floor. "From the very beginning I felt the look Mairin was after and knew exactly which 'hero' fabrics and wallpapers to start with and build upon," Bambi says. Stripes and animal prints grace the rugs, and chinoiserie vases and jars are sprinkled throughout. The addition of Delft tiles to the living room's fireplace reinforces the sense of tradition, as do classic furniture details such as English roll arms and spindle legs.
Bambi is proud not only of the end result but also "that I was able to [gain] the client's trust almost from the beginning. I think the only thing I did not 'sell' was a fabric canopy for the master bedroom—which might come at a later date," she adds with a laugh. "The Epps' trust and enthusiasm brought so much joy into the design process. Seeing them enjoy their new surroundings and living life comfortably is the whole goal."