Of course you want your bedding to look good. But it also has to feel good and be durable. Maybe you have other criteria too, such as sustainability and washability. Below, you'll find the info you need to choose the ideal bedding for you—and we'll demystify thread count, long-staple cotton, and more while we're at it.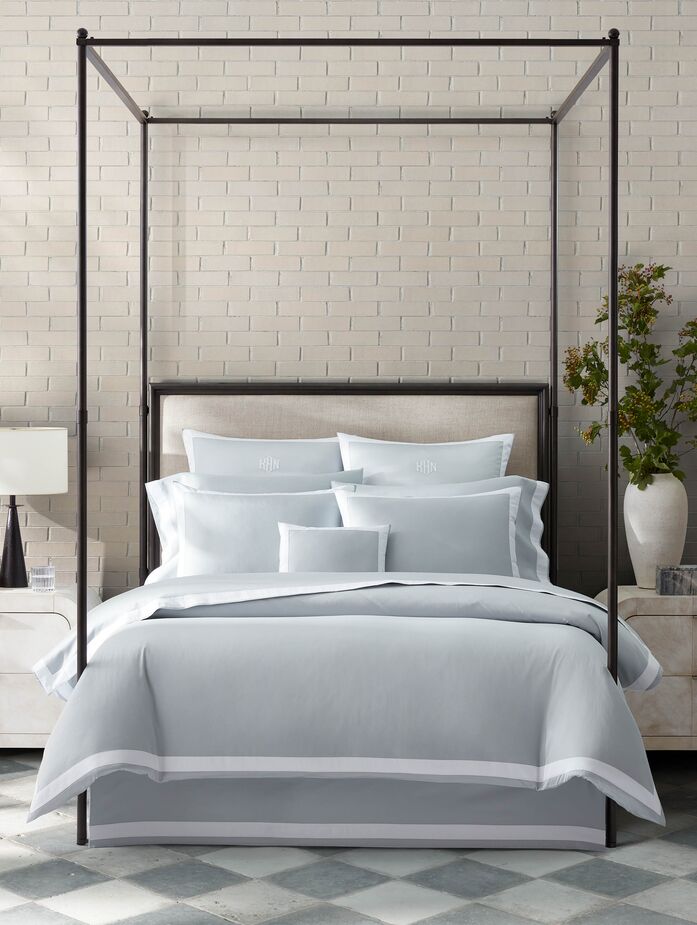 Cotton
Chances are good you grew up sleeping on cotton sheets. The most common bedding material, cotton can generally be tossed in the washer and dryer, and cotton sheets are available in a wide range of price points and styles. When we're talking styles, by the way, we're going beyond color, pattern, and finishing touches such as embroidery. We're also talking about the style of fabric made from cotton.
For instance, most flannel sheets are made of cotton. Flannel gets its softness and warmth from being woven of loosely spun fibers and, often, with the aid of fine-tooth metal brushes that lift some of those fibers to create a fuzzy nap (and make for some blissful winter naps). 
Like flannel, percale sheets are usually, but not always, made of cotton. The simple weave pattern—percale is sometimes called plain weave—makes the fabric breathable and durable. That said, pure cotton percale can be prone to wrinkles, and some say it takes time to obtain an optimal degree of softness. 
Another weaving method, sateen, produces bedding that is silkier and more resistant to wrinkles than percale is. Many people also favor the sheen of sateen. Sateen tends to be less durable than percale, however, and you might see pulls in the fabric within a relatively short time.
The length of the cotton staple plays a role in the quality of the bedding. Each cotton boll—the white puffy pod of the plant—consists of nearly 250,000 fibers, or staples. The longer the staple, the more durable and softer the resulting fabric. Egyptian cotton is the ne plus ultra of cotton, with the longest staple. Pima cotton—which includes Supima, a brand of American pima—also has a long staple and is considered high in quality. If the label says simply "cotton," it's likely made with short-staple upland cotton, which accounts for as much as 90% of all cotton cultivated worldwide. As you no doubt suspected, bedding made of Egyptian and pima cotton is more expensive than that made of upland cotton.
About Thread Count…
This seems as good a time as any to talk about thread count, as it's most commonly associated with cotton bedding. Common wisdom is that the higher the thread count, the more sumptuous the bedding. But that's not necessarily so.
Thread count refers to how many threads are found in a square inch of fabric. The finer the thread, the reasoning goes, the more of them you can weave into a square inch. Therefore, sheets with high thread counts are presumably made with finer, softer fibers.
But some companies have been known to twist several strands of fiber together to create their threads and then claim that a single thread is actually multiple threads, inflating the thread count. (Yes, it's a bit confusing.) What's more, the quality of the cotton fibers is easily as important as how many fibers there are in a square inch. 
Linen
There's a lot to love about linen. It's made from eco-friendly flax, a resilient plant that requires appreciably less water than cotton. (And parts of the plant not used for linen are transformed into linseed oil and Omega-3-rich flax seeds.) It's very strong and durable—linen sheets can be handed down for generations. And because it's a highly breathable fabric, linen is ideal for sultry nights or those who get overheated while they sleep. All that, and it's naturally hypoallergenic too; the texture of flax discourages bacteria and dust mites.
So why isn't more bedding made of linen? One reason is that the process of making linen is more laborious than manufacturing cotton, so linen sheets are more expensive. Another reason is that when it comes to wrinkling, cotton has nothing on linen. Some people love that easy, unfussy look, but not everyone. And linen can feel a bit stiff and scratchy at first. It definitely gets softer and more pampering with every use, though. How many other things get better and better with age?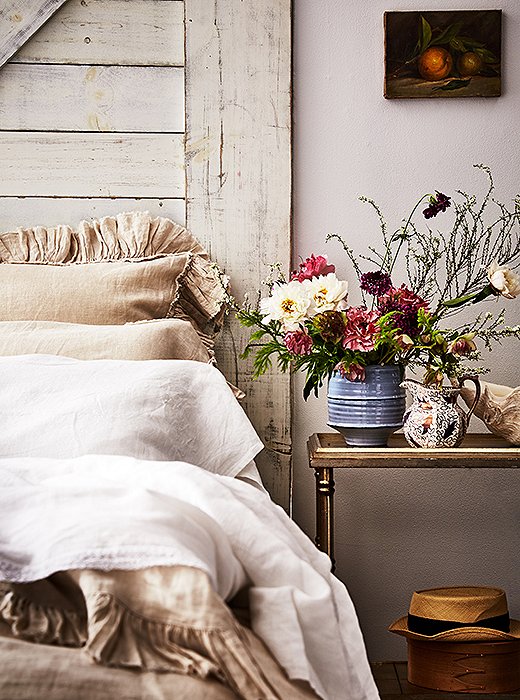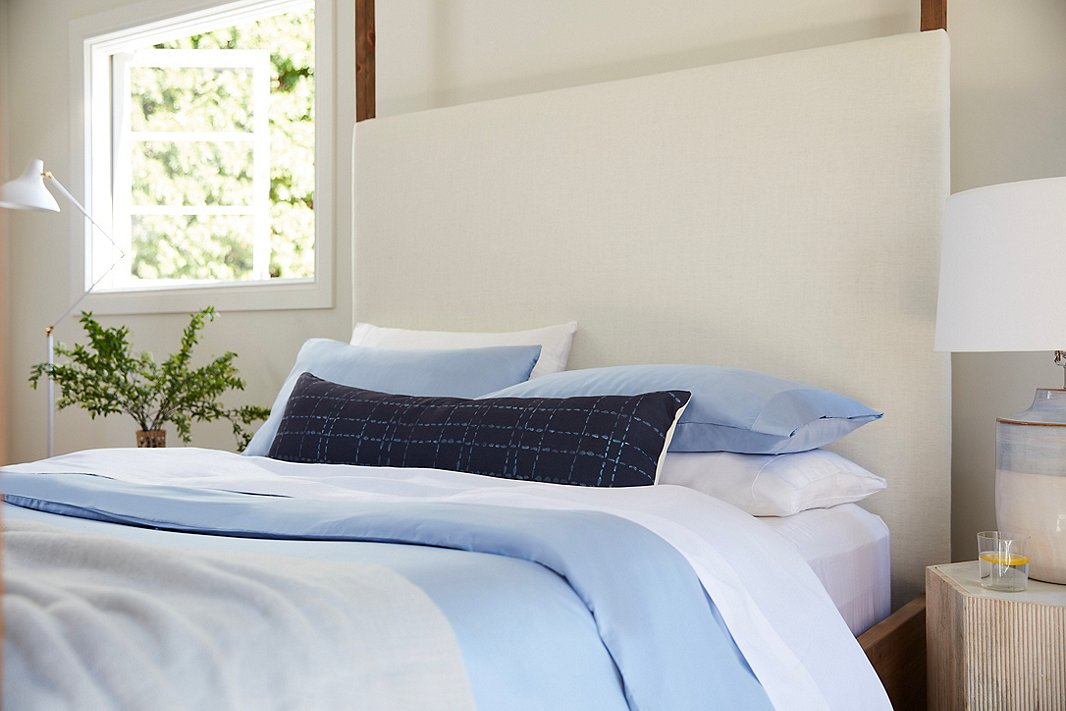 Lyocell
How can bamboo, which is strong enough for use as a building material, also be soft and pampering enough for bedding? That's down to the lyocell process, which is also the name of the silky, absorbent material that results from said process. (Tencel is perhaps the best-known brand of lyocell.) Lyocell is made from cellulose fibers extracted from woods and grasses such as eucalyptus, birch, and yes, bamboo. The process produces minimal waste, and when fast-growing plants that require little in the way of watering and pesticides, such as eucalyptus and bamboo, are used, lyocell can be considered a sustainable material.
Eco-friendliness isn't the only thing lyocell has going for it. Being both breathable and absorbent (50% more than cotton), it's a good choice for those who work up a sweat as they slumber. It's blissfully soft from the get-go and less prone to wrinkling. And lyocell sheets made from bamboo or eucalyptus are hypoallergenic.
While the lyocell process is low in waste, it's somewhat labor intensive, making lyocell pricier than some other options. And if you believe that washing your bedding in hot water is the only way to ensure cleanliness, steer clear: High temperatures can damage lyocell fibers.
Silk
Silk bedding has become synonymous with luxury, just as silky is a synonym for soft. Beyond feeling pampering against your skin and boasting an opulent luster, silk has a natural (almost preternatural!) ability to cool you off when you're hot and warm you up when you're chilly, so you can luxuriate in silk sheets year-round. The material is also naturally hypoallergenic.
Linen and lyocell share these qualities to at least some degree. What really differentiates silk are its other health and beauty benefits. Those with skin or joint ailments who can't bear even the slightest friction or pressure find they can sleep easy under smooth, airy silk. In addition, the fibers contain sericin, aka silk protein, which helps skin and hair retain moisture. Combined with the lack of friction, the result is hair that's less frizzy, with fewer tangles, and skin that's less dry, with fewer sleep wrinkles.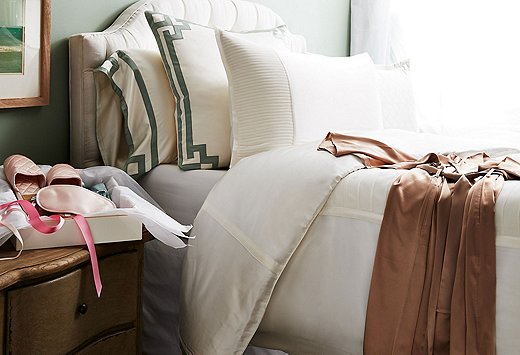 All this pampering comes at a price. Silk is expensive. A yard of woven silk requires nearly 3,000 silkworm cocoons. Raising the worms is labor-intensive, as is extracting the threads from the cocoons, let alone turning those threads into cloth. 
Another drawback to silk is that you can't just lob it into your washing machine with the rest of your bedding. It usually requires dry-cleaning, though some silk bedding can be machine-washed, in a load with nothing else, with a special detergent and in a mesh bag. And forget about hanging your silk sheets out in the sun to dry. Silk fades in sunlight, including direct sunlight streaming through a window. For these reasons, many people opt for silk pillowcases and choose sheets made of a less costly, less temperamental fabric.