When they brought Benjamin Dhong on board to design their weekend "party house" in San Francisco, the homeowners had only a few requests. "They didn't want it to be too fussy. They wanted it to be modern, but they were open to different ideas of modern," Benjamin says.
Which made Benjamin an ideal designer for this project. "My idea of modern is different from run-of-the-mill modern, which I think is kind of cold and does not have enough texture," he explains. "Layers of texture are very important. I like using wallpaper to add texture. Mohair, velvet, linen, natural woods, little hints of gold and brass…"
There is definitely no shortage of texture in this home. In the playroom alone, a storage console pairs doors adorned with wood carvings with a sleek frame; it sits among faux-fur chairs, a woven basket, a tweed ottoman, and mod three-dimensional wall art. The living room is a symphony of cool metal and warm wool, pearlescent art and knobby ceramic; in the primary bedroom, lacquered nightstands and gleaming lampshades help ground the layers of fluffy rugs and cloud-soft upholstery. 
Textures aren't the only things layered in the house. Benjamin also made sure to mix old and new in even the most modern of the rooms. The ornate cabinet in the two-story entry is a case in point. To ensure that it fit in with the free-form abstract rug and vibrant pop artwork, Benjamin had it refinished in black.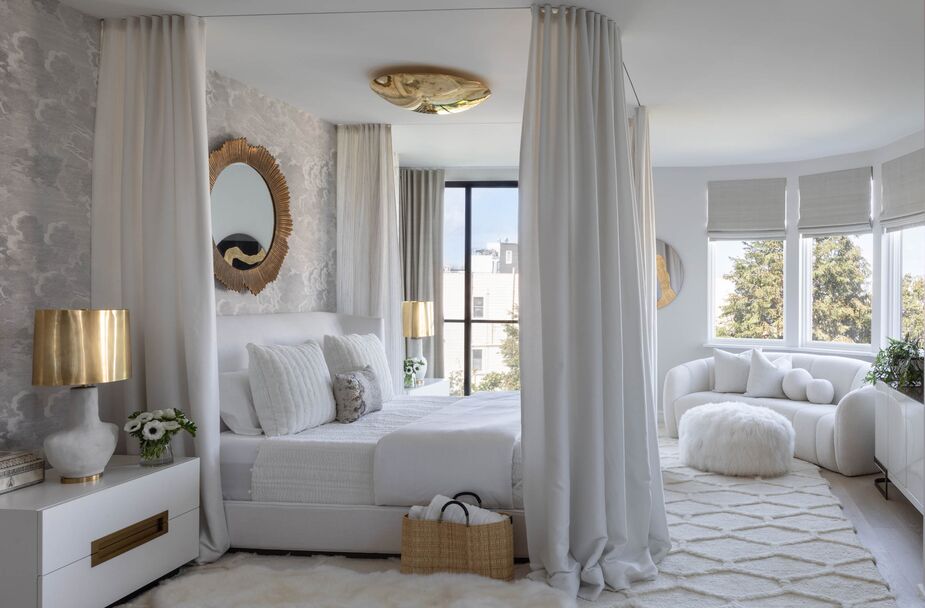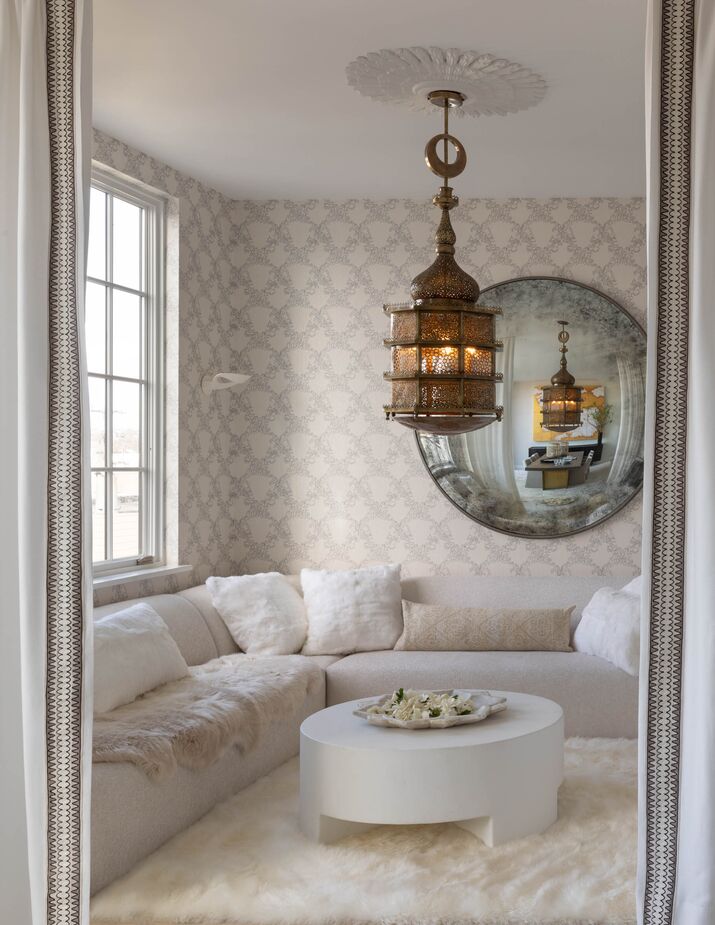 Though the house seems to be an ode to unadulterated luxury, "each room is a mix of high and low," Benjamin insists. "Every room has something expensive in it, but there are also more affordable pieces" such as the playroom's Etsy decals. "Not everything in a room has to scream 'Look at me!'" he adds.
In keeping with the mix-master ethos, "we gave each room its own personality," Benjamin says. "Each space has a different vibe." The tailored game room is a 21st-century interpretation of 19th-century men's club; the primary bedroom is so ethereal it could almost float away; the sitting room just off the dining room is a Moroccan fantasy. At the same time, cloud motifs, golden glints, and sculptural furniture throughout ensure that the house feels harmonious rather than cacophonous.
"My philosophy is every house should have a narrative," Benjamin says. "When people first walk in, the entry tells you who lives here, and then each room has flow." 
This home tells the story of a family that prizes not only comfort and luxury but  also individuality. "So many homes look alike," Benjamin notes. "I think people are afraid to have bad taste, so everything ends up super simple. I think it's too bad rooms don't look more curated and assembled over time." 
Benjamin is a member of the One Kings Lane To the Trade program. If you're a design professional, learn how you can join here.