Blue is the favorite color of more people worldwide than any other hue. And little wonder: It's calming, inviting, and particularly in interior design, able to work beautifully with just about every other color. Blue's popularity and ubiquity, however, can lead us to take it for granted. Below are a few suggestions for spotlighting blue hues in your home in a fresh way, whether your style is New Traditional or Curator, Eclectic or Naturalist. (Not sure which best describes your style? Check out our primer here.)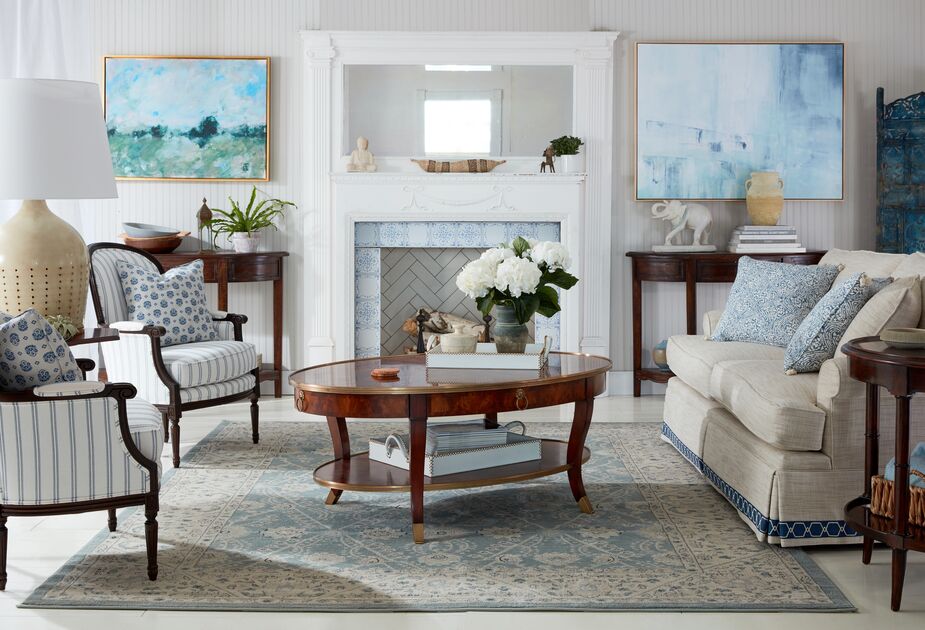 New Traditionalist
If New Traditionalist style had a coat of arms, it would no doubt be blue and white, with a chinoiserie motif taking place of pride. The pairing of blue and white balances the darker woods prominent in New Trad decor and recalls classics such as Delft and azulejo tiles and Wedgwood and flow blue tableware.
So how can you make this keystone color of New Traditionalist style feel new, and tailored for you, without straying from the aesthetic you love? One way is to incorporate a vast array of blue shades, from midnight to periwinkle—a veritable rainbow of blues.
Another is to keep to a tight palette but introduce multiple patterns. Layering florals and stripes and animal prints might feel overwhelming in an expansive palette, but when they're all in similar tones the effect is considered and sophisticated, especially given that blue is all but a neutral nowadays. You can also add a few less-than-traditional elements that hew to the same tight blue palette: abstract art, beach photography, rugs or pillows with bold geometric patterns, a round mirror set into an oversize sapphire frame… After all, one reason New Traditionalist style is so popular is that you can make it as new or as traditionalist as you want!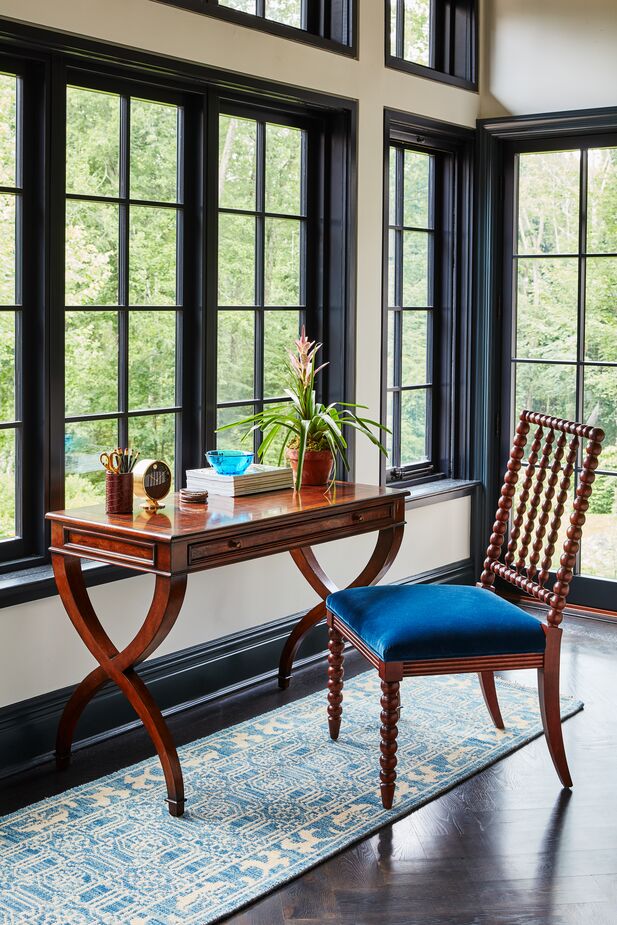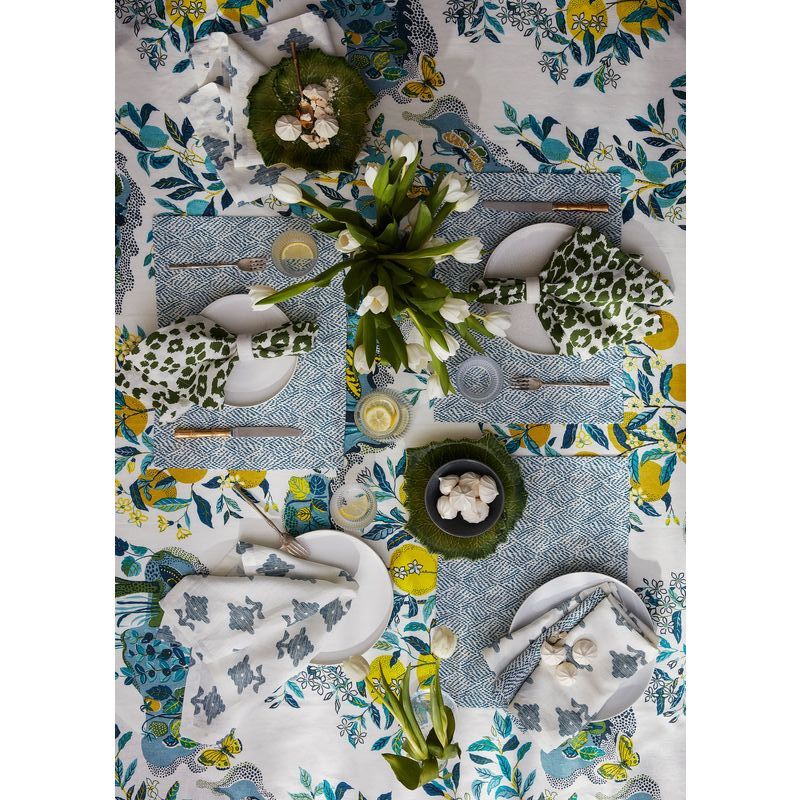 Eclectic
Given that Eclectic style mixes colors and patterns with abandon, there's a good chance that an Eclectic home already has at least splashes of blue throughout. There's an equally likely chance that those blue shades are juxtaposed with bright reds, lively yellows, and even bold oranges. 
But if you're just dipping your toes into the Eclectic waters, start with global motifs, such as suzani textiles, ikat pillows and rugs, and shibori upholstery, in indigo, cobalt, or other strong blues Or opt for one major piece that all but shouts eclectic (our pick: the limited-edition Sabie Velvet Loveseat) and work around that.
Also consider introducing blue in unexpected ways. Anyone can dress up a room with a crystal chandelier, but only an Eclectic would chose a fixture adorned with blue beads instead. Tiger stripes have long signified glamour, but when those stripes are rendered in baby blue or navy, they're Eclectic glamour. Even something as traditional as chinoiserie prints can become Eclectic when produced in a supersize scale on an armchair or a headboard, or painted in a whimsical fashion on a table lamp.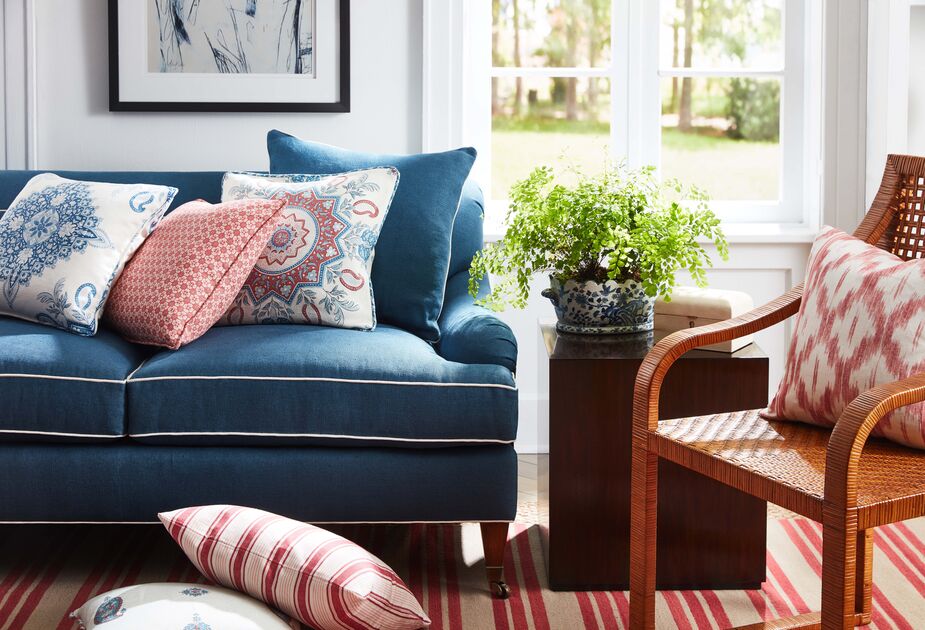 Naturalist
Cloudless skies, crystalline lakes: What could be bluer or more natural than these? Yet Naturalist interiors typically lean toward the more muted earthy hues of wood, rattan, jute, and sisal. It doesn't have to, though. The same shibori and batik blues that work so beautifully in Eclectic rooms are equally well suited for Naturalist homes when teamed with pale neutrals and either solids or simple patterns. Along similar lines, natural-fiber and flat-weave rugs that incorporate shades of blue are an ideal marriage of organic texture and fresh color.
Solid blue linen or cotton fabrics also enable you to introduce the color. To maintain the serenity of the Naturalist ambience, try using paler shades on larger pieces such as sofas, reserving darker hues for smaller items such as pillows and throws. (Rugs are an exception, as darker hues help ground a space.) 
Artisanal pottery, handblown glassware, and objects made of bone tiles colored blue are other ways to embrace the blues in a Naturalist fashion. And don't forget landscapes, seascapes, and prints of flora and fauna. When it comes to design, it's difficult to top Mother Nature.