Mix the joie de vivre of Louisiana, the easy-does-it spirit of the Bahamas, a wide-ranging assortment of antiques, and a sprinkling of pattern, and what do you get? This beach home on Florida's Gulf Coast, decorated by the mother-and-daughter design duo Bohlert Massey.
"This home is one of the original courtyard homes in Alys Beach," says Susan Bohlert Smith, who worked on the home with daughter Bo Massey. "The couple who hired us purchased it furnished and asked us to update the kitchen and refurnish it to make it a reflection of them with our twist. They're Louisiana natives—Baton Rouge and New Orleans—and like how we mix antiques and modern." As the clients also travel frequently to the Bahamas, they wanted the home to reflect some West Indies ease as well.
Ensuring that the disparate influences and pieces created a cohesive, inviting ambience was a prime goal for Susan and Bo. "Keeping a balance is one of our main focuses while doing a project," Susan says. "To us, a straight period or style of any kind is predictable and can be mundane unless you are a set designer for a period film."
In the living room alone, art in baroque gilded frames and antique mirrors with filigree adornments occupy the same wall as a streamlined acrylic curtain rod with golden finials, which in turn complements a gold-trimmed acrylic side table. A slipcovered sofa is topped with a plaid throw and Otomi pillows; one vintage rug sits atop another; a swing-arm floor lamp stands across from a table lamp with a geode body.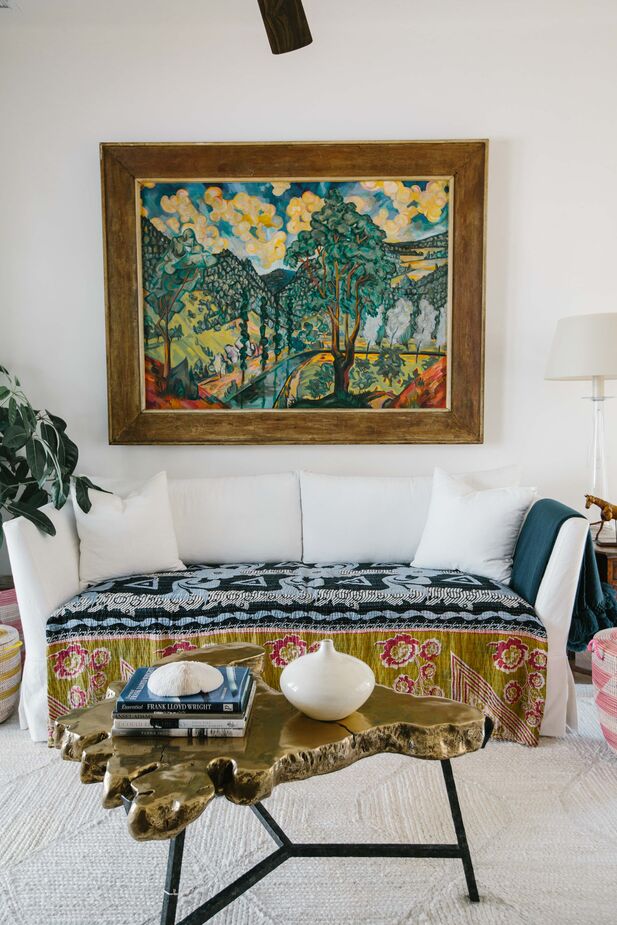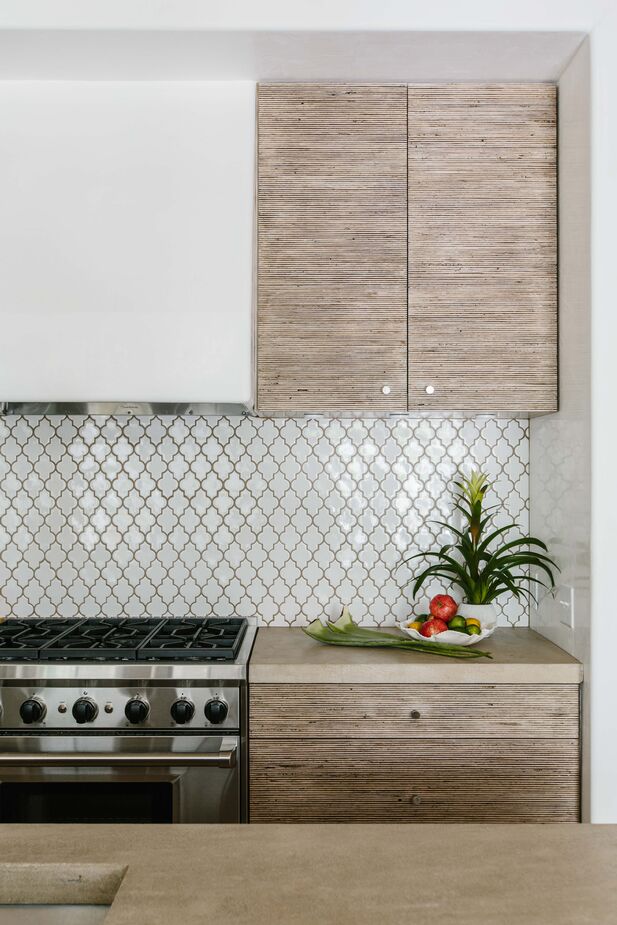 The diverse elements mesh together in part because "the modern touches were still somewhat 'vintage' modern to have a connection to the antiques. We strived to keep the antiques connecting to the modern by staying classically modern," Susan explains. For instance, the acrylic tables have aged gold, rather than gleaming chrome, accents; beads, not crystals, hang from the Empire-style dining room chandelier. 
The tight, restful palette also helps the rooms look like much more than the sum of their parts. "We did intentionally restrain the palette because the space is small and we were doing so much mixing of antiques with modern that we wanted the color to be a layer and not overwhelm the spaces," Susan says. "Our goal was to keep the palette simple so that the interiors felt rich, but still light and restful." At the same time, the designers judiciously added pinks, soft blues, and yellows inside and out for the color-loving woman of the house.
Particularly when decorating the exterior areas, Susan and Bo needed to look beyond aesthetics to the furnishings' ability to withstand sun, saltwater, and sand. Wrought iron was a no-go: "It will deteriorate and ruin everything around it here," Susan says. Outdoor furniture instead was made of weather-resistant woven materials, powder-coated aluminum, or water-resistant woods such as teak, mahogany, and cypress, and "solution-dyed acrylic is the only answer for exterior fabrics." Lighting was constructed of powder-coated aluminum or "naval brass fittings to age and grow more beautiful with time and patina." And for areas within a pool's splash zone, "we must select a frost-free material because we do have times when we get a freeze, even if for a day, and the natural or terracotta materials fall off the wall."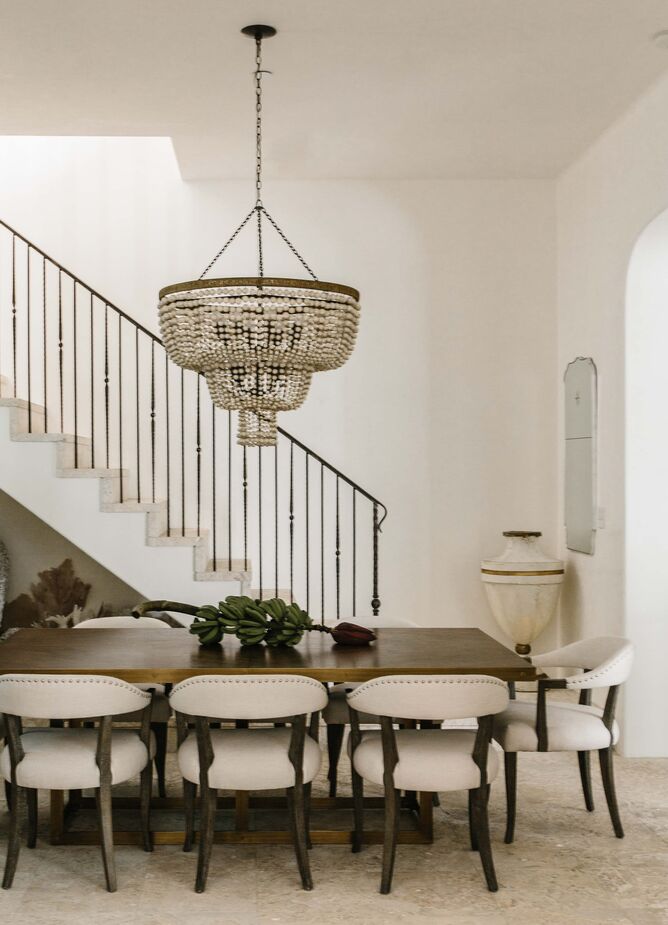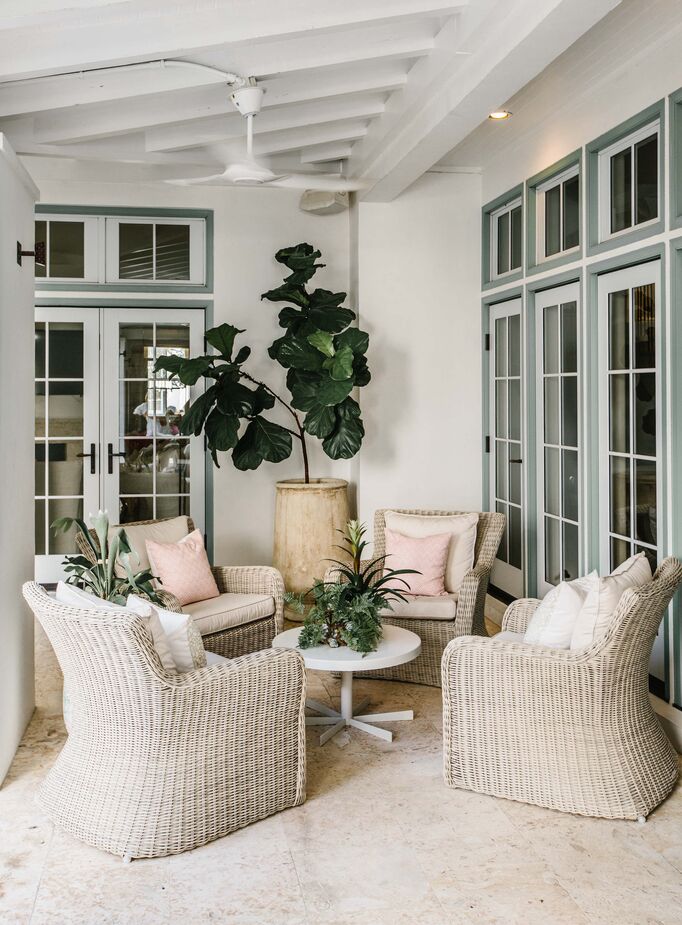 Yet accommodating the elements of the Florida beachfront was not Bohlert Massey's greatest challenge. "The greatest challenge was inheriting existing bones that we were not charged to change other than the kitchen, as we typically do ground-up construction where we have a hand in everything," Susan says. "The thing we are most proud of would probably be the transformation of what it did look like to what it not only looks like but feels like now. It's much better in person than the photos."