Every homeowner has a different story about how they came across their forever home. Sometimes it's luck; sometimes it's perseverance. And sometimes it's just a waiting game. "When our daughter was young, our routine to get her to fall asleep was driving through the backroads, and eventually we saw nearly every house in the area," says Heide Hendricks. Hendricks is one-half of the star design firm (and One Kings Lane To the Trade member) Hendricks Churchill, which she runs with her husband, Rafe Churchill. "When we saw the 1871 farmhouse, we never imagined being able to live there, but we kept an eye on the home for 15 years before it hit the market." They snapped it up and dubbed the farm Ellsworth.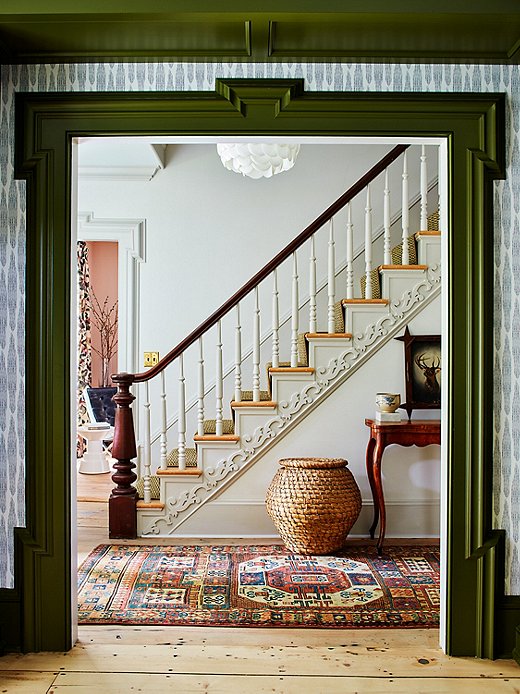 From just looking at the pictures, you'd imagine that Ellsworth is nestled away in the grassy hills of the Cotswolds. "The house had a fairy-tale setting," Heide says. Not all fairy tales take place in a faraway land, though. Ellsworth sits squarely on more than 30 acres of farmland in the northwest corner of Connecticut. Together, Heide and Rafe set about trying to preserve the magic of the place. "With all our projects, we like to approach them very carefully and protect the initial emotional response that made you fall in love," she says.
Their careful approach started with restoring the structure to its glory days of late 19th-century Americana. "Essentially we went through and tried to scrape away some of the insertions that the previous homeowners had made and eke out the original details," Heide explains. They refinished the original heart-pine floors. They saved woodwork where they could and replicated it in areas where they could not. Design aficionados like Heide and Rafe could not let the beauty of the Victorian details escape. "Ellsworth does a wonderful job of honoring the original home and our life that we have built together," says Heide. "It allowed us to act as both homeowner and client, a true passion project."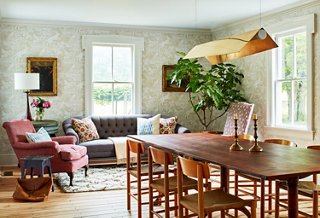 While restoration and rebuilding happened, Heide set about establishing a color palette. "I took inspiration from how the light hit each room," she says. She describes the color palette as "lively yet sophisticated," using colors from the Farrow & Ball library to breathe life into the home. Shades such as the iconic Bancha and the soft Setting Plaster are the background characters to rooms chock-full of personality.
Nowhere is that more evident than in the family's living room. "I love when a home looks like it has been decorated over time with family heirlooms, antique pieces, and new purchases," says Heide. She mixed form and function, old and new, to create a space deep with history and rich in texture. "It's really about finding a way to make things fit together that you wouldn't typically find compatible," she says. "It's a bit of a decor dance, but the effect is very comfortable, warm, and settled."
Comfortable and settled are perhaps the best words to describe the look and feel of Ellsworth. In fairy tales, houses like this one might be described as magical, as if the furniture might come alive at night and tell you a story. At Ellsworth, it would be a tale of familial love and high design.