When designer Caroline Rafferty's friends Melanie Charlton Fowler of Clos-ette and her husband, Jordan, came to her, they had a specific vision. They wanted Lyford Cay meets Palm Beach. Caroline, a House Beautiful Next Wave designer, was down for the challenge.
"Melanie had the whole thing in her head imagined already," says Caroline. "She brought me along a lot, exposing me to a style of work I hadn't done before." Caroline brought in a pastel color palette and peppered in touches of rattan and vintage finds from Florida's South Dixie Highway. Her goal was to create something both fun and classic. "Any style can go kitschy if you don't put your personal stamp on it. Melanie was committed to making it her own."
Personal touches came large and small. They painted the floors instead of refinishing them. In the living room, Caroline hired muralist Joseph Steiert to paint a tropical chinoiserie scene inspired by the family's beach club. When Melanie asked for a shell fireplace, Caroline sourced a local artist to bring it to life. "She was willing to take risks," Caroline says.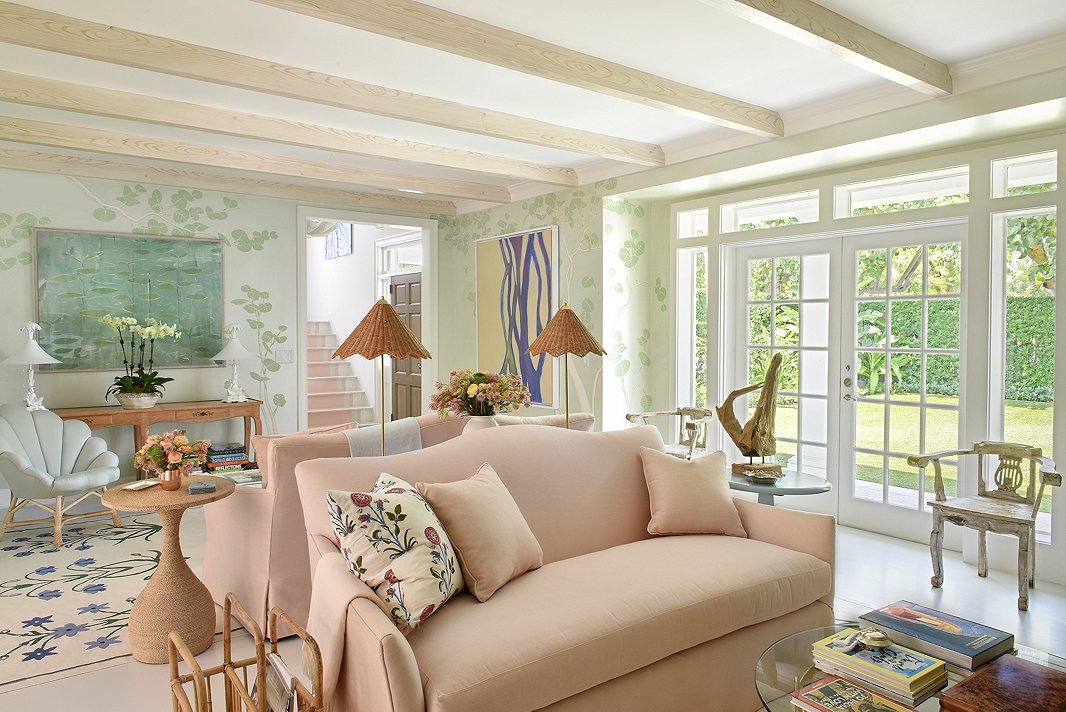 Risks included painting the entire exterior of the house a soft Caribbean pink. "Striking the right balance between the peachy pink and the green took a lot of work. The green couldn't be too sweet," Caroline says. They opted for a more gray shade of green and then brought pops of other softer colors throughout the main living areas in the house to tie it together. In the bedrooms, Caroline played with patterns and texture. Wallpaper with a large-scale pattern and an exaggerated headboard transformed the guest room into a retreat. The girls' room went bold with a similarly purple paper. Grass-cloth wallpaper went on the ceiling in the primary bedroom. 
Melanie's vintage finds were the last piece in Caroline's puzzle of personalization. "She's a collector by nature," says Caroline. Florida's famed South Dixie Highway, also known as the Florida stretch of U.S. Route 1, is an antiques hunter's heaven. Sometimes Caroline joined her friend and client; other times Melanie would come by with new acquisitions. Regardless of where or when they were found, these pieces played a key role in adding the last bit of personality and texture needed to pull Caroline's design together.
Though Bahamian pastels and vintage Florida finds might not have been a part of Caroline's portfolio before, they certainly are now. The finished product is a home perfectly suited to Melanie and her family, complete with a dash of Caroline's signature elegance.