You probably spend more time in your bedroom than in any other room. And your bed is likely the largest and most important item in that room. Given the number of variables—king or queen? box spring or platform? canopy or wingback?—choosing the most comfortable, most convenient, and most attractive bed frame can become overwhelming. To help you find your ideal bed frame, we've outlined below a few elements to keep in mind.
Size (of course)
In the U.S. and Canada, there are five standard mattress sizes:
Twin (also called single)—38.5″ x 74.5″
Full (aka double)—53.5″ x 74.5″
Queen—60″ x 79.5″
King—76″ x 79.5″
California king—72″ x 83.5″
When selecting which size to go for, keep in mind that even the most minimalist bed frame is apt to add at least an inch on each size. Also keep in mind that you generally want at least two feet of clearance beside and at the foot of the bed to maneuver. In a tight space, positioning your bed in a corner, so that the head and one side abut a wall, might enable you to go up a bed size, but it's also more difficult to change the sheets in a bed positioned that way. What's more, depending on the style of bed frame and the depth of the baseboards, you could end up with a gap between the frame and the wall that's just large enough for items to fall through.
Beyond the length and width of your bed frame, there's also height to consider. Which brings us to…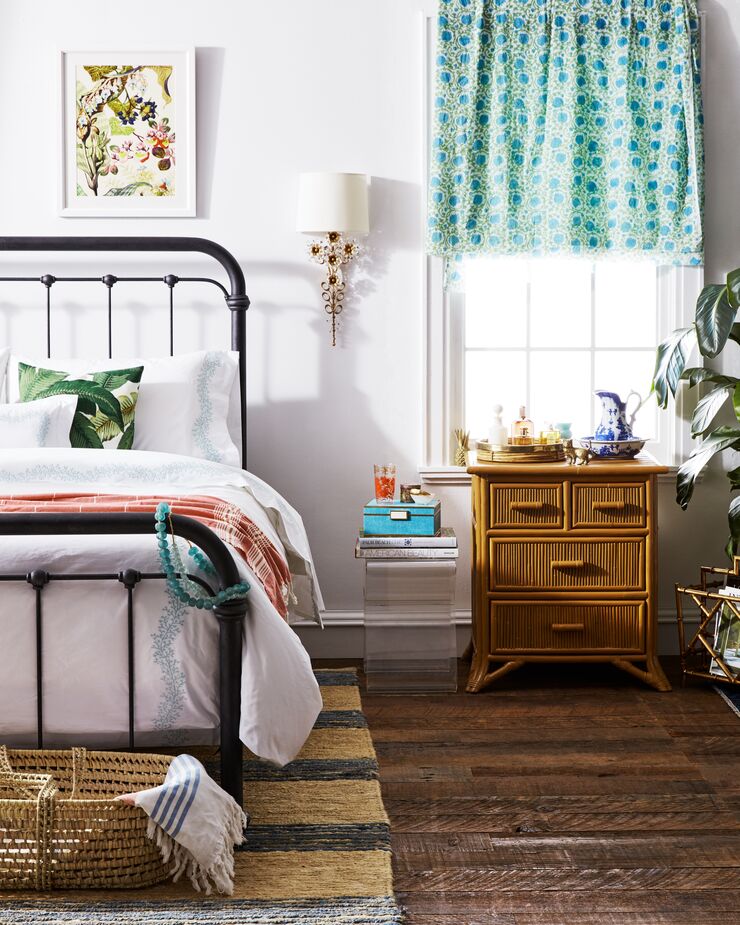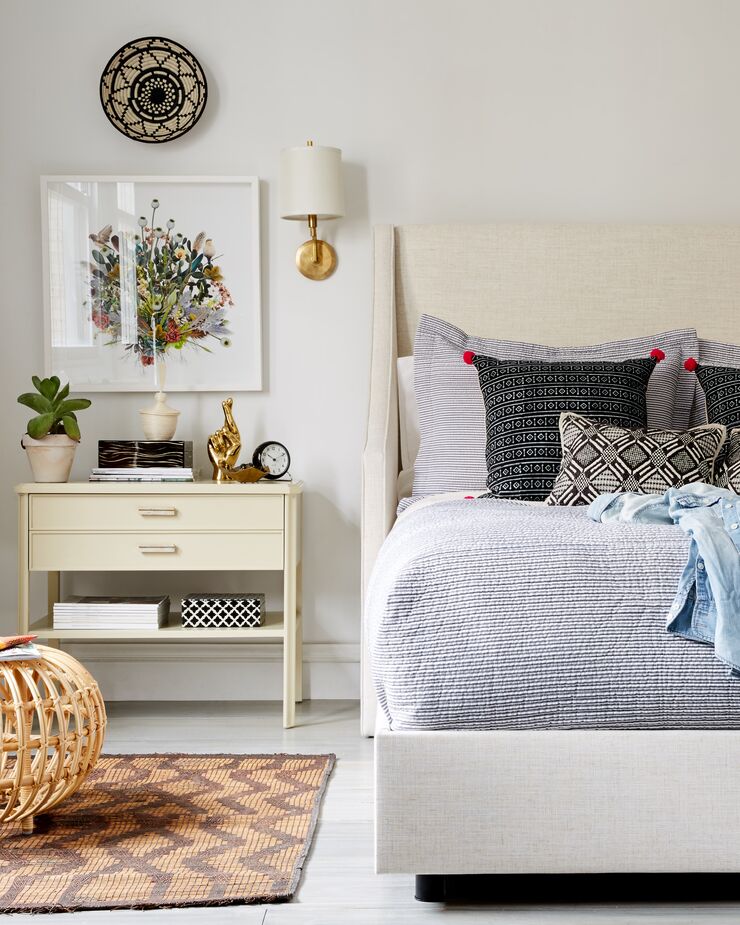 Box spring or platform?
A box spring is basically a fabric-covered box containing springs and typically other layers of padding. It goes above the base of the bed frame and below the mattress, serving as the mattress's foundation. A platform bed requires no box spring; it generally has slats (though sometimes a solid base) that serve as the foundation. By contrast, a non-platform bed might have just a center bar to prevent the box spring from sagging. Placing a mattress on the center bar without a box spring will dramatically shorten the mattress's life and  most definitely have you waking up stiff and sore.
Because they don't require a box spring, platform beds are typically lower to the ground. Whether that's a pro or a con depends on the individual. Some people find it difficult to get into and out of a lower bed; others find it tough to climb into a higher bed. Some people prefer a box spring's balance of support and give; others favor that of a platform bed with a slat system. In other words, one isn't necessarily better than the other, but be sure when buying a bed frame you know which option you're selecting. Also keep in mind that if you're switching from a box spring to a platform bed (or vice versa), your existing nightstands might be too high (or too low) for your convenience.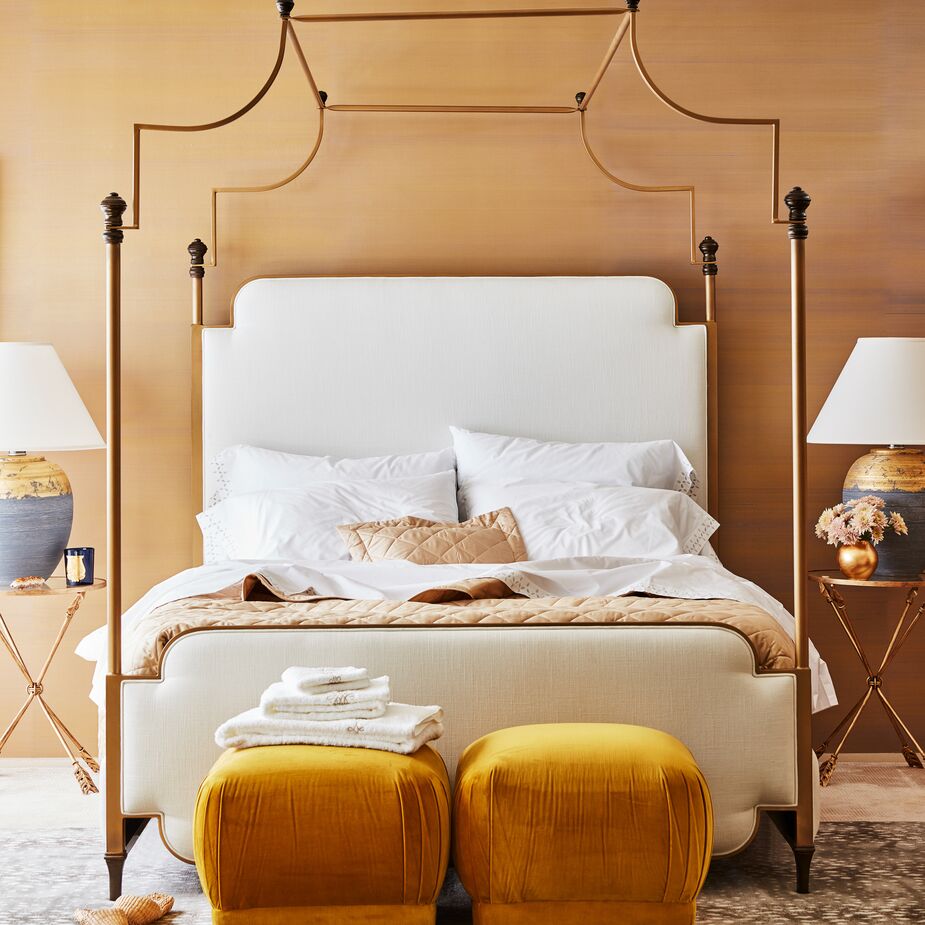 Space beneath
Call this the battle of storage vs dust bunnies. A bed frame raised above the floor can provide space for stashing out-of-season clothes and bedding in storage boxes and bags; a frame that's even just a few inches off the ground can accommodate shoes that don't fit into your closet. (Under-the-bed spaces also make comforting hiding spots for skittish pets.) If the very idea of detritus under your bed is anathema to you, or if you know you're not the most diligent about cleaning there, consider a bed frame that hugs the ground.
Finally, appearances
Once you've settled on the practicalities, you can focus on the aesthetics. Among the most popular styles of bed frames:
• Canopy beds. The first canopy beds, during the medieval era, were designed to provide warmth as well as privacy (few people had private bedrooms, and the wealthy typically slept with servants in their room). Curtains hanging from a canopy bed's top rails can certainly help keep you toasty at night, and in the summer, netting can help protect you from pesky mosquitoes. Bed curtains also help buffer noise and light. Many people with canopy beds, however, eschew the curtains and even a fabric canopy, favoring the style simply for its height and drama. That height, however, can make a room with lower ceilings seem cramped; ideally you want the ceiling to be at least a foot above the top of your canopy bed.
• Four-poster and half-poster beds. A four-poster bed is basically a canopy bed without the canopy: A tall post rises from each corner. Like canopy beds, they add stateliness to a bedroom. Also like canopy beds, they can appear overpowering in smaller spaces. A half-poster bed has high posters flanking the headboard but lower posters, or none at all, at the foot. They give you a clearer sightline for watching TV and look less overpowering in a compact bedroom.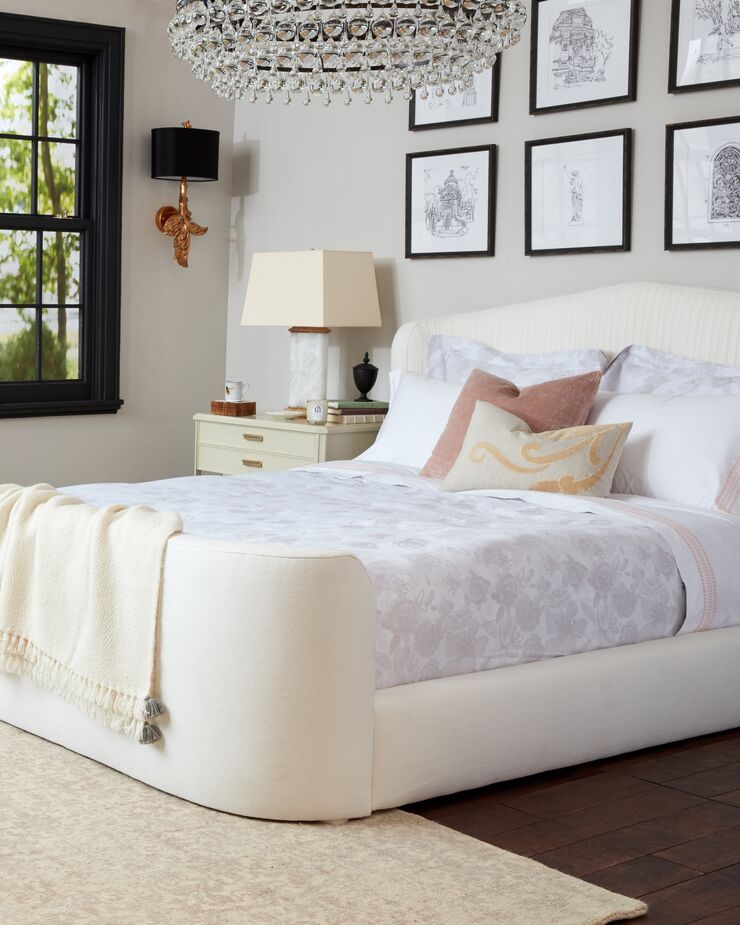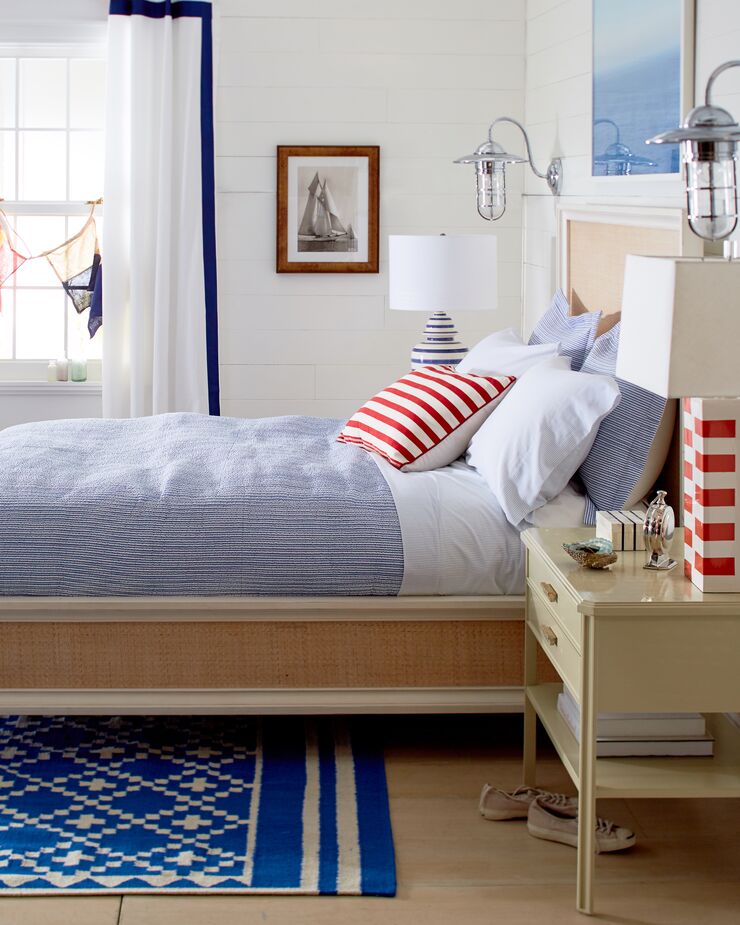 • Upholstered beds. A bed with a well-padded headboard is ideal if you regularly prop yourself up to read, work, or watch TV in bed. As for style, the options are boundless. In addition to selecting a silhouette—wingback, panel, sleigh, arched, scalloped—there's also the upholstery itself. Do you want a solid fabric or leather (real or faux) or a print? Opting for a stain-resistant material or one that's easy to spot-clean is probably wise if you regularly drink or eat in bed or have kids or pets. Patterned upholstery is also handy for hiding pet hair and everyday wear and tear. 
• Metal and wood beds. Comfortable though they are, upholstered beds might not be the best choice for those with allergies. Besides being more hypoallergenic, beds made of wood, metal, or similar materials are easier to clean than upholstered beds: All they require is regular dusting and maybe an occasional polishing. And you can always load up with pillows for extra comfort.