When the family of five moved into this home in San Mateo Park, CA, it could have euphemistically been described as eclectic. "The home was originally built in 1926," explains Ashley Macuga, principal designer of Collected Interiors, "and over the years had been added to here and there—but without real connection to the original structure. The result was a home with beautiful plaster walls and some original detailing but three different styles of floors on the first floor from several remodels and an awkward layout."  
The homeowners called on Ashley to give the house a sense of cohesion, create a family room/kitchen suitable for gatherings, "and bring back some of the home's original grandeur," she says.
To that end, Ashley's mood boards leaned into French-inspired accents, judicious pops of color, dashes of brass, and artful millwork. All of this is evident from the moment one steps into the entry. "I am obsessed with the entry and the applied molding—and love that applied molding is having its moment in the sun," Ashley says. "Executing it requires a lot of planning and math, but when the finish nails are hidden and the walls are painted, there is nothing prettier." Delicate brass sconces, a mirror with an elaborate plaster frame, and a French blue cabinet with rattan doors hint at Parisian elegance.
Here you can also see the style of flooring chosen for the entire first floor: four-inch-wide oak planks stained a dark brown "that would transition easily to the existing floor on the second floor," Ashley says.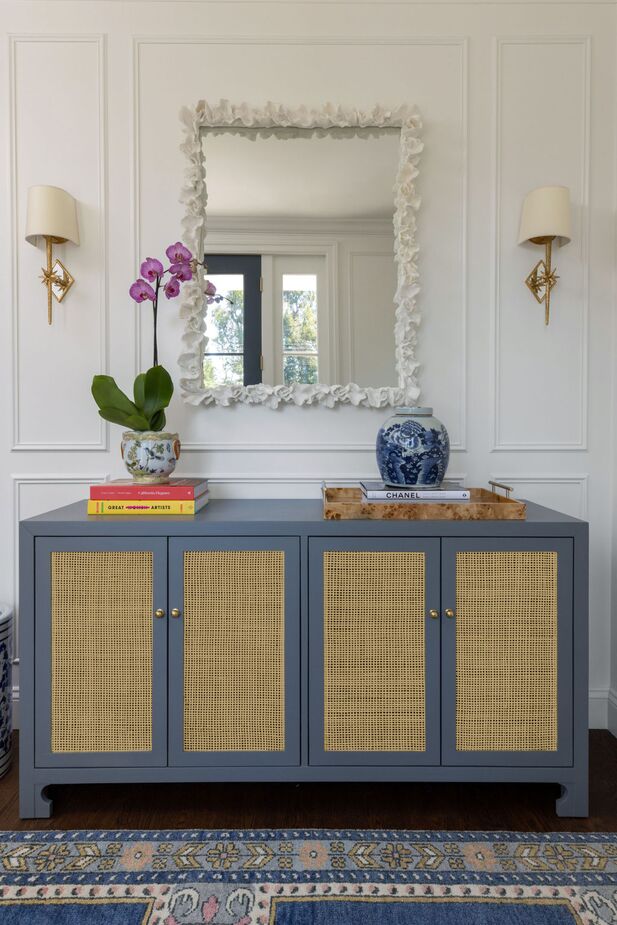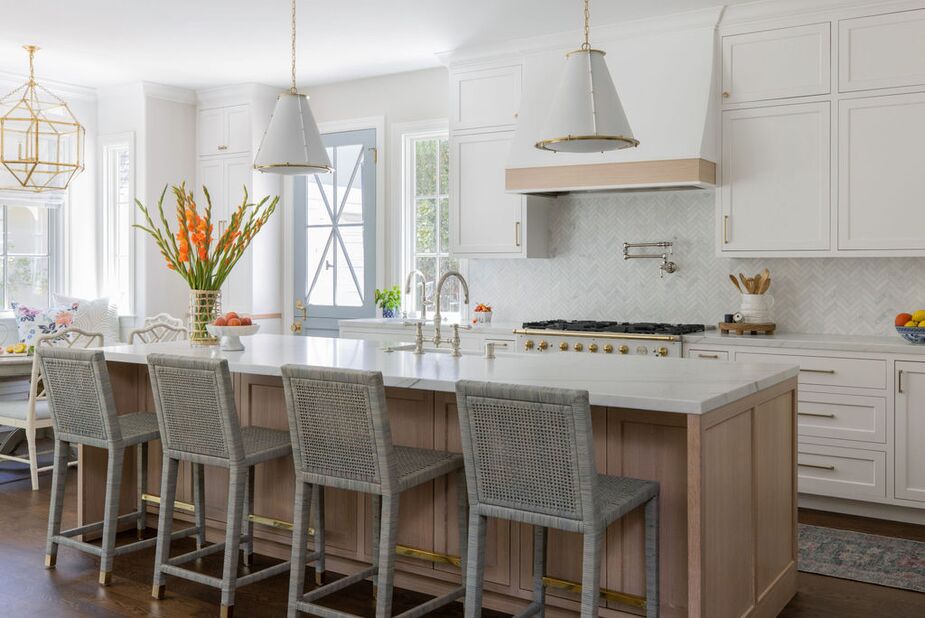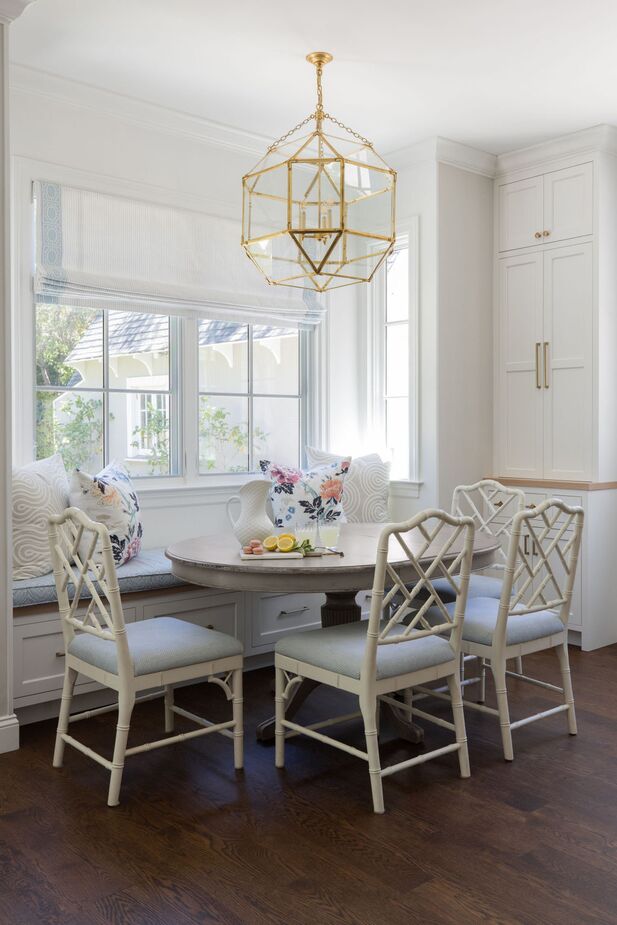 The entry's blue traditional runner and the blue-and-white chinoiserie accents also introduce another theme of the home: the family's love of blue. Rugs featuring muted blues abound throughout, the sofa in the formal living room is a soft blue, bathrooms feature blue cabinets or wallpaper, and the blue cabinetry of the laundry room is chic enough to encourage hanging out there just for the heck of it.
In the renovated family room, a dramatic blue velvet coffee-table ottoman takes center stage—literally—but the new built-in window seats with storage beneath command attention as well. Flanking the fireplace, each is lit with a sconce above the window and softened with pillows. The kitchen has its own newly added window seat, again dressed with cushions. "I am a bit of a hoarder of fabric remnants and had saved the Galbraith & Paul prints used in both places for just the right project," Ashley says. "You should see my storage unit… so many goodies inside!" 
Open to the family room, the kitchen definitely fills the homeowners' request for a gathering spot. In addition to the breakfast nook with its window seat and four Chippendale-style chairs, there's a marble-topped white-oak island with seating for four. Here the dark floors provide a grounding complement to the paler island, the white cabinetry,  and the blue Dutch door.
The greatest challenge of the project had to do with cost increases that came into play after the budget had been established. "This required us to think creatively about how to deliver on the vision while making some concessions along the way," Ashley says. Nonetheless, "we delivered on the client's dream—and seeing her and her family happy really is what it is all about."