We've been lucky to set foot into many a beautiful designer home this year—each filled to the brim with unique personality. Here, we're turning our attention to these residences' stunning bathrooms, showcasing the best ideas for master suites and powder rooms alike. And while they may be one of the smallest spaces in your home, these prove it's more than possible to go big on style.
Who says you can't bring formality into the bathroom? Jason Oliver Nixon and John Loecke, the duo behind the design firm Madcap Cottage, pull it off with aplomb, echoing their home's historical bones and bringing in vintage pieces (an 18th-century chest turned into a sink vanity, a vintage chinoiserie panel incorporated into the side of the tub) for a look full of heritage and sophistication.
Located on a sprawling Ojai farm, every detail of Brooke and Steve Giannetti's stunning rustic home is picture-perfect. That includes their bathroom, which boasts ultraluxe and enviable features such as his-and-hers sinks, a deep pewter tub, dual showerheads, and an all-glass wall that looks out onto the garden. Now that's what we call a room with a view.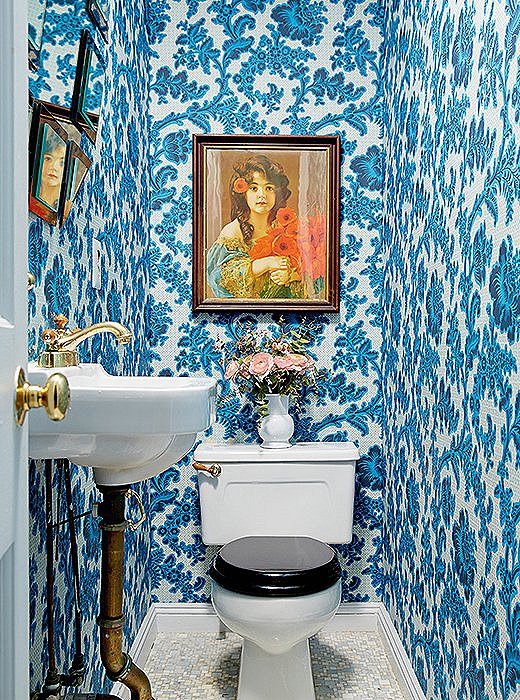 Bright patterned wallpaper in the powder room is an always-stylish look, so naturally we're wild about designer Fawn Galli's floral blue space. In fact, aside from a thrifted portrait picked up at Brimfield, wallpaper was the only adornment the petite bathroom needed. "You can get so much personality and character from it," she says.
As the founders of design firm Pencil and Paper, Ben and Gen Sohr are known for their playfully eclectic but altogether sophisticated interior style. They manifest this ethos throughout their Nashville home—and as you can see here, their master bath is no exception. Bright white, clean lines, and brass accents perfectly complement the busy wallpaper pattern, creating a space that reads both fun and chic.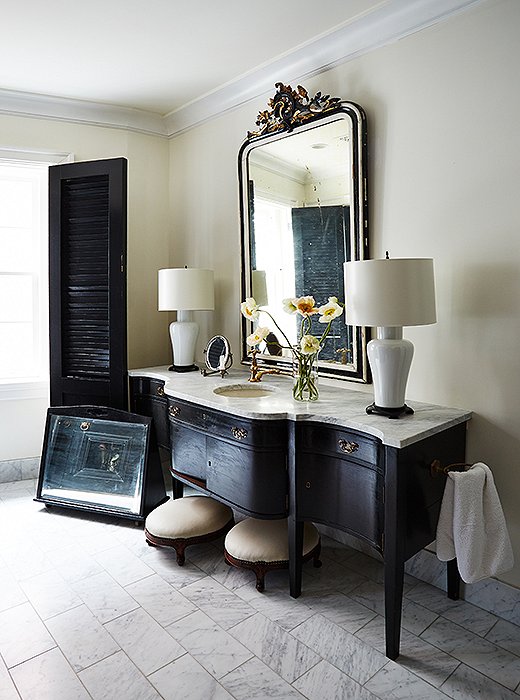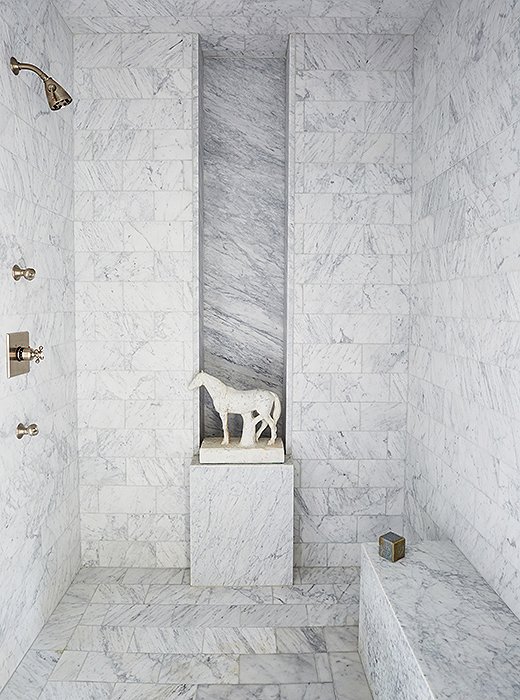 Darryl Carter, known for for his refined eye for antiques, filled his master bath with finds carefully cultivated over years and years of frequenting flea markets and vintage shops. Each piece holds a special meaning to Darryl. "I think your home should be an individual expression of yourself, so I have a hard time getting my head around generic objects. And when I say this I don't mean precious or expensive, I mean thoughtful and original," he says. One of these pieces is the horse figure that lives in his shower, which Darryl spotted in a store window while waiting in his car in traffic.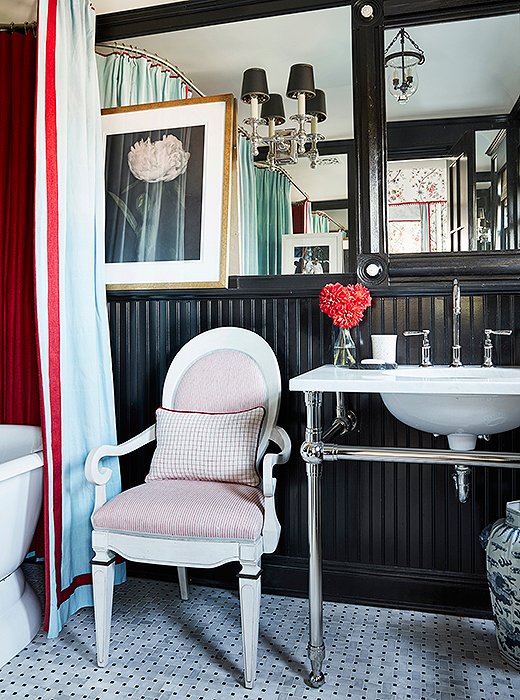 Mark D. Sikes's bathroom is a bold extension of the rest of his Los Angeles abode, tapping into his preppy-meets-elegant aesthetic and striking contrast with the home's reigning blue, white, and neutrals palette. We love his use of black lacquered walls, which are lightened up with a series of mirrors, polished white seating, and stylish sconces, pendants, and fixtures.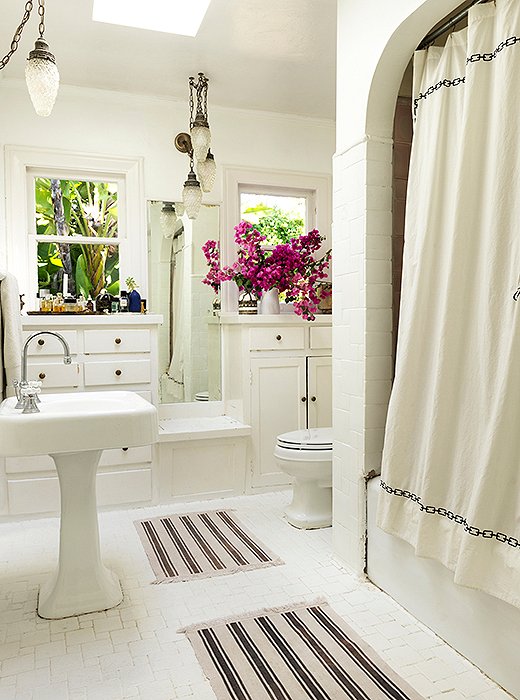 Heidi Merrick's serene, clean-lined bathroom feels right at home in her Spanish-style residence located in the Silver Lake neighborhood of Los Angeles. The original built-ins and Batchelder tiles remain, which she painted white to give the space a breath of fresh air. A few calculated details, such as the Moroccan-style pendants and a graphic shower curtain and mats, add a layer of relaxed character.
Have you ever seen a bathroom so breathtaking? In sync with the European style of the rest of her home, Tara Shaw's master bath uses a bevy of antiques for a truly elegant look. We love the way she uses new and old: the modern bathtub stands out almost as a piece of art amongst wall paneling salvaged from the South of France and an Italian mortar console converted into a sink. "I'm always looking for the extremely unusual piece that can stand on its own and captivate a room," she says.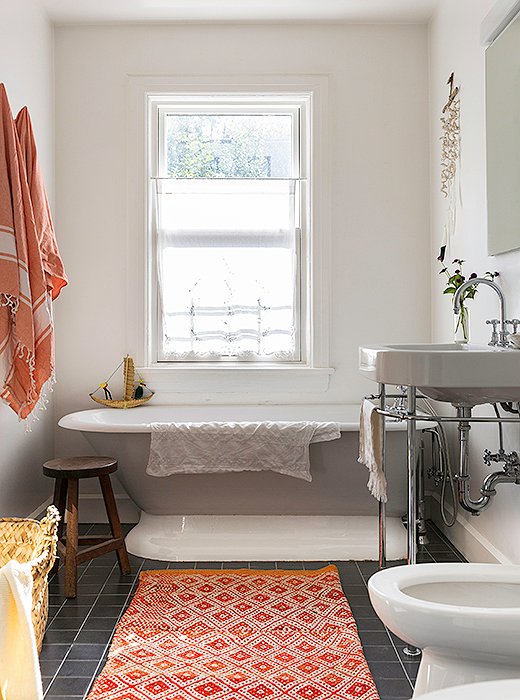 Jenni Li's bathroom is proof that even the most simple of spaces can be transformed with the right textiles and a few pieces of well-placed art. "I just like the contrast of having something really white and calm and peaceful, and then having a little pop of bright color brought in," she says. "You can change the mood of a room with these colorful things."
Kendall Conrad spends a lot of time in her master bathroom's tub. And with the space's natural light and cozy vibes, can you blame her? The room follows the nature-influenced, bohemian style of the rest of her Mediterranean-style Santa Barbara abode with its Indian inlaid bureau, vintage Moroccan rug (just one of many found in her home), shell artwork, and tigerwood set of miniature drawers.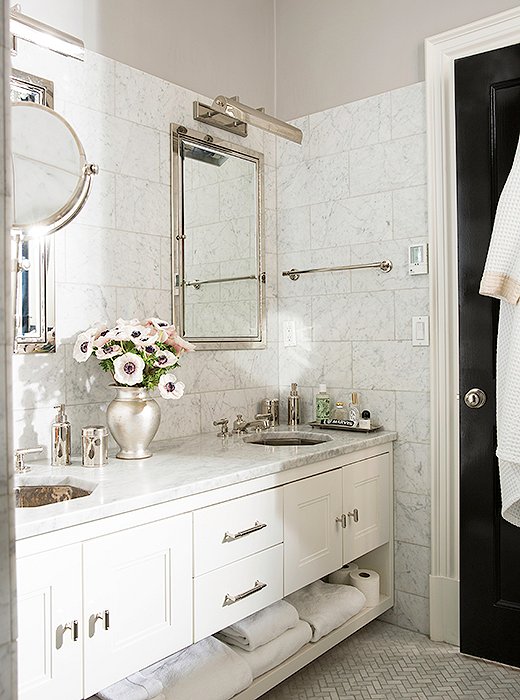 Nina Farmer spent a year renovating her historic Beacon Hill, Boston, townhome, which included turning a former kitchen on the second floor into this stunningly sleek master bath. "I wanted to stay true to this being a historic home," Nina says. "But I wanted to give it a fresher feel. I didn't want it to feel museumlike in any way." It's a thoroughly modern masterpiece, revamped by silver finishes, a pair of octagonal sinks, and walls of Carrara marble tiles.
Having spearheaded shelter mag Lonny and helped revive Domino, Michelle Adams has championed her own cutting-edge perspective on design. The all-white bathroom of her Michigan home is a lesson in decorating with a minimal color palette. Here, curated details like a petite Persian rug and a vignette around a small piece of art show that a few thoughtful moments are most necessary to liven up even the smallest and most practical of spaces.