A desk has become nearly as essential to a home as a bed or a sink. And as with those essentials, functionality is a priority. Fortunately, there's no need to sacrifice good looks for practicality. Once you determine the desk size and features that meet your needs, you'll find plenty of options that complement your style.  
Sizing Things Up
Before anything else, you need to decide where you'll be placing your desk. Will it be the centerpiece of a new home office, or will you be fitting it into a corner of your dining area? Not only do you need space for the desk itself, but you should also leave two to three feet clearance behind the desk so that you can get in and out of your chair. Similarly, if your desk will have drawers, be sure there's enough space for you to be able to open them. You'll also want to be sure that you have about a foot between the seat of your chair and the bottom of the desk top so that your legs can comfortably fit beneath.
Most design pros and efficiency experts will tell you to choose as large a desk as you can comfortably fit into your room; after all, have you ever heard of anyone complaining that they had too much desktop space? If several people will be using the desk at once—the kids doing homework while you wrap up the workday, for instance—maxing out on space is especially important. If you can't find an oversize desk you like, consider a dining table. Both tend to be the same height.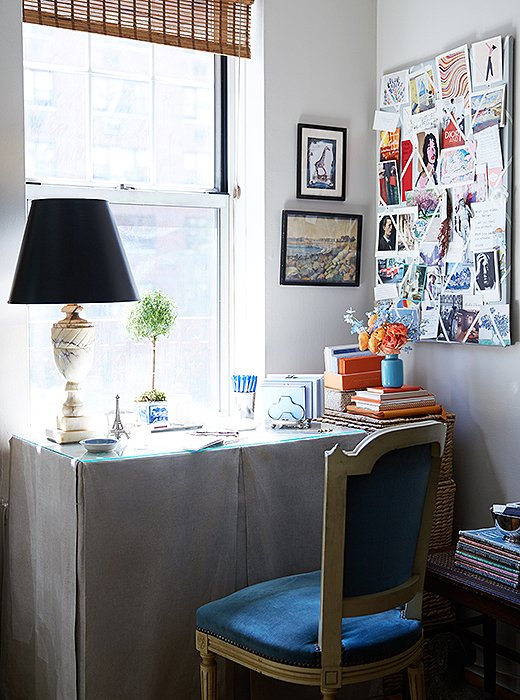 Know Thyself
Not that long ago, just about every desk had at least several built-in drawers. Now that the paperless office has become the rule rather than the exception, many people find that they don't need drawers, except maybe to stash their laptop at the end of the day.
But be honest with yourself: If you still rely on written notes and printed receipts, or if you loathe seeing pens and notepads atop your desk at the end of the workday, be sure to choose a desk with drawers. Ditto if you'll be sharing your desk; each user should have at least one dedicated drawer for his or her essentials, and keep in mind what those essentials are apt to be. If your kids have workbooks, say, they'll want a drawer deep enough to stack them.  
Of course, your desk doesn't have to be your sole storage option. If you don't have space for a cabinet, a media console, or a bookcase, tuck a few baskets or bins alongside or beneath your desk.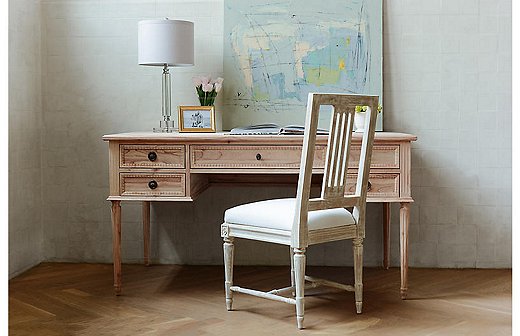 A Desk for Every Style
It's a lot easier—or at least more pleasant—to work at a desk you find visually appealing. Here are some suggestions for desks that exemplify our most popular aesthetics.
New Traditionalists are the least likely to have abandoned paper and ink, so they'll want a desk with at least a few drawers to stash stationery, pencils and pens, and the like. Another option is what's sometimes referred to as writing desk, which has a few small drawers, shelves, or cubbies attached to the back of the desktop; sometimes these desks have a roll top to hide the storage when they're not in use. New Traditionalists also favor desks with classic ornamentation but in an unexpected material or color. 
For Eclectics, the style of the desk is less important than how it adds to the overall mix of the space. If they have an all-business chair, they're apt to choose an extravagant vintage desk; if the rest of the space is a cornucopia of colors, textures, and styles, they'll go for a simple, sleek desk as a place for the eye to rest. For a desk that's true to the Eclectic mix-rather-than-match ethos, there's the Gold Riley: The design is that of drawers atop a pair of sawhorses, but it's rendered in white with golden legs.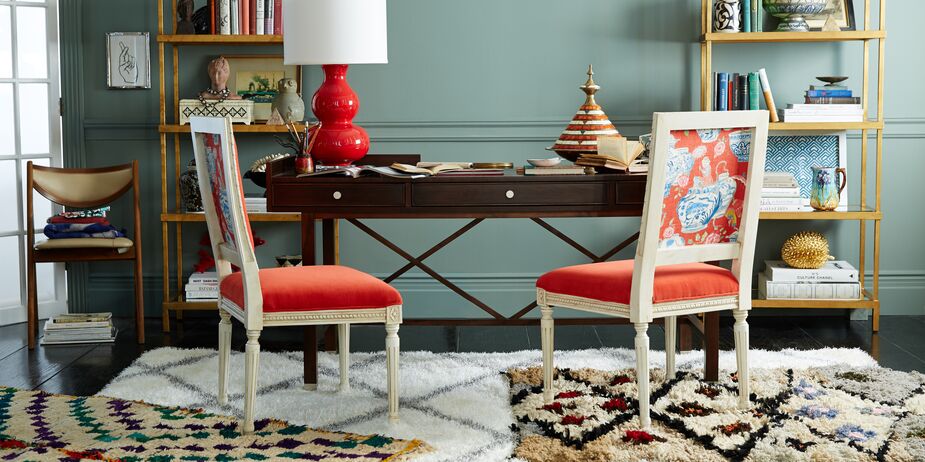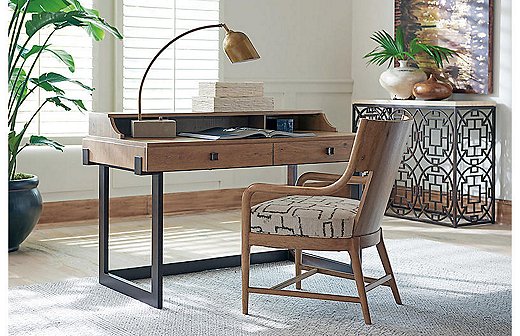 No gleaming chrome or shiny lacquer for Naturalists. They'll gravitate toward minimally finished wood desks just about every time. They tend to favor simple silhouettes as well (such as the streamlined options from Ethnicraft). A desk with caned insets will add a bit of unexpected panache to a Naturalist's office.
Sleek, sculptural silhouettes appeal to Curators; so do glossy and gleaming finishes. The Cumulus Writing Desk, with its golden legs and stone keyboard shelf, almost looks too chic to be practical. For something more substantial, consider the sculptural Milo Writing Desk, which includes two file drawers and four smaller drawers.