Designing your dining room entails much more than selecting a table and chairs you love. How many people can your dining room accommodate comfortably? Will there be enough space for guests to easily sidle in and out of their seats? Is the chandelier high enough not to impede conversation? Is there enough room to open your buffet doors if guests are seated in front of it?
To make it easier for you, we've compiled some guidelines regarding dining room measurements and specs. 
Tables and Chairs
Bigger isn't necessarily better when it comes to dining tables, even you like hosting sizable gatherings. That's because you ideally want at least 30 inches (and preferably 36 inches) between the table's edge and the wall or any furnishings. Much less and only a paper doll will be able to slide in and out of the chair.
For dining chairs, at least two feet between each is optimal, so that people can savor their meal without continually being jabbed by the elbows those sitting beside them. So here's (very) approximately how many people you can comfortably sit at typical rectangular dining tables:
48 inches wide: 4 people
60-72 inches wide: 6 people
72-96 inches wide: 8 people
96-108 inches wide: 10 people
108-120 inches wide: 12 people
That said, we've all squeezed more than the ideal number of people around a dining table on occasion. To make doing so easier, consider having a bench rather than chairs along one of the table's longer sides. Or opt for a round table instead of a rectangular one. The lack of corners not only lets you comfortably seat more people but also enables the table to take up less overall space than a rectangular table of comparable length. (Studying geometry finally pays off!)
By the way, when choosing chairs or benches, don't forget to take seat height into consideration: If there are fewer than 10 inches between the top of the seat and the bottom of the table edge or apron, guests' thighs might be wedged uncomfortably into place for the duration of the meal.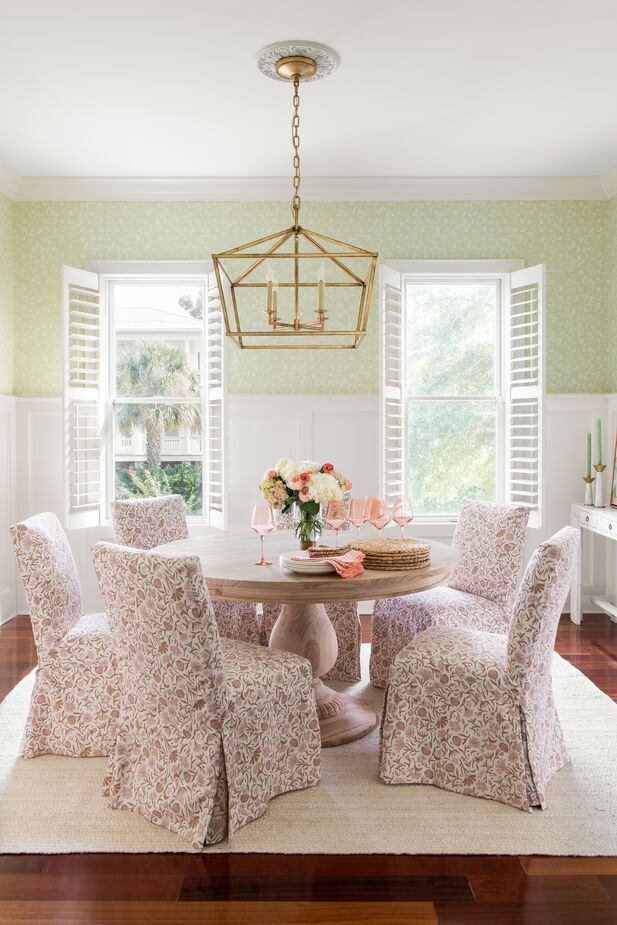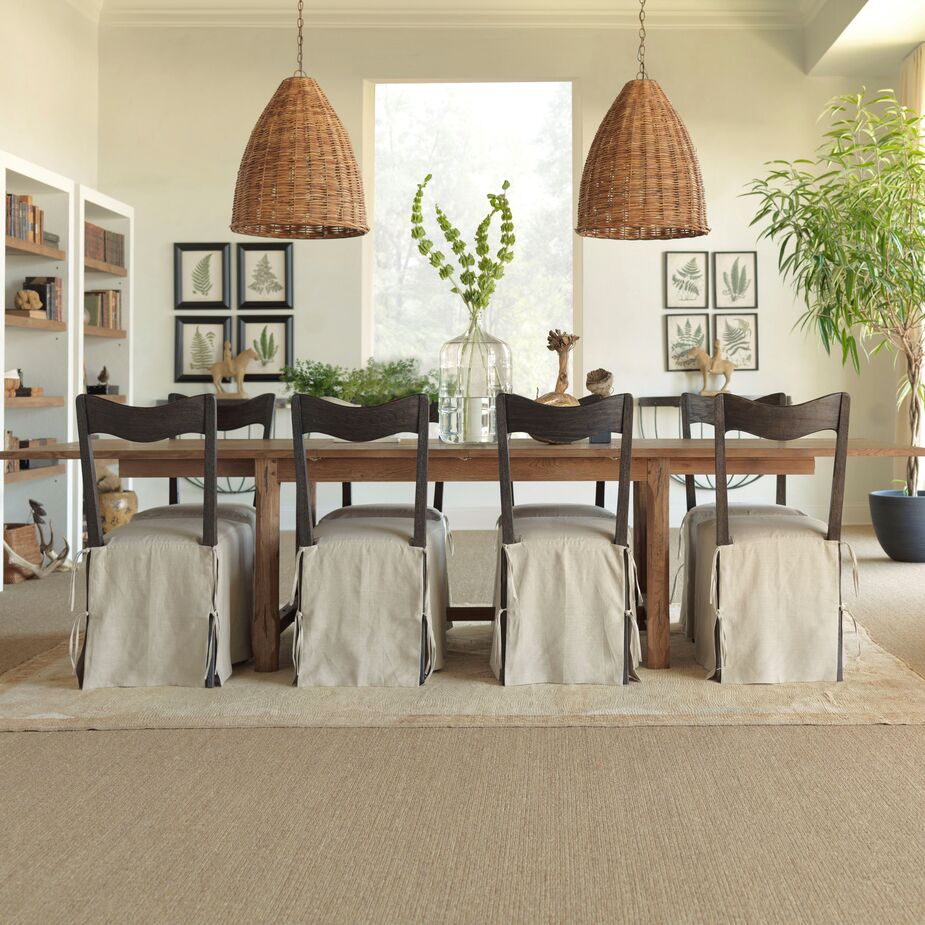 Rugs
If you opt for a rug in your dining area, try for one that is about four feet longer and four feet wider than your table—in other words, one that extends at least two feet or so beyond the edges of the tabletop. This will ensure that all four legs of each chair are on the rug even when the guest is sliding into the seat or pushing it back to leave the table. 
Just as important, consider the material and construction of your rug. Flat-weaves are easier to clean than shags or hides, and wool is highly durable. If kids or klutzy guests are regulars at your table, consider an indoor/outdoor rug that you can wipe clean or even hose down.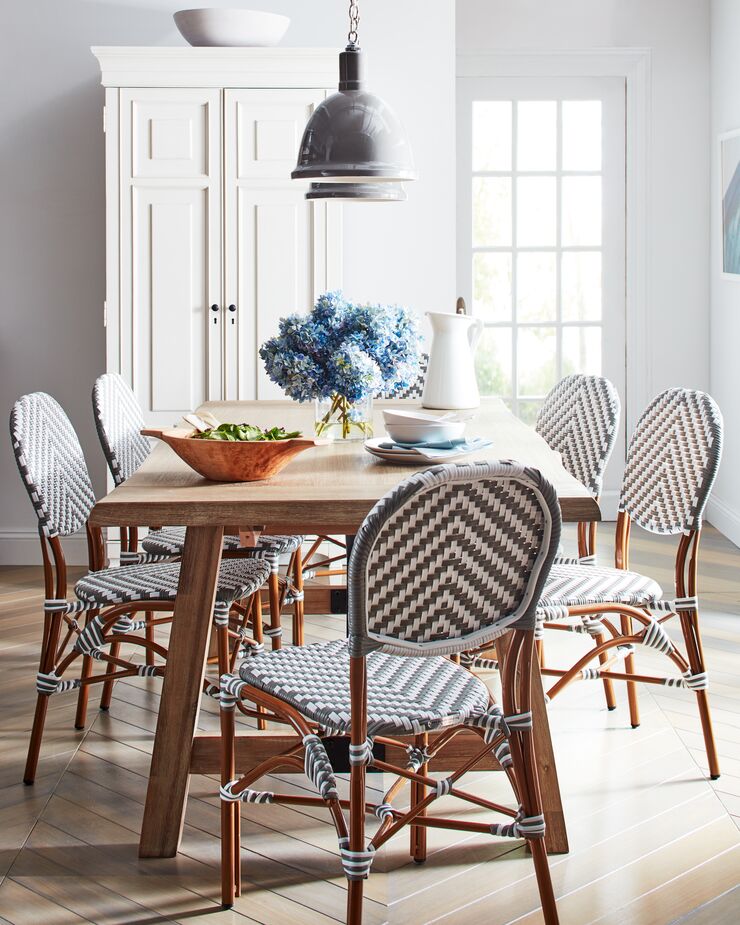 Lighting
When hanging a light fixture over a dining table, a rule of thumb is to allow at least three feet between the tabletop and the bottom of the chandelier or pendant. For rooms with lower ceilings, a flush or semiflush mount or track lighting might be preferable; you don't want guests to have to maneuver around the fixture to be able to see the person on the opposite side of the table. (For a similar reason, avoid overly tall centerpieces.)
Another rule of thumb is that your chandelier or pendant should be at least half, but no more than two-thirds, the width of your dining table. If your table is relatively wide, you might want to hang multiple pendants instead of one fixture. The space between pendants should be roughly the same as the width of the pendants, and try to have pendants hang at least a foot in from the ends of the table; no one wants to feel as if they're under a spotlight while eating.
Two more tips regarding ceiling lighting: One, center it over the table rather than within the room. And two, if possible, opt for dimmer functionality. You probably don't want the same level of lighting for a festive family gathering as for an intimate dinner for two.
Designers generally advise having more than one light source per room. Flank a buffet, artwork, or a mirror with a pair of sconces, or use a single sconce to shed some light on a corner of the room that isn't illuminated by your other fixtures. 
All of this assumes your dining area is hardwired to accommodate chandeliers, pendants, or sconces. If it's not, lighten up with lamps. Arc floor lamps can brighten your table without intruding upon guests, all manner of floor lamps can lighten up corners, and buffet lamps (and table lamps in general) can dress up sideboards and bar carts.