Summer's bright sunshine and boisterous garden colors may be fading, but they're being replaced with vivid sunsets and the rich, tawny palettes of autumn leaves. You can—and arguably should—reflect these changes when decorating for fall. After all, the same bright whites that seem so refreshing in the summer heat can look cold and gray in autumn and winter; the bare floors and dhurrie rugs that feel cool underfoot in summer can be unpleasantly chilly once the temperatures drop. 
Fortunately it doesn't take much to ease your summer-fresh decor into autumn. It's largely a matter of layering on warmer colors and textures. Shop our fall preview, and get some inspiration below.
Pillow Party
It's amazing how swapping out or layering on pillows can transform a room at relatively little cost. Add a sapphire-blue pillow among your sky-blue cushions, a pair of emerald-green solid pillows alongside your pastel floral ones. Complement linen with velvet, silk with chenille, and consider adding suede, leather, faux-fur, and knit options as well. As fall progresses, you can add more of the autumnal pillows to the mix and subtract a few more of the summery ones to further change up your look. 
Throw It On
If you folded away your throws in the spring, bring them back out. A whisper-soft cashmere or alpaca throw adds not only color and warmth to a space but also a sense of luxury. If it never gets cool enough where you live to require a knit or faux-fur throw, stick with your lightweight materials but in a deeper color—rust, sage, gold, brown. And don't forget to add a few to your outdoor spaces. Even in warm climates, evenings can get brisk enough to raise goosebumps, and you don't want to let a bit of a chill keep you from stargazing.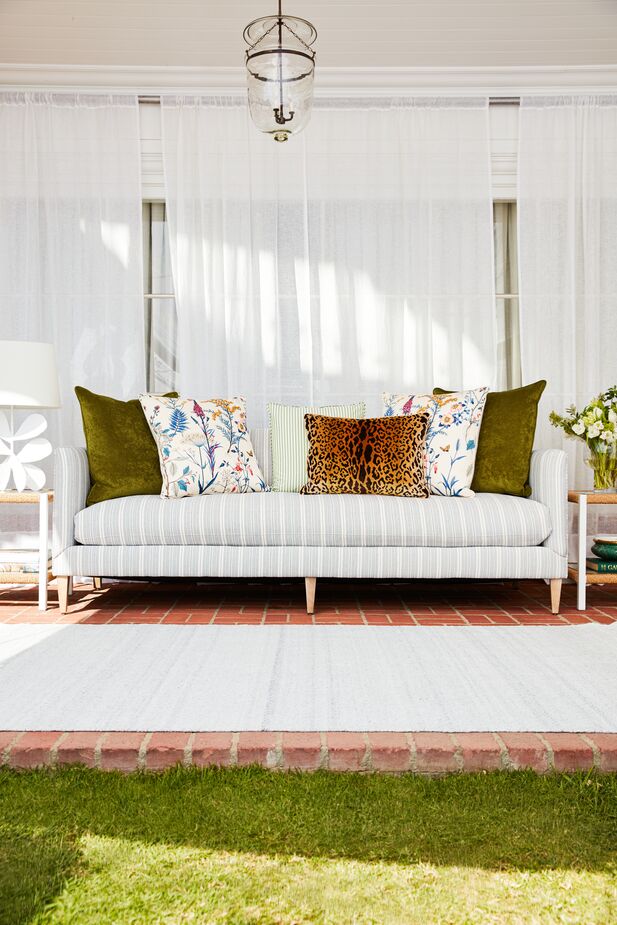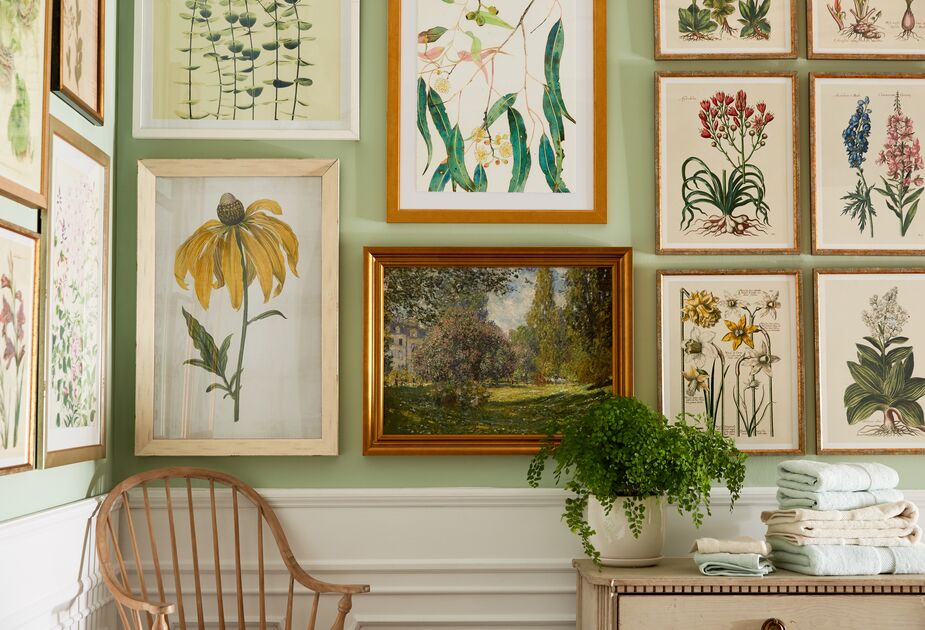 The Art of Autumn
Just as the scenery outside your windows will be changing, you can modify the scenery on your walls. If you're a fan of, say, coastal art or floral images, you needn't swap out your collection. Instead, consider replacing a sailing scene of saturated blues and yellows with one that features toned-down hues (Malibu Beach by Christine Flynn is a case in point). Or add to a gallery wall of botanical drawings on white backgrounds a few with darker palettes (Lauren Liess's Moody Botanical Set is ideal).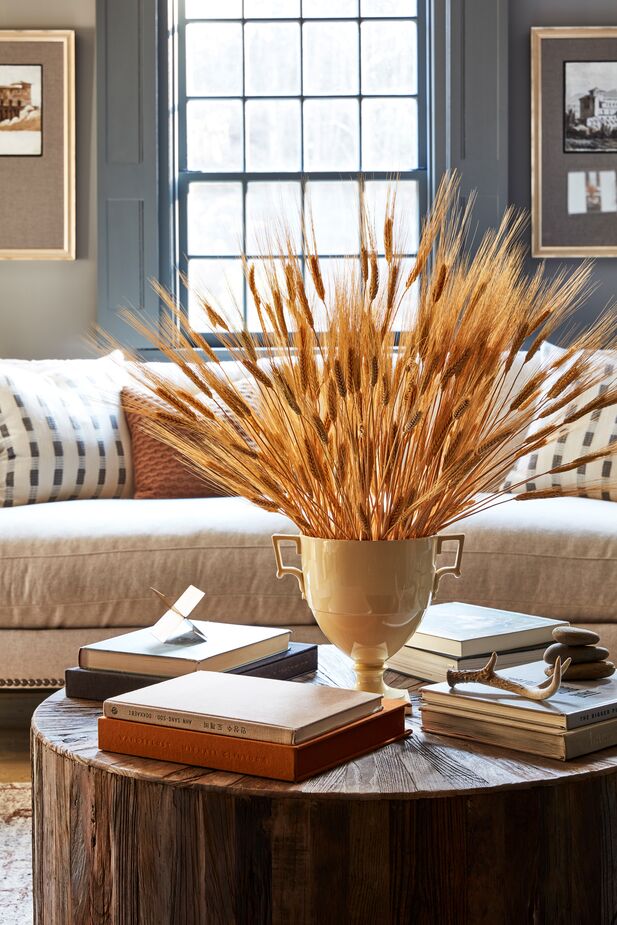 Accessorize the Season
On the one hand, displaying arrangements of faux tulips and magnolias year-round serves as a reminder of the joys of a spring garden even when you're dealing with a foot of snow and arctic temps, which is nothing to sniff at. On the other hand, replacing these bouquets with autumnal alternatives such as chrysanthemums, grasses, wheat, or even warm-weather flowers in oranges and golds subtly introduces the new season. Bonus points if you display them in a terracotta urn or a rope-wrapped vase.
A few other easy changes to make:
• Replace decorative seashells with acorns or pebbles.
• Introduce to your shelves leather-clad books or books with spines in caramel, siena, and olive tones.
• In fact, layer in a few leather items in general; something as seemingly small as replacing a ceramic coffee-table tray with a leather one can make a big difference.
• Add touches of brass or gold in lieu of silver—they'll feel much warmer but easily as luxe. If you've been wanting to replace a silver-framed mirror with a golden one, now's the time.
Invite Autumn to the Table
Apples, eggplants, squashes, and pomegranates are among the many reasons to welcome autumn. Not only can your recipes take a cue from these seasonal fruits and veg (does anything beat homemade applesauce?) but so can your table settings. Simply using an ecru rather than white tablecloth, opting for tortoiseshell napkin rings, or bringing out wooden place mats sets a seasonal scene.
Scents and Sensibility
Floral, fruity, and beachy fragrances can seem incongruous as the season grows brisker. At the same time, those woody, musky scents that felt too heavy in spring are perfect for fall. Candles and diffusers with notes of sandalwood, amber, ginger, tea, or patchouli are autumnal treats for your olfactory sense—and once their fragrances have faded, it'll be time for winter scents such as pine and eucalyptus.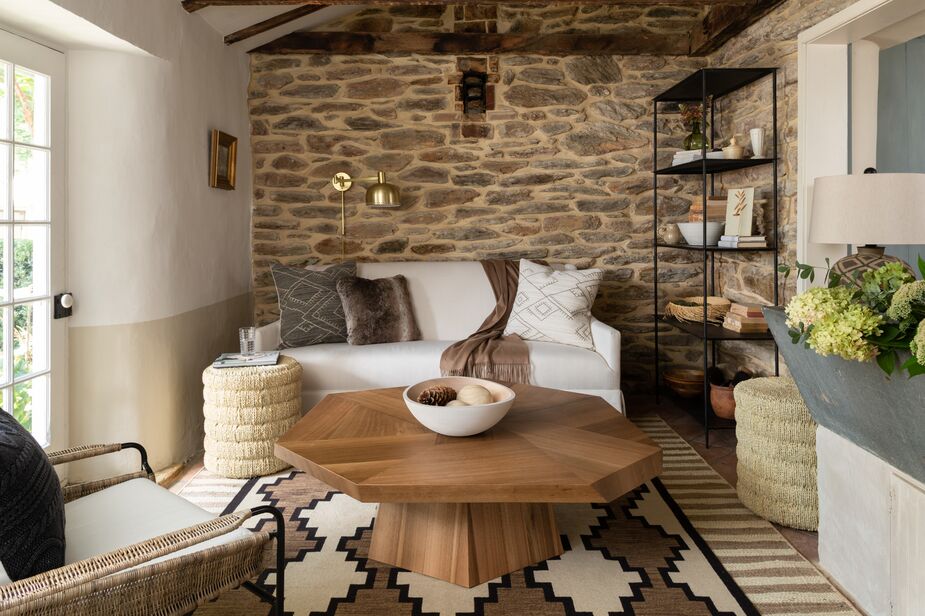 Double Up on Rugs
We've long sung the praises of natural-fiber rugs: They're durable and versatile, bringing organic texture to just about any style of room. As the weather cools, though, consider layering a second rug on top. Shaggy rugs such as Beni Ourains and sheepskins are especially welcome once temperatures fall; hide rugs bring earthy glamour; and just about any other type provides an opportunity to once again warm up your palette. They'll literally help warm up the room as well.
Layering isn't limited to natural-fiber rugs, by the way. You can enhance any flat-weave solid with a hide rug, real or faux. Or for a boho look, layer pattern upon pattern.