If you've always lived in the suburbs or the country, eat-in kitchen may sound redundant: Of course your kitchen included a space for sitting down to a meal. For born-and-bred city dwellers and apartment habitants, however, an eat-in kitchen may well be the stuff of TGIF sitcoms. Nonetheless, even many compact kitchens can accommodate eating as well as cooking—and many eat-in kitchens can make even better use of their space.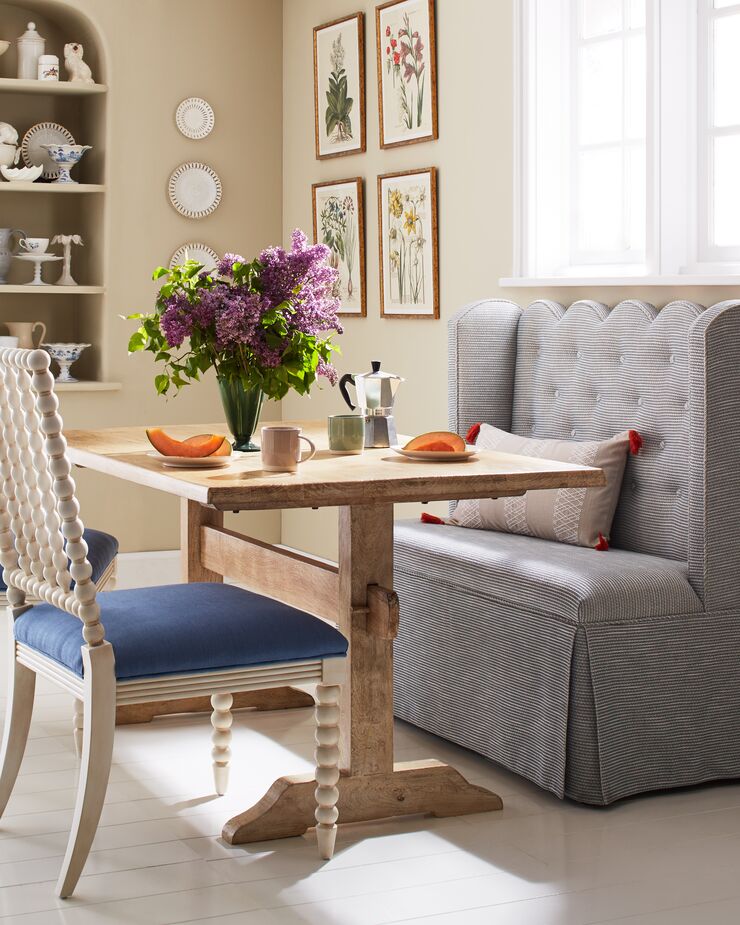 Making Space
"First define what 'eat-in' means to you—an island with counter stools or a fully separate dining table and chairs—and then do a careful space analysis," says Bethany Adams of Bethany Adams Interiors. "No one will be enjoying their breakfast if they're constantly having to scooch their chairs to let others pass."
To avoid this sort of squeeze, the National Kitchen and Bath Association recommends planning for a walkway at least 36 inches wide from the edge of the table or counter, though that's a bare minimum. If you expect significant foot traffic in that pathway while people are seated or if one side of the pathway includes appliances or storage with doors or drawers, plan for a walkway width of at least 44 inches. Conversely, if you're positioning your table or counter so that people are sitting alongside a wall, you can narrow that clearance space from table or counter to seating to as little as 32 inches—enough for people to be able to sidle in to their chair or stool. For this reason, placing the dining portion of your kitchen in a corner, with banquettes against the adjacent walls, is a handy solution for smaller kitchens.
When it comes to tables, a round one lets you seat more people than a rectangular table of comparable length. What's more, round dining tables have no sharp corners or edges. "There is a reason so many eat-in kitchens have round or oval tables," says Ashley Macuga, principal designer of Collected Interiors. "They provide better circulation space and a softer edge for families to shuffle into a banquette seat. I also love that they provide a contrasting shape to the kitchen island, which typically has square edges."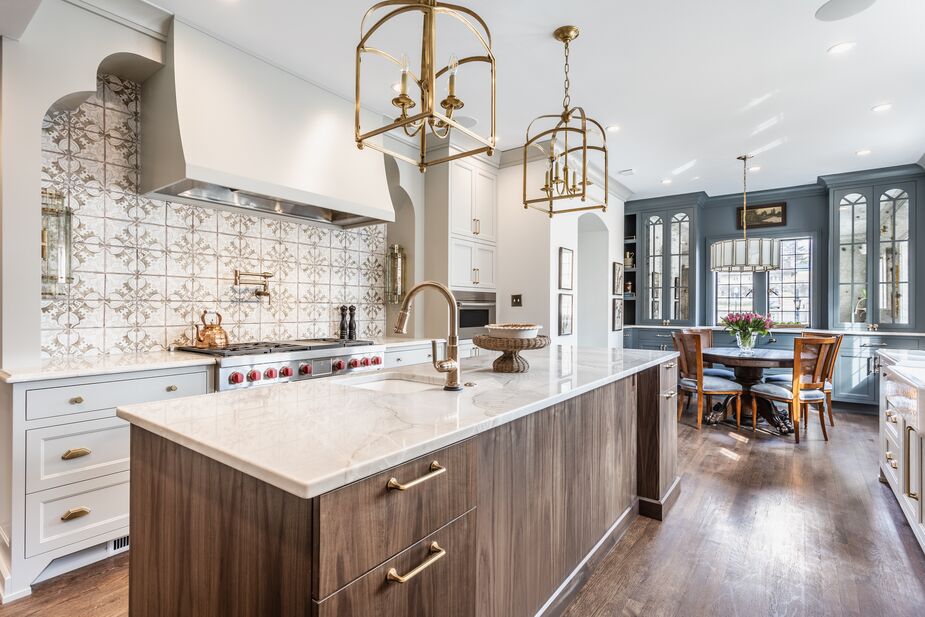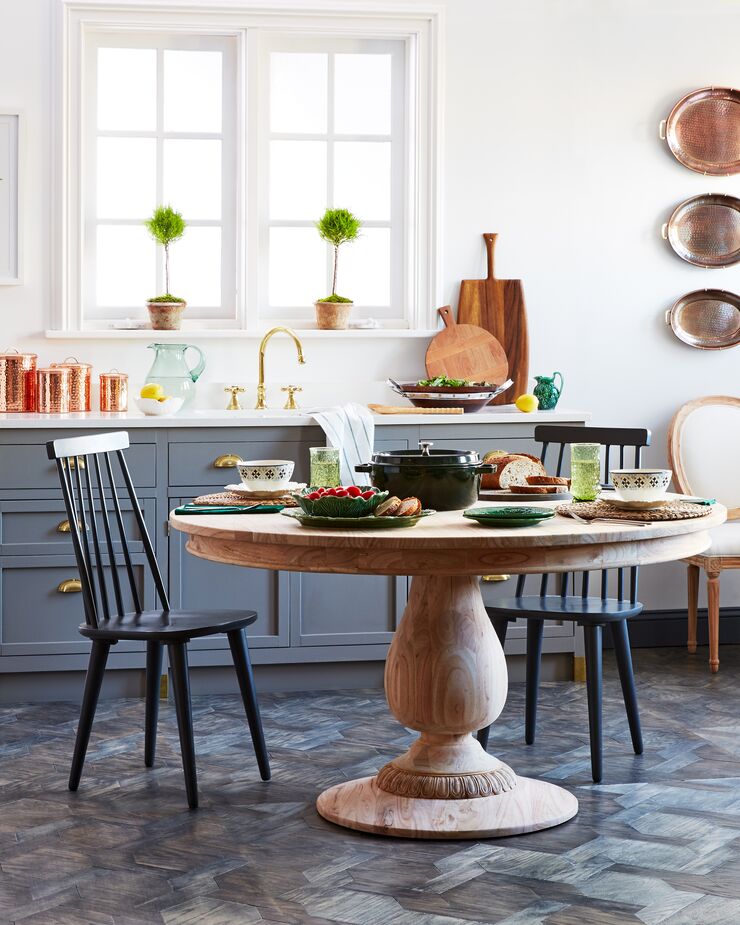 Material World
Having maximized your kitchen's space, it's time to think about your furniture materials. "Depending on your family makeup—do you have kids? pets?—it may make sense to choose wipeable seating fabrics like faux leather or at the very least stain-resistant ones," Bethany says. If opting for upholstery or cushions, consider patterns rather than solid colors—stains will be less apparent. 
Transparent acrylic chairs or stools are another option. Not only are they easy to wipe down, but because they're all but invisible, they make a space feel less crowded. So do stools with no or low backs that can be tucked beneath a counter when not in use and backless benches you can slide beneath a table. 
One last tip: Beyond furniture, think about adding a rug to differentiate the eating area from the cooking area. An indoor/outdoor rug will minimize cleanup; a flat-weave rug is also practical—bonus points if it's reversible. Don't skimp on size: Ideally the rug should extend two feet or so beyond the table's edges so the chairs don't skid off it when people are getting in and out. Nor should you skimp on a rug pad; you don't want to slip while carrying a fresh-from-the-oven casserole.