Entry, foyer, vestibule: Whatever you call it, this space typically has two important jobs. One is to make a great first impression on guests as well as to make you happy to be returning home. The other is to serve as a convenient, organized spot for everything from coats and shoes to mail and umbrellas. 
If your entry is large enough to accommodate a table, chairs, and a closet, it can handle both tasks relatively easily. Foyers that are just a few square feet in size face a greater challenge, but not an impossible one. Whatever the size or shape of your entryway, the tips below can help.
• Come to the table. A spacious entry with a center table, complete with bloom-filled vase and a few other objets, has long been an icon of traditional elegance. Yet many, if not most, foyers are not large enough too accommodate that: Ideally you want at least three feet of space around the table on all sides so that people don't plow straight into it when entering and can easily maneuver around it. Many more entries, however, can accommodate a console table. These tables can be less than a foot deep and come in widths to suit just about any length of foyer. 
When selecting a console, consider whether you want one with drawers. While drawers are ideal for keeping keys and other items out of sight, they can be difficult to open in a particularly narrow entry. Also consider if you want a table with an open base, where you can tuck poufs, stools, or storage baskets. A table with shelving probably won't allow for stashing poufs, but it can provide you with extra storage. 
By the same token, you don't have to limit yourself to a console table. Depending on your entry's dimensions, you might be able to fit a bookshelf or even a dresser.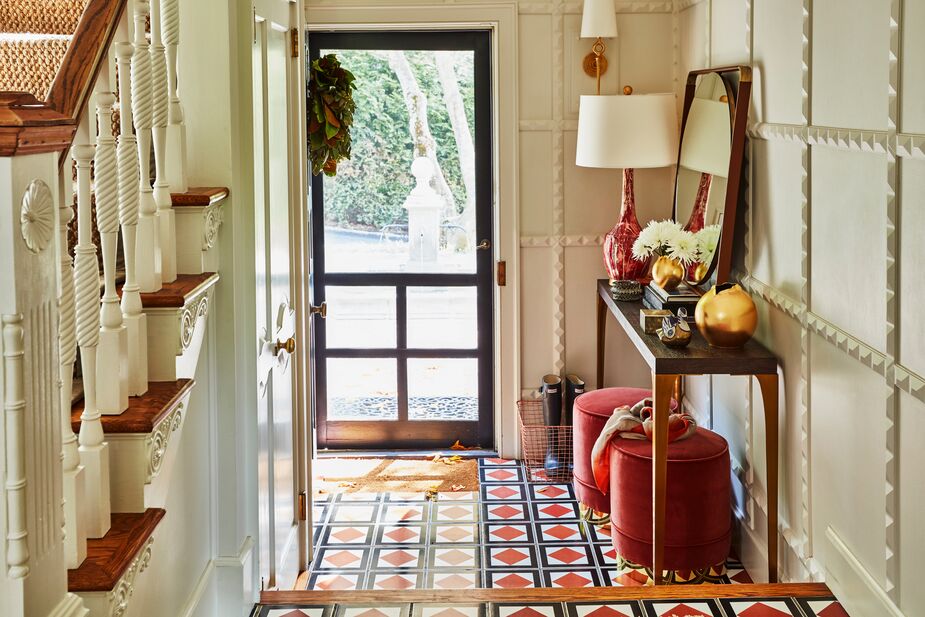 • Take a seat. As mentioned above, some consoles allow you to stash a stool or two beneath them. An alternative is a bench, and if you don't have room for both a bench and a table, consider a storage bench. Or chose a storage ottoman that fits beneath the console for the ultimate in multitasking furnishings.
• Look beyond floor space to wall space. Wall shelves might feel less intrusive than a table in smaller entries, and they can provide added storage and display space even in a furnished foyer. And don't underestimate the power of wall hooks, from which you can hang coats, bags, hats, and leashes. There are plenty of decorative hooks that act as jewelry for a room even when not in use. (If you do plan to hang keys or handbags from a hook, be sure that they're out of reach from a window; you don't want anyone to be able to break in and grab your belongings.)
• Reflect your style. Having a mirror in your entry lets you check your appearance one last time before you head out the door. It can also double the amount of light in the space. Even the narrowest foyer can accommodate a wall mirror, or a piece of art, for that matter. 
• Light the way. Some sort of ceiling light is all but de rigueur in an entryway. A flush or semiflush mount works well in a foyer with a standard-height ceiling, but if your ceilings are higher, consider a statement-making chandelier or pendant. And because every room can benefit from multiple light sources, you might want to add a sconce or a lamp. Hate coming home to a dark home but don't want to keep a light on all day? Invest in a timer, though consider slightly varying the time the lights turn on each evening.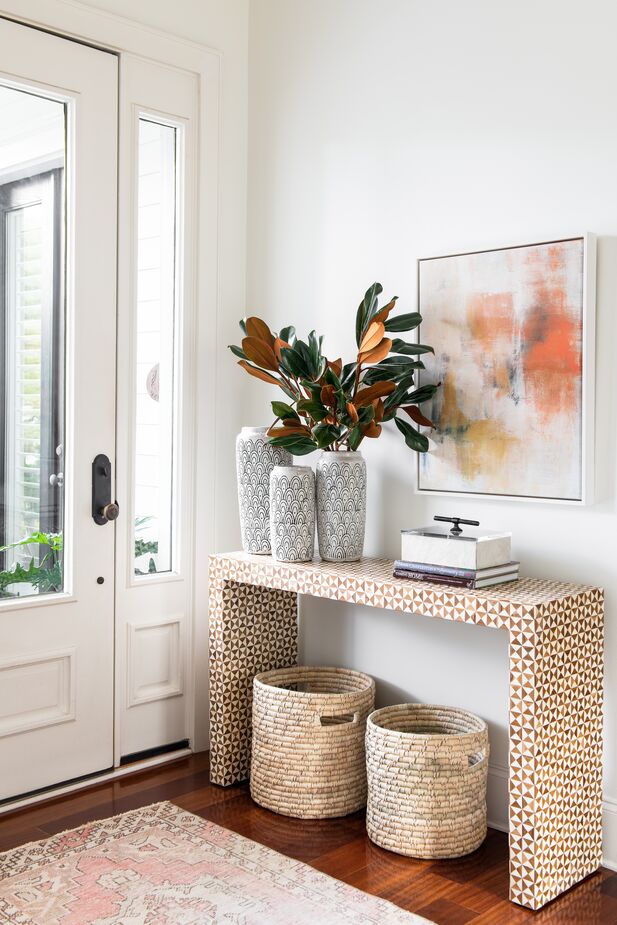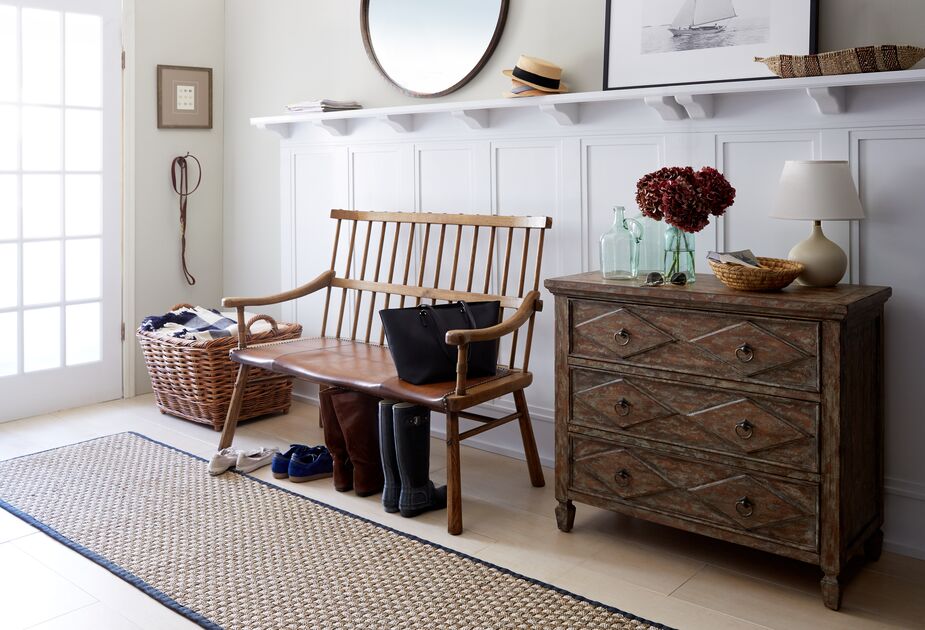 • Roll out the carpet, or at least a doormat. Entries get a lot of foot traffic. Even if those feet aren't tracking in sidewalk salt, sand, and the like, they're still taking a toll on your floor. A rug, runner, or doormat is especially important if you have wood flooring. A rug will also reduce the slipperiness of marble floors. And speaking of slippage, be sure to place a rug pad beneath the rug. Pro tip: Dirt is less noticeable on a patterned rug.
• Practical makes perfect. If you have kids or pets, receive lots of guests, or live in a locale where snow, sleet, and mud are common, keep durability and ease of maintenance in mind. For walls, that might mean semigloss or high-gloss paint or wipeable wallpaper; for floors, consider indoor-outdoor rugs that you can hose down. Speaking of practicality, an umbrella stand is all but essential if you live in a rainy area.