Blue just might be the most versatile color around. Royal blue-and-white chinoiserie is a mainstay of New Traditional style; sky blue and ocean blue energize the typically neutral palette of Naturalist rooms; icy blues and rich blues complement the luxe metallics of Curator chic perfectly; and there are more than enough shades of blue to satisfy even the most color-mad Eclectic. Should you need proof, take a look at the rooms below that we found on Instagram.
For even more inspiration, follow us on Instagram @onekingslane—and feel free to share your own spaces by tagging us with #myOKLstyle.
Tiffany Skilling Interiors added a classic armchair upholstered in blue velvet to make this home's soaring entrance even more grand. A few other judicious touches of blue—the chinoiserie lamp, the stair runner—keep the chair from feeling like an outlier among the dominant white and dark wood. While most entryways are simply spaces one passes through, the chair encourages lingering here. As an aside, the entry's chest of drawers provides a wealth of hidden storage.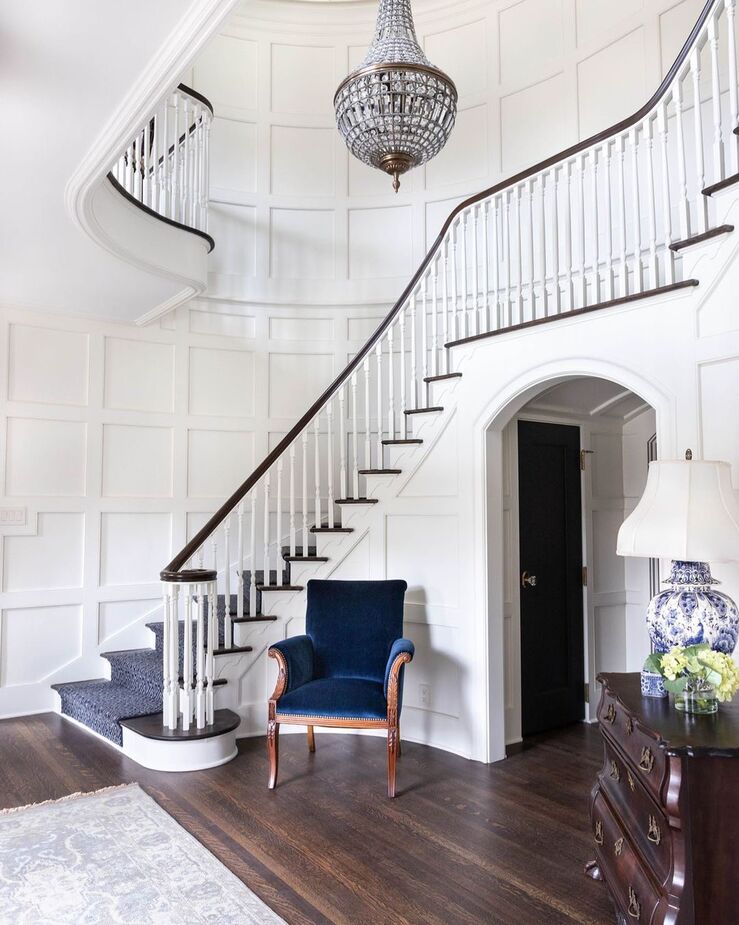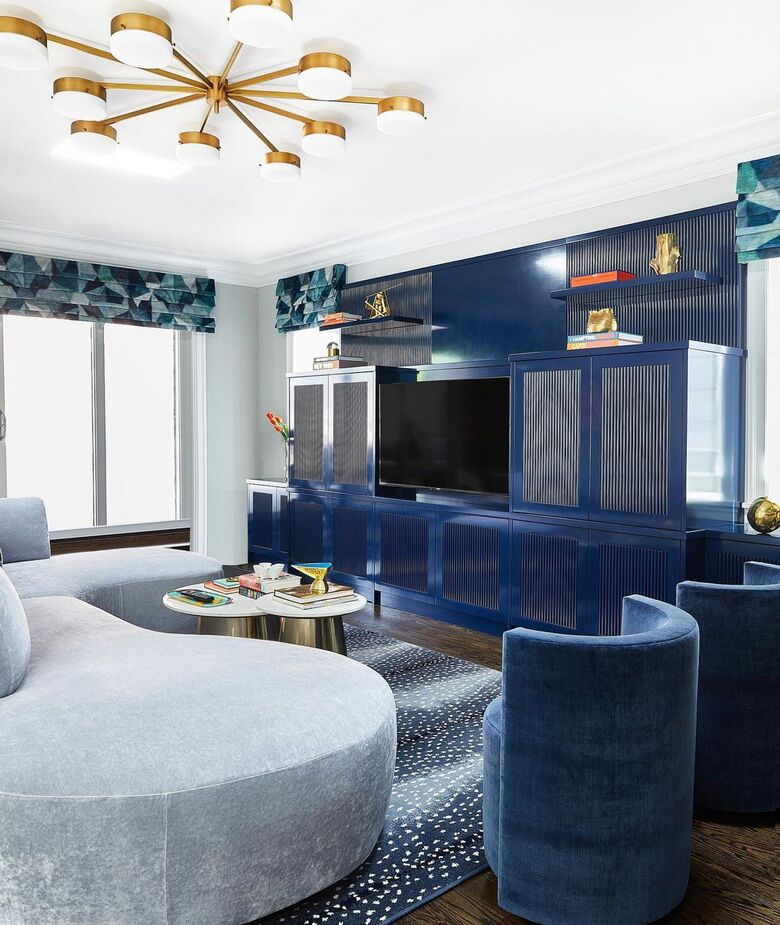 Can a room be too blue? Clearly Jennifer Ami Kole doesn't think so. Introducing a pale blue sectional to the darker blue chairs and lacquered media storage ensures that the room retains an inviting lightness. So does the use of curves to counterbalance what could have felt overly boxy. The antelope-print rug (find similar here) marries the dark and light blues perfectly.
The golden legs of the Marceau Slipper Chairs up the glam quotient of this living room alcove designed by Kevin Francis O'Gara III. The chairs' minimalist lines, as well as the Mid-Century Modern style of the floor lamp, bring a contemporary gloss to the room's more traditional elements, which the blue-and-white palette complements perfectly.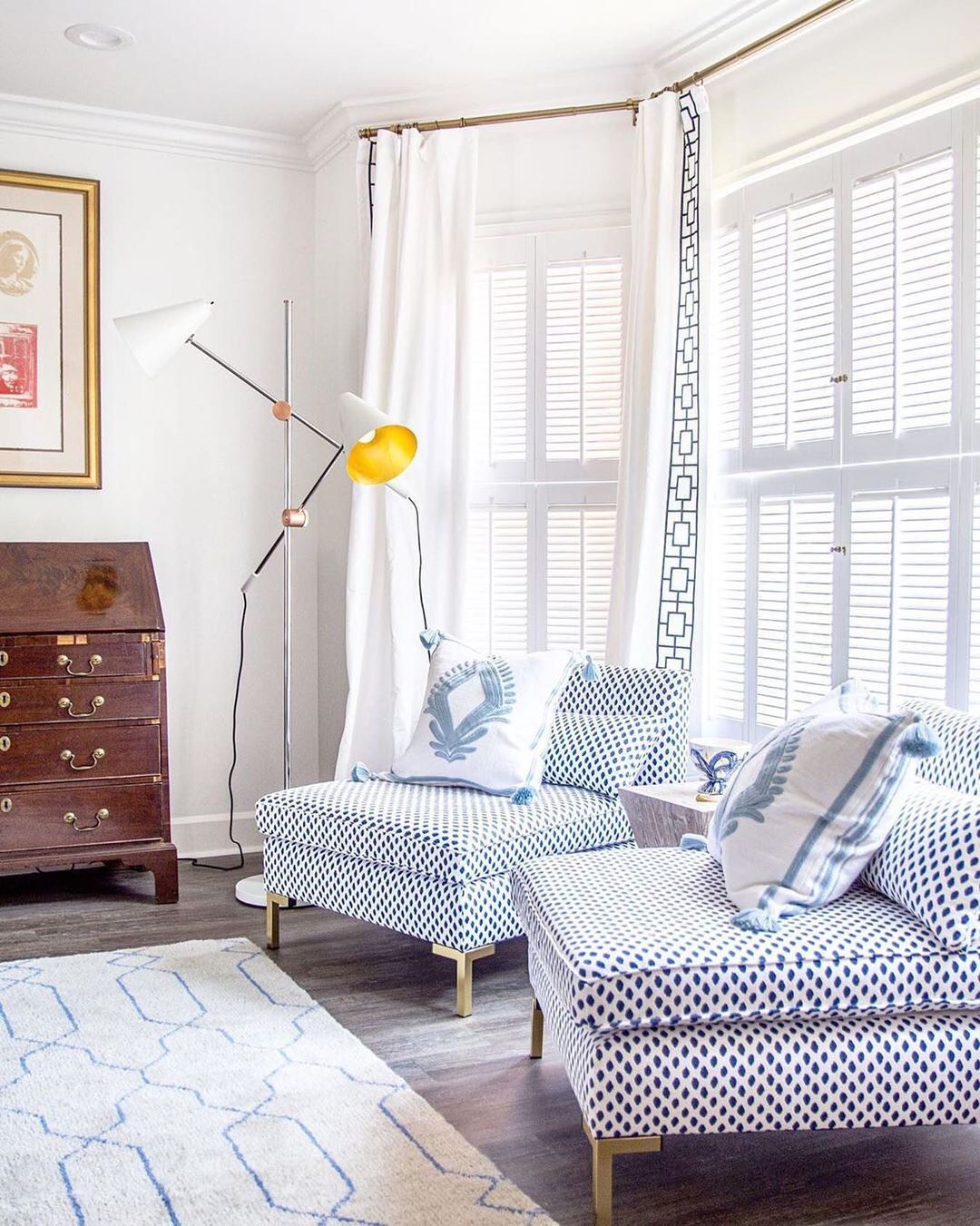 Blue's association with serenity makes it perfect for a bedroom. Here Kaylea and Jon Nixon, aka the Nixon Pack, opted for a light touch. Not only was blue used sparingly, but only the dreamiest, softest shades were added to the white and cream palette. Find the wood-bead chandelier here and the Hayley Mitchell artwork above the bed here. 
In this sunny space outside her bedroom, Alexis Pawling used burnished gold to tie together a variety of blue hues and finishes. The shell-like back of the chair underscores the seaside theme of the bookcase, which spotlights numerous pieces of coral Alexis has collected over the years. Find the adjustable sconces used as library lights here.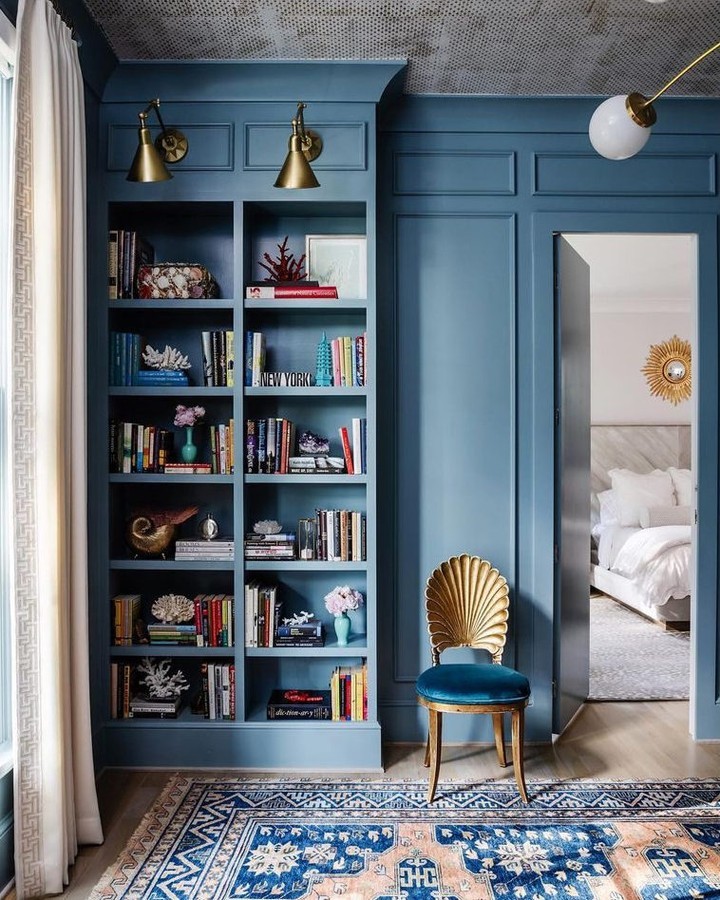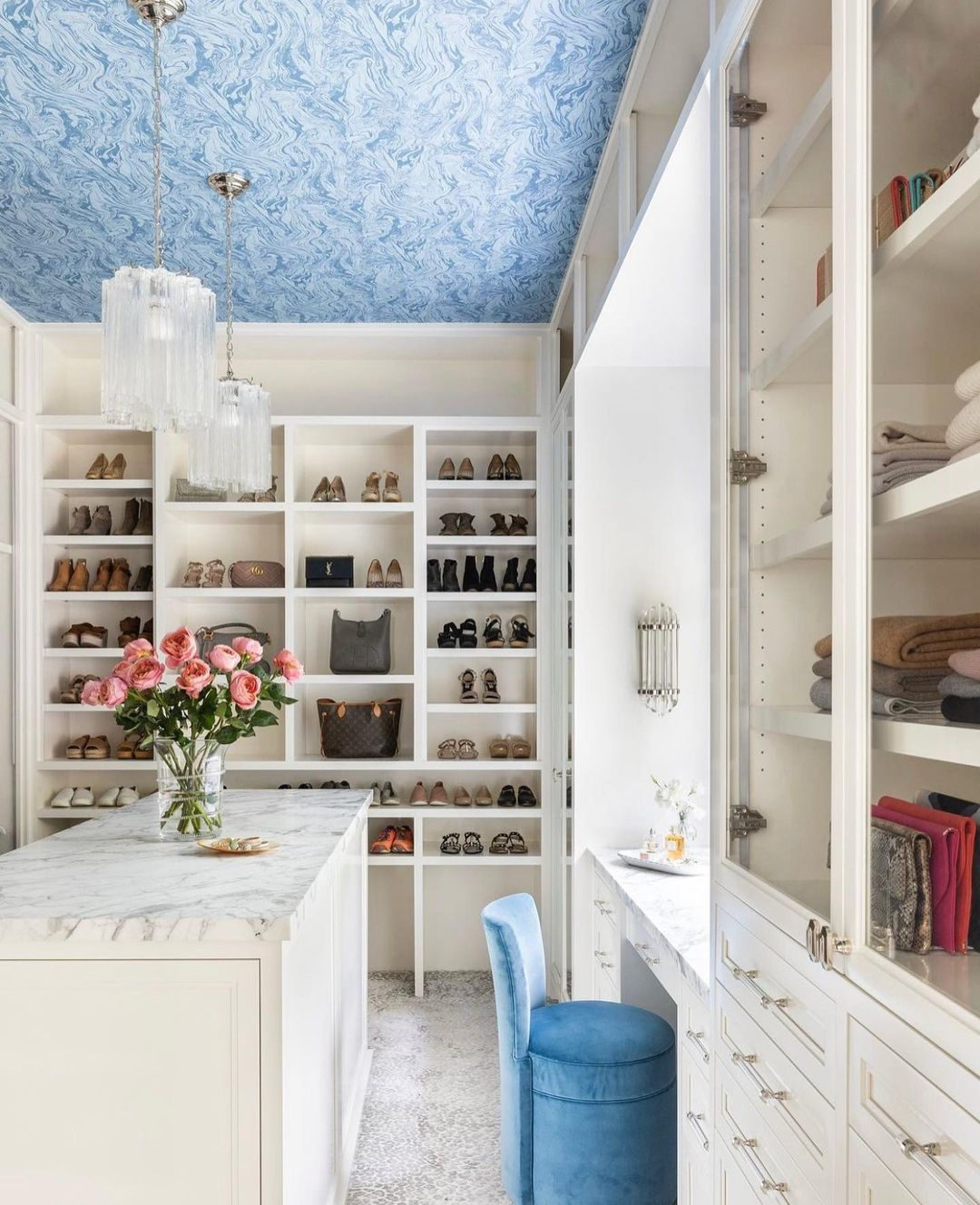 If this dressing area by Chandos Interiors were ours, we'd move our laptop into it and spend our workdays there: It's that stunning. The blue marbleized wallpaper on the ceiling draws the eye up while accentuating the blue velvet chair. The marble counters and the animal-print rug (similar to this one) contribute subtle depth and pattern without detracting from the other luxurious elements.