Sure, you can celebrate with eggnog from a carton, cheese on toast, and the like… but why would you when you can dress up your menu in less time than it takes to trim your tree? From our friends at Sur La Table come three festive recipes that will impress guests without your having to break a sweat. And you might want to serve these gustatory delights (or at least two of them) all year-round.
Homemade Eggnog
Makes 3 servings
Ingredients
1 cup light rum
½ cup (3½ ounces) granulated sugar, plus 2 tablespoons, divided
6 large eggs, separated
¾ cup heavy whipping cream
½ teaspoon ground cinnamon, plus more to decorate
⅛ teaspoon freshly grated nutmeg, plus more to decorate
⅛ teaspoon ground allspice
1 cup milk
Instructions
Whisk rum, ½ cup of the sugar, and egg yolks in a heatproof bowl set over a small saucepan of simmering water until very thick, 2-3 minutes. Remove from the heat and refrigerate until cold.
Pour cream into a medium bowl and whip using a hand mixer or whisk until soft peaks form; chill.
In a stand mixer fitted with a wire whip attachment, whisk egg whites, the remaining 2 tablespoons of sugar, cinnamon, nutmeg, and allspice until soft peaks form.
Fold cooled egg yolk mixture and whipped cream into whites. Stir in milk. Ladle eggnog into mugs and garnish with ground cinnamon and nutmeg.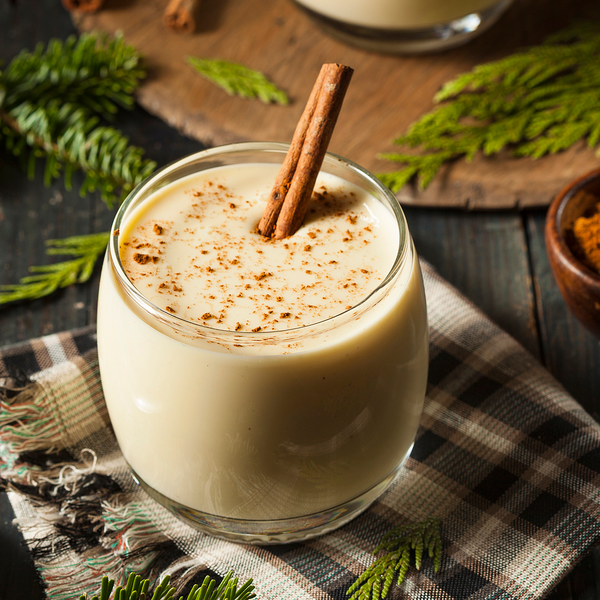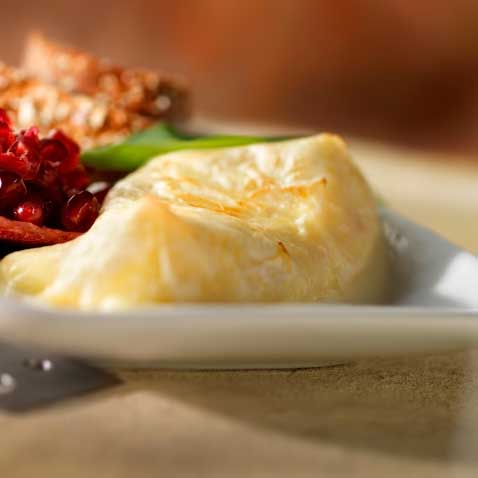 Baked Brie and Hazelnut Bundles with Cranberry Chutney
Makes 8 servings
Ingredients
12 ounces fresh cranberries
1 cup apple jelly
1 red bell pepper, chopped
¼ cup firmly packed dark brown sugar
¾ teaspoon ground coriander seeds
1 teaspoon mustard seeds
¾ teaspoon dried hot red pepper flakes
1 teaspoon kosher salt
¼ teaspoon freshly ground black pepper
½ cup raisins
¼ cup cider vinegar
¼ lemon, zested
1 yellow onion, chopped
¼ cup unsalted butter, melted
3 sheets (9 x 14 inch) frozen phyllo pastry, thawed
1 pound Brie cheese, cut into ¾-inch slices
¼ cup hazelnuts, toasted and chopped
Instructions
Preheat oven to 375 degrees. Combine in a saucepan the first 12 ingredients (from the cranberries to the zested lemon) and simmer, stirring occasionally, for 30 minutes. Add onion and simmer 20 minutes, or until chutney is thickened. Allow to cool. 
Prepare a baking sheet with a Silpat or parchment paper. Unroll the phyllo sheets, then cover with a towel to prevent the pastry from drying out. Take one sheet of the phyllo pastry and lay it onto a cutting board and brush with melted butter. Repeat this process with the remaining sheets of phyllo pastry, layering the sheets.
Cut the phyllo pastry into 4-½-inch squares and place onto prepared baking sheet. Place a slice of Brie in the middle of each phyllo square and add a tablespoon of the cranberry compote on top of the cheese, then sprinkle with hazelnuts. Gently pull the phyllo layers up and around the Brie so that they resemble a pouch. Give the top part a squeeze to secure and close it, and trim any excess.
Gently brush a little butter around the outside of the bundles, and bake until golden brown, about 20 minutes. Serve hot.
Roasted Carrots with Cardamom Butter
Makes 4 servings
Ingredients
4 green cardamom pods
2 tablespoons unsalted butter, melted
1 tablespoon olive oil
1 teaspoon minced ginger
2 pounds whole young carrots, peeled and tops removed
1 tablespoon orange juice
2 tablespoons minced thyme
Kosher salt and freshly ground black pepper
Instructions
Preheat an oven to 425°F and position an oven rack in the center. Place the cardamom pods into a medium skillet and place on the stove over medium heat, stirring frequently, until lightly toasted, about 2 minutes. Transfer to plate and allow to cool. Once cool, transfer to a spice grinder and process into a fine powder, about 1 minute.
In a large bowl, combine the butter, oil, ginger, and ground cardamom. Add the carrots and toss well until thoroughly coated. Spread evenly on a rimmed baking sheet. Transfer to the oven and roast, stirring halfway, until tender and golden brown, about 30 minutes.
Remove the roasted carrots from the oven, toss with orange juice and thyme. Taste and adjust seasoning with salt and pepper. Transfer to a large platter and serve immediately.