Sauté, canapé, hors d'oeuvre, frappé… So many English-language culinary terms are French in origin, and for good reason: The French have long been recognized as masters of Western cuisine. While Julia Child did her best to make French cooking accessible to nonchefs, many people still shy away from preparing French food at home. These three recipes from Sur La Table show how easy it can be to recreate the flavors of France in your own kitchen.
French Onion Soup
Makes four servings
Ingredients
2 tablespoons unsalted butter, plus softened butter for spreading
3 large onions (about 2 pounds), halved lengthwise and thinly sliced crosswise
Sea salt
2 tablespoons dry sherry
1 quart beef stock
1 bouquet garni, made with 1 bay leaf, 1 thyme sprig, 2 juniper berries, and 2 flat-leaf parsley sprigs, tied in cheesecloth
Freshly ground pepper
4 half-inch-thick slices sourdough bread, cut into 4-inch rounds
2 cups shredded Gruyère cheese (about 6 ounces)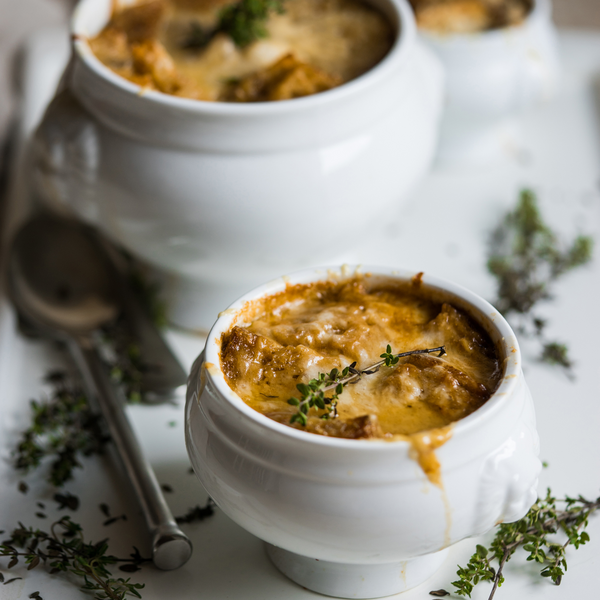 Instructions
Melt 2 tablespoons of butter in a large enameled cast-iron casserole. Add the onions and a pinch of salt, cover, and cook over moderate heat, stirring once or twice, until the onions soften, about 10 minutes. Uncover and cook over moderate heat, stirring frequently, until the onions are lightly browned, about 40 minutes.
Stir in the sherry. Add the stock and bouquet garni, and bring to a boil. Cover and simmer over low heat until the soup has a deep flavor, about 30 minutes. Discard the bouquet garni, and season the soup with salt and pepper.
Preheat the oven to 350°F. Butter the bread on both sides and place on a baking sheet. Toast the bread for 15 minutes, turning the slices halfway through, until golden and crisp but not dried out. Remove the bread, then raise the oven temperature to 425°F.
Bring the soup to a simmer, ladle it into 4 deep ovenproof bowls, and sprinkle with half of the cheese. Place a toasted piece of bread in each bowl, and sprinkle on the remaining cheese. Bake the bowls of soup on a baking sheet in the middle of the oven for 10 minutes, or until the cheese is bubbling. Serve hot.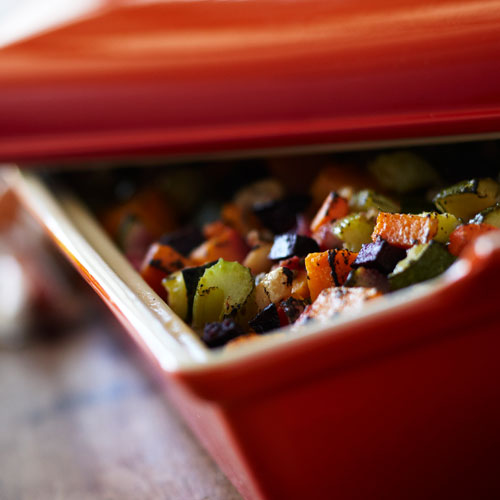 French Harvest Cassoulet
Makes four servings
Ingredients
2 tablespoons olive oil
2 zucchini, chopped
2 celery stalks, sliced
2 medium sweet potatoes, peeled and chopped
1 onion, chopped
¼ teaspoon salt
¼ teaspoon freshly ground black pepper
4 cloves garlic, sliced
1 can (14 ounces) diced tomatoes, drained
3 cups drained cannellini beans, liquid reserved
4 sprigs fresh thyme
2 dried bay leaves
Instructions
Heat oven to 400°F.
In a large skillet, heat oil over medium heat. Add zucchini, celery, sweet potatoes, onion, salt, and pepper and cook about 8 minutes or until soft. Mix in garlic and stir for another minute. Combine with tomatoes, beans, ¼ cup of the bean liquid, thyme, and bay leaves in a 2-quart baking dish.
Bake for about 30 minutes or until vegetables are tender. Remove bay leaves and serve warm.
Palmiers
Makes 30 three-inch pastries
Ingredients
2–3 cups turbinado sugar (also known as raw sugar)
2 sheets frozen puff pastry, thawed and unfolded into a rectangle (of course, you can make your own puff pastry instead!)
Instructions
Scatter ½ cup sugar on your work surface and place the dough on top. Scatter another ½ cup of sugar over the dough. Press the sugar into the dough with a rolling pin. Turn the dough over and make sure the sugar sticks to it. If the dough begins to stick to the work surface, add more sugar to roll it out.
Fold both outer edges of the dough in toward the middle from the top and bottom. Then fold the rectangle of dough in half, left to right. Finally, fold the bottom edge up to the top one. Set aside any remaining sugar on a small plate.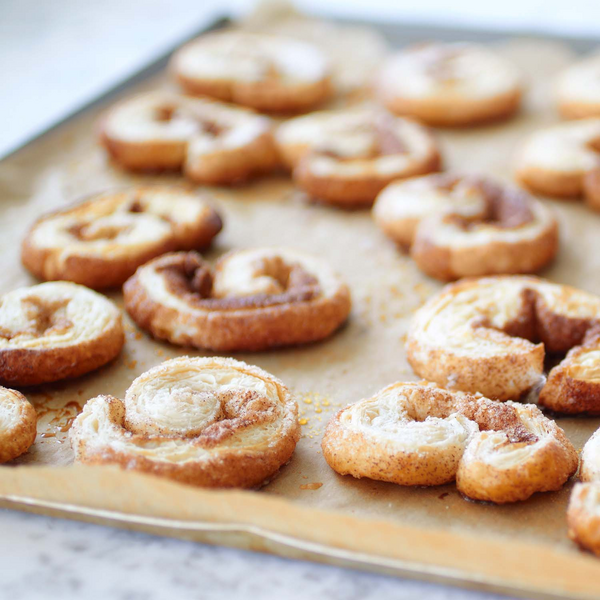 Press the dough lightly with the palm of your hand, then chill it for about 30 minutes, or until firm. (You can leave the dough in the refrigerator overnight before baking. Do not be alarmed if most of the sugar melts.)
Set a rack in the middle of the oven and preheat to 350°F. Slice the folded dough every ⅓ inch, and dip the cut sides into the reserved sugar before placing on a Silpat or parchment-lined baking sheet. Leave at least 2 inches of space on all sides of each palmier because they spread.
Bake for about 20 minutes, until they are well caramelized. If the heat of the oven is uneven, it may be necessary to remove some of the pastries from the pan and return the others to the oven to finish baking. Let the color of the caramelized sugar be your guide; it should be deep amber, not brown.
Cool the pastries on a rack and serve them warm for best flavor.