Always on the hunt for new ways to indulge our sweet tooth, we asked our friends at Sur La Table for recipes that use fruit to reinvigorate savory side dishes. The three below are sophisticated enough for dinner parties or festive gatherings yet simple (and delicious) enough for an everyday meal.
Red-Wine Poached Pear Salad with Champagne Vinaigrette
Serves four
Ingredients
1 cup dry red wine
½ cup fresh orange juice
¼ cup granulated sugar
1 cinnamon stick, broken in half
2 firm-ripe pears, peeled, halved lengthwise, and cored
2 tablespoons champagne vinegar
1 medium shallot, peeled and minced
1 teaspoon Dijon mustard
¼ cup extra-virgin olive oil
Kosher salt and freshly ground black pepper
1 (5-ounce) package mixed baby greens, washed and dried
3 ounces crumbled blue cheese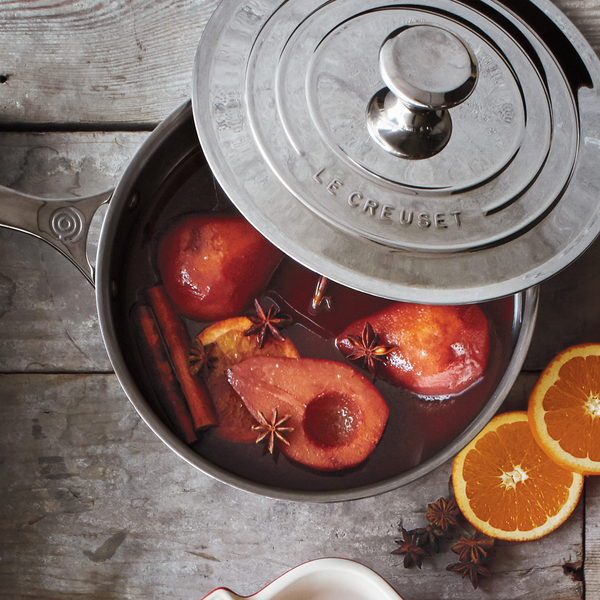 Instructions
To poach the pears, place the wine, orange juice, sugar, and cinnamon stick in a medium saucepan, and place on the stove over medium-high heat to boil. Reduce the heat to a simmer and add the pears, cut side down, and cook until tender, about 20 minutes. Allow to cool in the poaching liquid. 
To make the vinaigrette, in a medium bowl, whisk to combine the vinegar, shallot, and mustard. While whisking vigorously, slowly drizzle in the olive oil. Taste and adjust seasoning with salt and pepper. Set aside.
To assemble the salad, place the mixed greens into a large bowl and toss with enough vinaigrette to lightly coat the leaves. Taste and adjust seasoning with salt and pepper.
To serve, remove the pears from the poaching liquid, transfer to a cutting board and cut lengthwise into thin slices. Divide the salad among four plates, arrange the pears around the salad, and sprinkle with blue cheese. Serve immediately.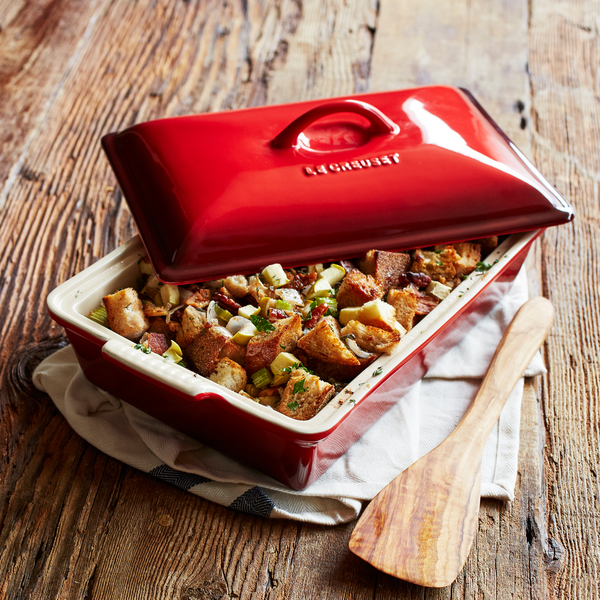 Granny Smith Apple and Smoky Bacon Stuffing
Makes 10-12 servings
Ingredients
1 (1-pound) loaf day-old French bread, crust trimmed, cut into ½-inch cubes
¼ pound thick-cut bacon, cut crosswise into ¼-inch pieces
8 tablespoons (1 stick) unsalted butter, divided, plus more for greasing the baking dish
1 pound Granny Smith apples, peeled, cored, and cut into ¼-inch pieces
1 cup minced yellow onion
1 cup chopped pecans
1 cup minced celery
⅓ cup minced fresh parsley
2 teaspoons ground sage
1¼ teaspoons dried thyme, crumbled
2 teaspoons kosher salt
Freshly ground pepper
2 cups low-sodium chicken or turkey stock, or as needed
Instructions
Preheat oven to 300°F and place racks in the upper and lower thirds. Arrange bread cubes on two rimmed baking sheets. Place in preheated oven and bake until bread is slightly crunchy, about 20-25 minutes. Remove pans from oven and allow bread to cool to room temperature. Place bread cubes in a large mixing bowl. Increase oven temperature to 375°F.
Heat a large skillet over medium heat. Add bacon pieces and cook, stirring occasionally, until fat has rendered and bacon is crispy, about 10-12 minutes. Using a slotted spoon, transfer bacon pieces to a plate lined with a paper towel. Set aside.
Pour off all but 2 tablespoons of the bacon fat and return skillet to medium heat. Add 6 tablespoons butter and heat until it foams. When foaming subsides, add apples, onion, pecans, and celery, stirring well to combine. Cook, stirring occasionally, until apples and vegetables are soft, about 8-10 minutes. Remove skillet from heat and stir in cooked bacon, parsley, sage, thyme, salt, and pepper. Pour contents of skillet into bowl containing the bread cubes and stir well to combine.
Generously grease the inside of a 13″ x 9″ x 2″ baking dish with additional butter. Sprinkle bread mixture with stock, ¼ cup at a time, and toss well to combine, until bread is moistened but not soggy. Transfer bread mixture to greased baking pan and dot the top with remaining 2 tablespoons butter. Place pan in preheated oven and bake until stuffing is deep brown and crusty on top, about 50-60 minutes. Remove from oven and serve warm.
Beet Greens with Nutmeg and Clementines
Makes 10 servings
Ingredients
¼ cup vegetable oil
3 cloves garlic, crushed
2-inch piece ginger, minced
1 fresh red chili, thinly sliced
1 preserved lemon, skin only, finely chopped
2 clementine oranges, zested and juiced, divided
5 pounds beet greens (from about 8 bunches beets), chopped
½ teaspoon ground nutmeg
Kosher salt and freshly ground black pepper
Instructions
Heat the oil in a large skillet over medium heat. Add garlic, ginger, and chili, and cook, stirring constantly, until fragrant, about 1 minute.
Add preserved lemon skin and clementine zest. Season with 1 teaspoon salt. In batches, stir in greens, covering pan to wilt them before each addition. Add nutmeg and clementine juice. Season with more salt and pepper before serving.