An easy way to choose gifts they'll love? By looking at their decor style (and this works even for gifts that are not decor related, by the way). Below we offer suggestions based on four popular style archetypes.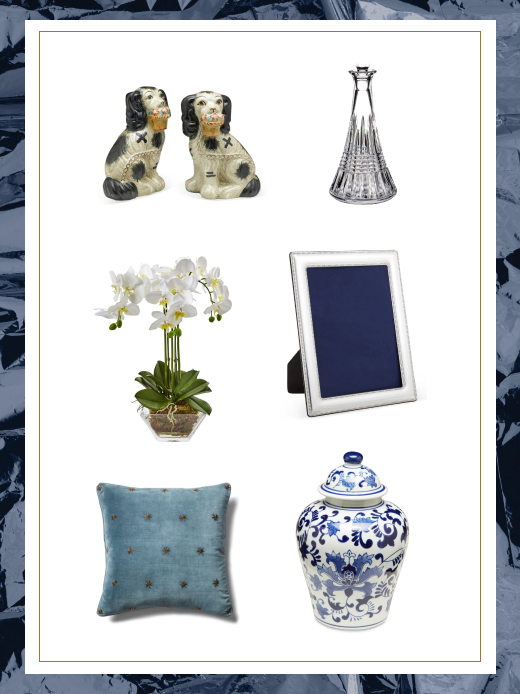 New Traditionalist
"Classic, but updated" sums up New Trad style. If a home has a camelback sofa (perhaps in a nontraditional color or print), a leather wingback chair, chinoiserie accents, framed botanical prints, or Greek key trim on curtains, furniture skirts, or linens, chances are good that the owner is a New Traditionalist.
New Traditionalist gift picks, clockwise from top left:
• Pair of Dogs with Flower Baskets. No respectable Victorian household was complete without a pair of Staffordshire dogs on display. We think every New Trad home should have a pair of canines as well.
• Lismore Diamond Decanter. You can't go wrong gifting a New Traditionalist anything from Waterford.
• Sterling Double-Beaded Frame. This one is crafted in Italy and holds a 4″ x 6″ photo; you can find more sterling-silver frames in a variety of sizes and styles here.
• Floral Lidded Ginger Jar. Blue-and-white chinoiserie: the ultimate in New Trad finesse.
• Star Pillow. Metallic embroidery adds star power to this velvet pillow, available in five colors.
• Faux Orchid Flower Arrangement. They won't believe it's not live—until they try to water it!
Eclectic
The rallying cry of the Eclectic is "Why match when you can mix?" And what Eclectics like to mix are often lively colors, numerous patterns, pieces from around the world, and items with a dash of whimsy. If a home pairs a Berber rug with a mirror framed in porcupine quills, mismatched vintage tableware and a suzani throw in lieu of a tablecloth, the resident is clearly an Eclectic.
Eclectic gift picks, clockwise from top left:
• Lucite Backgammon Set. Available in several colorways, these sets are chic enough to display even when it's not game night.
• Faux Palm Christmas Tree. Standing four feet high and prestrung with 150 lights, this faux tree puts an unexpected spin on Christmas—and it's quirky enough for an Eclectic to display all year round.
• Pair of Ghanaian Glass Beads with Stand. Members of the Krobo tribe crafted the beads using traditional methods. 
• Set of Six Catrina Cocktail Napkins. Is it wrong to say that these embroidered skulls will "liven up" happy hour?
• Duck Desk Mirror. For your favorite odd duck.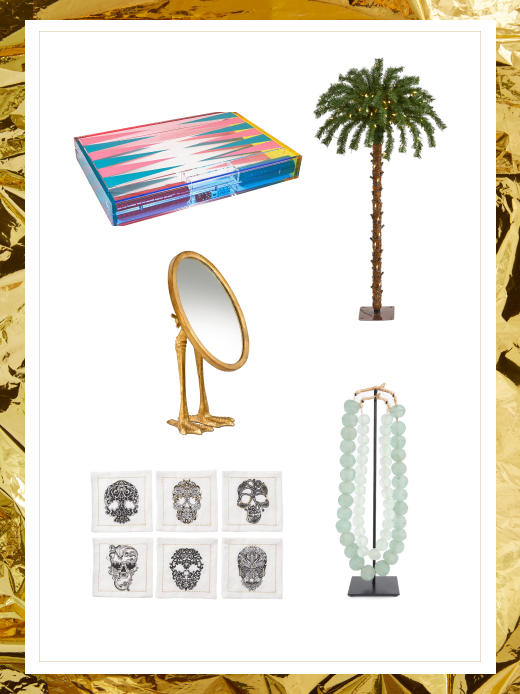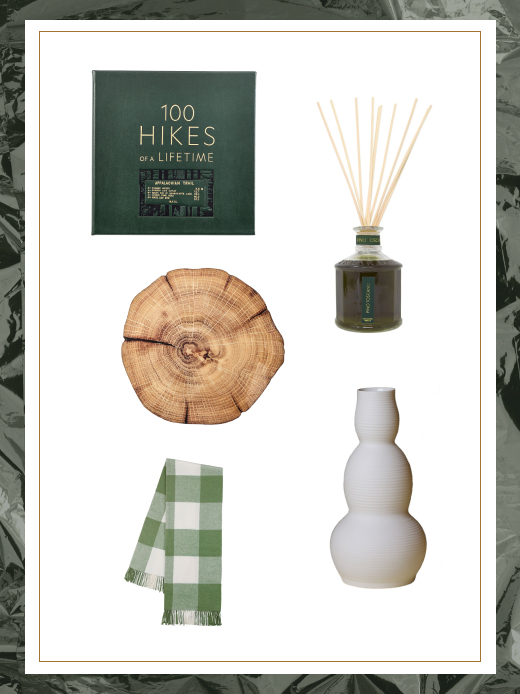 Curator
It's true that for the Curator only the best will do. But it's also a bit simplistic. Materials of stellar quality are essential: cashmere or alpaca wool, silk, marble, the supplest leather, the most beautifully figured burl wood. But it's also important that these materials are allowed to speak for themselves. In other words, they're displayed via simple, sleek forms, without extraneous details to distract from their beauty. 
Curator gift picks, clockwise from top left:
• Les Exclusives Cyprium Candle. The sophistication of the fragrance—a medley of sandalwood, pepper, and musk—is rivaled only by that of the coppery mirrored vessel.
• Rowan Faux-Fur Leopard Throw. Luxe, plush, and cruelty free.
• Bloom Bowl. This Georg Jensen bowl is sinuous, sleek, and polished to a high sheen, all qualities a Curator loves.
• Crystal Sphere Bookends. Worthy of display on their own.
• Picasso, Tête de Femme. This fine-art giclée reproduction of Picasso's 1962 linocut will complement any Curator's art curation.
• Westover Playing Card Set. Ralph Lauren Home knows that it's not whether you win or lose but how stylishly you play the game.