Just about everyone has at least one of those impossible-to-shop-for friends or relatives on their gift list. No matter how you may rack your brains, you end up giving them an impersonal gift card or, worse, some trinket they'll return or relegate to the back of their closet. 
One way to solve the dilemma: Think less about what they need and more about their style. Once you know whether someone is a New Traditionalist or an Eclectic, a Naturalist or a Curator, finding a present they'll love is a breeze. You can learn more about these four style profiles here, or you can find a brief summary and some gift suggestions for each below. Happy gifting!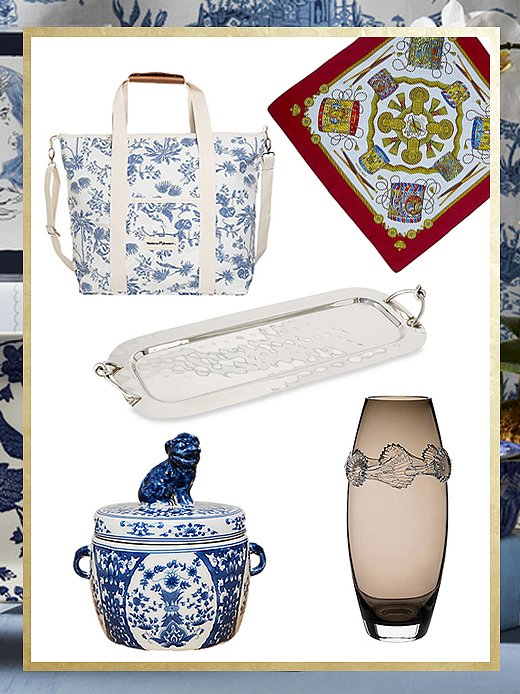 The New Traditionalist
"Classic with a twist" is this style in a nutshell. Ginger jars and Oriental rugs, toile and ticking stripes, and a palette with ample blue and white are among the distinguishing characteristics of a New Trad home, but there are also unexpected juxtapositions: an abstract artwork above a Georgian buffet, say, or gourd table lamps in brilliant orange. Think elegant, think timeless, but also think the opposite of staid and stuffy. 
Choice picks, clockwise from top left:
Elodie Cooler Tote Bag, Blue/White Chinoiserie. A One Kings Lane exclusive from Business & Pleasure, with a waterproof lining and leather detailing.
Hermès Les Tambours Scarf. To wear around the neck, tie around a handbag, or frame and hang on a wall.
Nickel Knot Tray. The hammered texture and knotted handles give contemporary flair to this classic tray.
Ines Vase. Traditional shape and ornamentation in a nontraditional espresso hue.
Foo Dog Candle, Gardenia. Two classics in one: a gardenia-scented candle in a chinoiserie porcelain vessel.
The Eclectic
Merriam-Webster defines eclectic as "including things taken from many different sources." But there's an art to Eclectic style that prevents the mix-not-match philosophy from devolving into chaos. Perhaps the Eclectic on your gift list sticks to a certain palette or prefers certain materials or patterns. Look for any commonalities among your recipient's furnishings, and let that guide your gift selection. 
Choice picks, clockwise from top left:
Set of 6 Out of Africa Cocktail Napkins. These embroidered linen napkins are so charming, the recipient will find reasons to entertain simply to show them off.
Floating Girls by Jorey Hurley. A delightful addition to a gallery wall (a feature in many Eclectic homes).
Foosball Set. This tabletop game is one of those items they'd never buy for themselves but would love to receive.
Stones Agate Candle. The candle within the eye-catching handcrafted glass vessel has an equally enticing scent that marries bergamot, açaí berry, and amber.
Saans Throw. Made of lightweight cotton for year-round use and block-printed by hand, this throw is as versatile as it is alluring.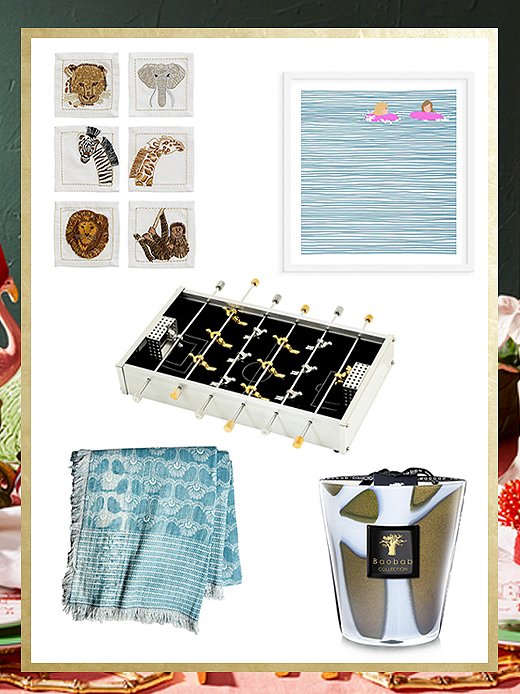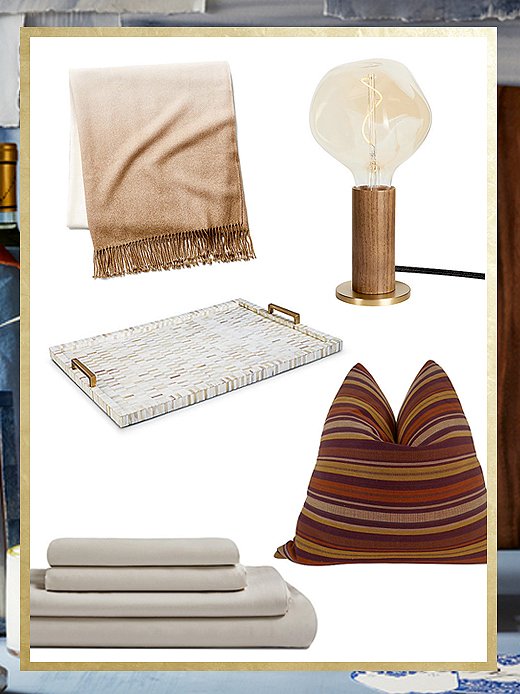 The Naturalist
Wood with only a minimalistic finish (all the better to show off the rich grain), sisal and jute rugs, richly textured linen, woven baskets, and more than a few plants are hallmarks of a Naturalist home. If it's artisanal or organic—and ideally in a pale neutral palette—the Naturalist will love it.  
Choice picks, clockwise from top left:
Dip-Dye Throw, Camel. Alpaca wool is easily as soft as cashmere but more environmentally friendly. This particular throw was hand-dyed, making it artisanal and organic.
Knuckle Voronoi II Table Lamp, Walnut. Crafted of hand-turned FSC-certified wood and mouth-blown glass, this petite lamp is a bright gift idea.
Tikal Pillow. The handwoven Mayan fabric on the front of this pillow calls to mind a Southwestern desert at sunset.
Eucalyptus Sheet Set, Fog. A dream gift, this bedding is made of sublimely soft, eco-friendly, hypoallergenic eucalyptus lyocell.
Bone & Brass Tray. Practical, versatile, and beautiful.
The Curator
The Curator would choose one graceful orchid over a big, blowsy bouquet of carnations, a weekend at a luxurious spa resort to a week at a hotel with less than five-star amenities. Simple but sophisticated styling that highlights exceptional materials is key to the Curator aesthetic—and the ideal Curator gift. 
Choice picks, clockwise from top left:
Hermès Picotin 18 Bordeaux Gold. Enough said.
Polished Poker Set. The gleaming tigerwood box is stunning enough to keep on display even when it's not poker night.
Lucille Tray. Simply beautiful or beautifully simple? We think this transparent acrylic tray with gleaming chrome handles is both.
Sabrina Faux-Fur Throw, Sable. As sumptuous as real fur but cruelty free (and machine-washable too!).
Three-Piece Deco Diamond Monogram Decanter Set. Make it personal as well as glamorous.