For Kentucky-based landscape designer Jon Carloftis, the power of Derby day is less about horses and more about people. "There's something about it that makes you feel like you're celebrating with the rest of the world," Jon tells us, "it's one of those events where you just know there are a lot of other people doing this same thing right now and there's something kind of nice in knowing that you're a part of something bigger." It's this thinking that explains why he and his partner Dale Fisher have hosted many a fête in honor of the first Saturday in May.

This year, several weeks before the race, Jon and Dale invited us to one of their Derby-inspired parties at their Lexington home, Historic Botherum. They've developed a formula that's always a good time for all—think classic cocktails with a potent twist, polished silver, dapper gents and elegant dames. They also arranged for an afternoon at another of the country's best-known horse tracks, Keeneland. Read on to see how Jon and Dale pulled together a full day of race-viewing along with a beautiful bash.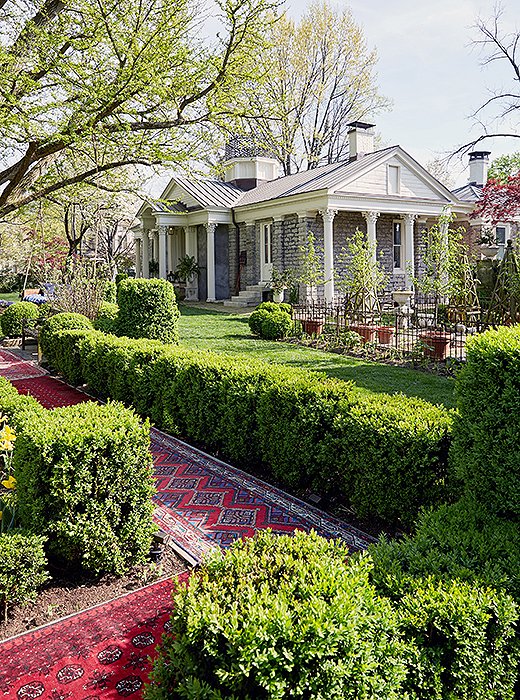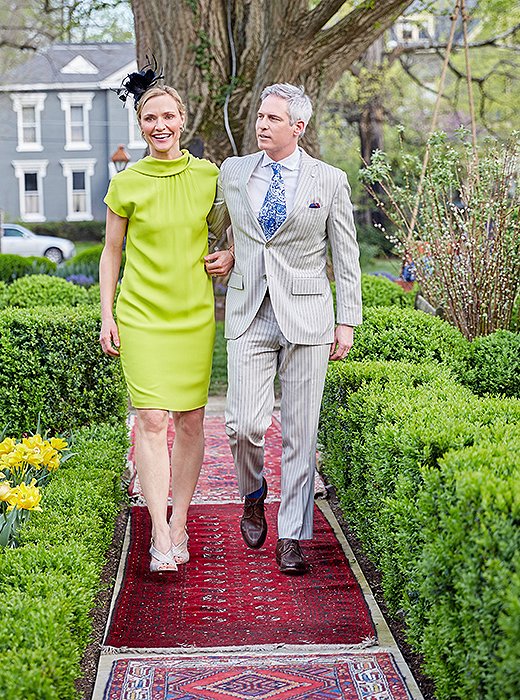 A Dash of Derby Day History
It was after a trip to the Derby Stakes in England and the Grand Prix de Paris in France that Col. Merriweather Lewis Clark Jr. got the idea to establish something similar just outside of Louisville, his hometown, in 1875.
At the time, horse races in the U.K. (and its Continental counterparts) were already fixed on the social calendars of the day's doyennes and the men they associated with, but Stateside, things were different. Puritan ties and more gendered ways of being meant that women were hesitant to take part in Clark's grand equine affair; a day of drinking and gambling simply didn't seem appropriate and the idea of a horse race somewhat seedy. To combat this, Clark required that full morning dress be worn by all, turning a day of bourbon and bets into a full-fledged fashion affair.
Though not to the extent of top hats and tails, dressing up is a tradition that continues at the race today and, as you can see above, one upheld by Jon and Dale at their own Derby celebrations. Fascinators, Panamas, and suits add to the ambiance, getting everyone into the mood of the day. Vintage runners, Persian in style, were rolled out for the occasion "because everybody likes to make an entrance," says Jon. A simple trick that puts a little more pep in everyone's step.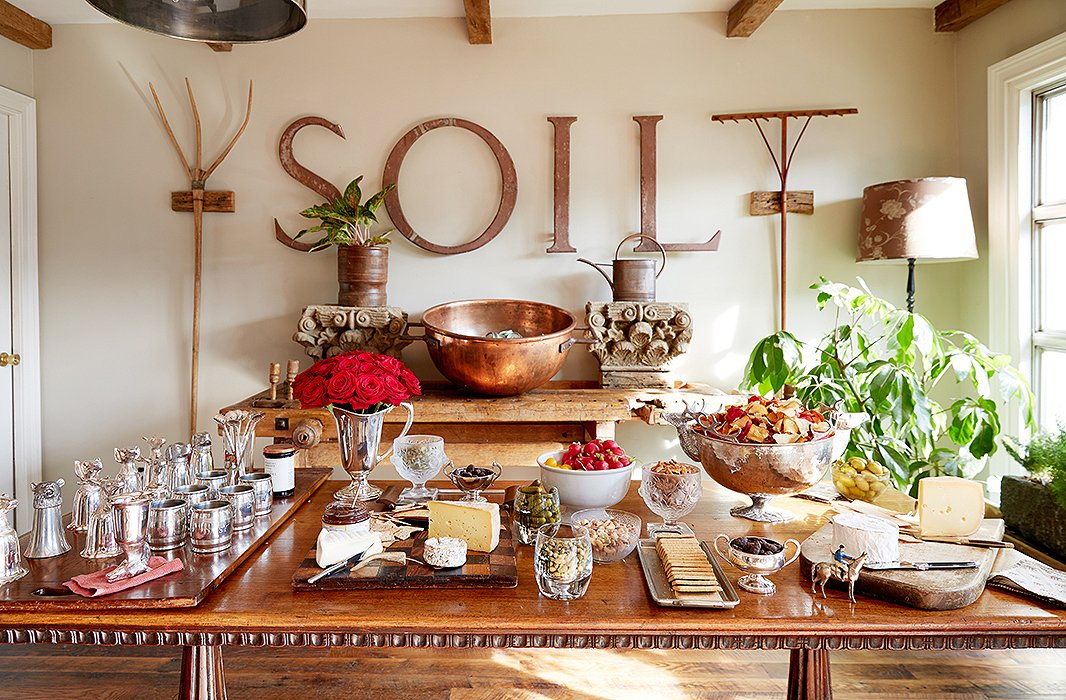 An Ode to the Rose
In 1904 the red rose became the official flower of the Kentucky Derby. A garland of them, lined with the state flag, is placed on the neck of the winning horse. So, naturally, red roses were the floral choice for Jon's soiree. Touches of silver serve as another elevated nod to sport—the horse gets the rose, but the jockey gets the trophy.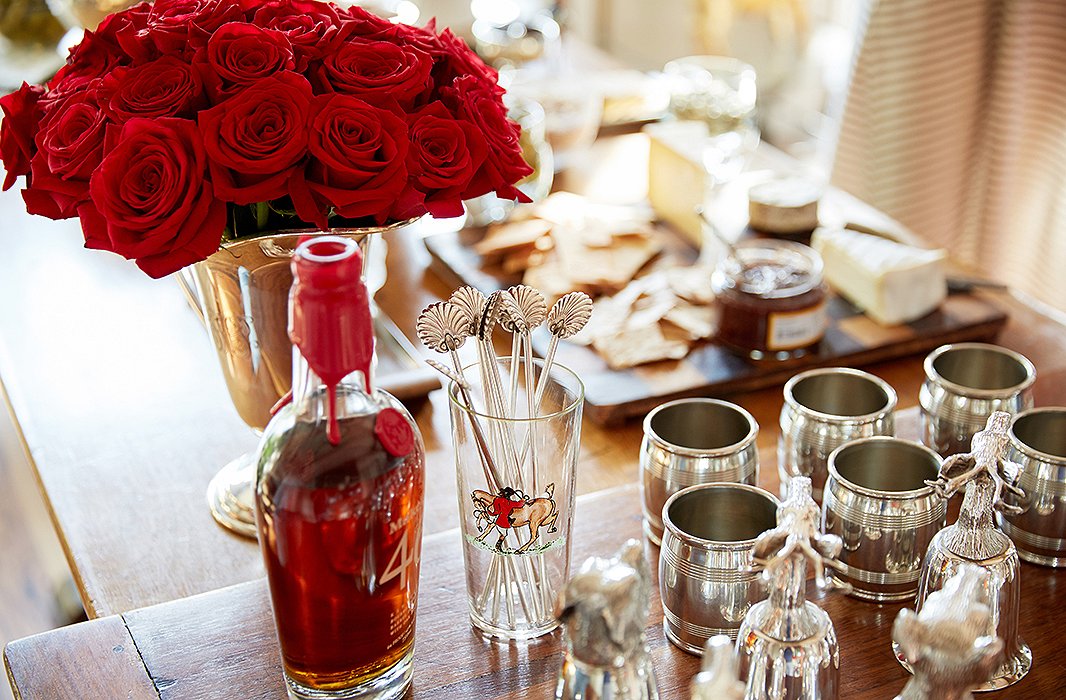 A New Spin on the Old-Fashioned
A riff on the cocktail first mixed by a Louisvillian in 1880, Jon's take on an old-fashioned will convert even the most steadfast rosé drinkers into bourbon believers. "If you're not totally used to bourbon, meaning you didn't have it in your bottle growing up," Jon says with a laugh, "you kind of have to ease into it." In other words, if you haven't yet acquired a taste for an 80 proof, it's best not start with a bourbon on the rocks. Instead, try a batch of Jon's pleasantly muddled mix of bitter and sweet (see below), and remember that "what people find the most fun" he says, "is to serve each glass with a sterling-silver straw."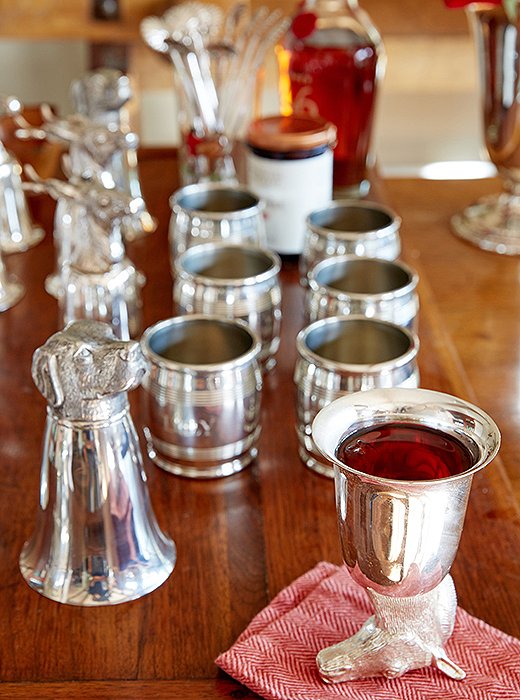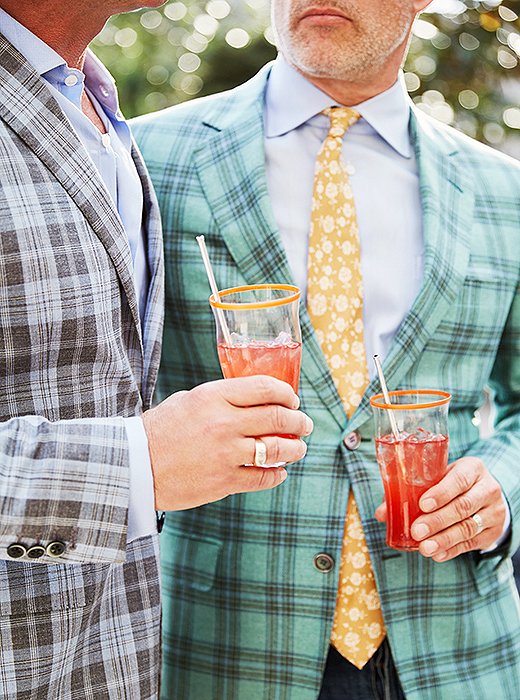 Jon's New-Fashioned Old-Fashioned Recipe
(in Jon's own words…)
Step 1: "Choose your bourbon. Maker's Mark or Bulleit Rye are my favorites. The rye's nice because it has a sharpness that counteracts the sweetness of the other ingredients."
Step 2: "Get a bag of Halo or mandarin oranges and peel them. Squeeze out their juice into a drinks dispenser. Mash up some cherries and put those in there too."
Step 3: "Put in your bourbon."
Step 4: "Add the bitters to taste—I use both aromatic and orange bitters—then stir it all up."
Step 5: "Pour two or three cans of lemon seltzer into the mix, then serve it over ice."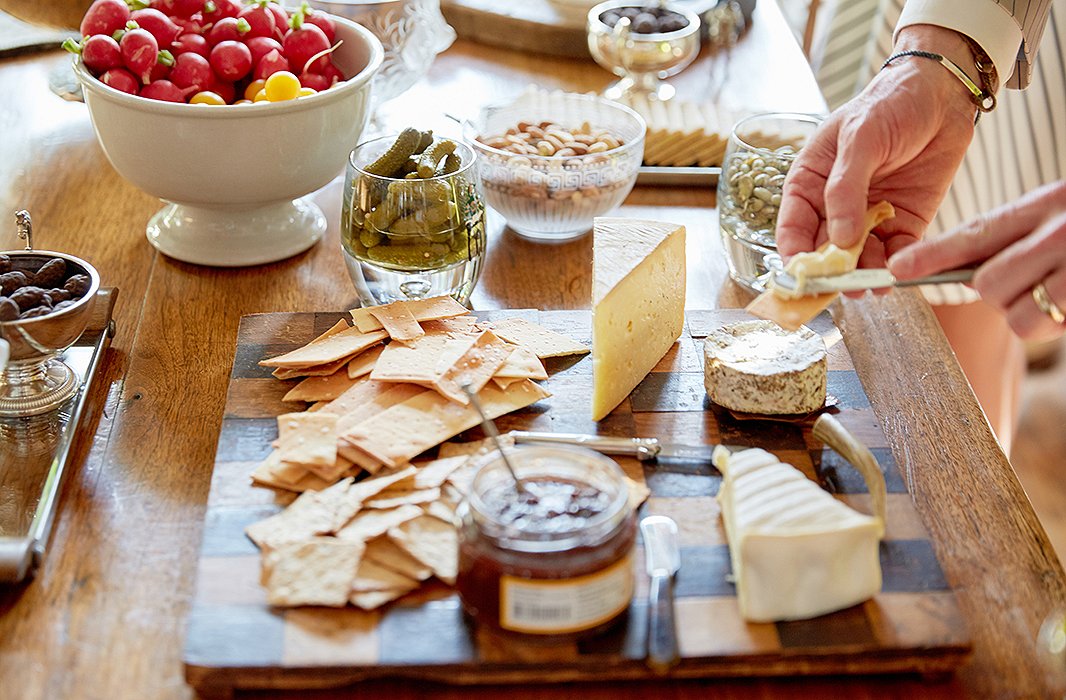 Serve Quick and Easy Bites
Jon prepared a spread for grazing that pairs perfectly with cocktails during golden hours. His take on crudités and bar snacks includes a cheese board with Humboldt Fog, brie, and goat's Gouda (all nutty in flavor), which contrast with the stronger notes of cornichons, radishes, and wasabi peas.
Serving tip: Serve smaller bites like pickles and nuts in vintage glassware. Second hand pieces from periods like the '50s and '60s often offer a sense of whimsy and fun, as illustrated above with Jon's tumblers emblazoned with jockeys in colorful silks. Toss in a silver compote to elevate the whole look then add casual contrast with something well worn, like a wooden platter.
Making everyone feel comfortable... That's the key to a good party.
Off to the Races
Jon and Dale's annual pre-Derby celebrations include a day spent at Keeneland, Lexington's equivalent to Churchill Downs. Jon describes the jaunt as "a magic carpet ride," where he is "transported into another world." Viewing the races right up next to the track, one can feel the thump of horse hooves hitting a mixture of sand, silt, and clay. Steeds with names like Take Charge Niki and Sir Ballantine parade the winner's circle, energized and stoic while devotees hail their victory.

But the spectacle isn't just on the tracks. In the stands, a scene of men and women in feathered fascinators, navy jackets, and pastel hues buzz about boxes, queueing, intermittently, to declare win, place, or show. Decadent, jovial, and soundly southern, it was a continuation of the prior evening's celebration.
Things should be beautiful and relaxed, never stuffy.