With All Hallows' Eve approaching, stylist Michelle Wong pulled together a quick and easy party idea that'll have your guests feeling pleasantly spooked—if not downright impressed. More gorgeous than ghoulish, Michelle's take favors silver over silly string, fresh over candied, and a few finely feathered crows. All things considered, it's a cinematic scene fabulously fit for that little bit of Morticia Addams in all of us. From decor to food to drink, find out how she pulled it off with the takeaways below.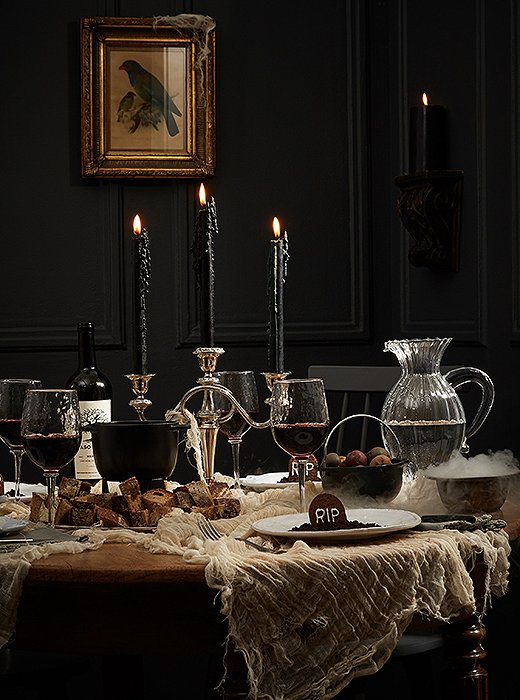 Dark and Moody Decor
Stick to candles: Turn off all the bulbs and light up all the wicks. "Lighting is the most important thing to consider when you're setting a spooky mood," says Michelle, which is why she chose a silver candelabra in place of flowers as her centerpiece. "Trade out your white tapers for black, and let them burn so that they're covered in lots of long drips." To complete the atmosphere, pepper lanterns housing larger black pillars throughout the room so that the entire space is cast in shadows and flickering light.
Rethink your tablecloth: In this scenario, cheesecloth is an unexpected MVP. "With a little effort, it's an easy and inexpensive way to add something that feels like it's from another time," Michelle says. All you need to do is buy enough to cover your table, rip a few holes, and fray the edges. Michelle went a step further and dipped the cloth in a bowl of coffee to create a look that appears truly aged.
Set "dirty" plates: In lieu of place cards, give your guests a "gravestone marker" in a little mound of fresh "dirt." For this, Michelle blended a box of chocolate wafer cookies for 30 seconds, spooned a pile on each plate and topped it off with an oblong cookie frosted with her guests' monograms… extra points to whoever's spells "RIP."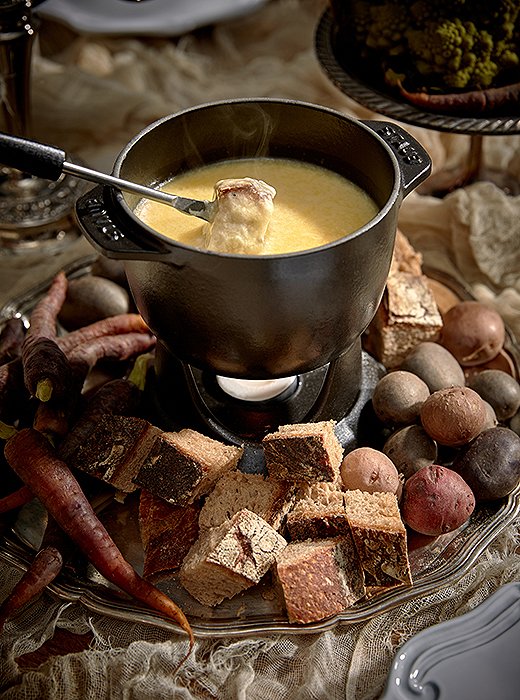 A Cauldron for Fondue
Michelle's witch's brew takes the form of bubbling Swiss fondue, which she made in a black Staub cocotte to play up the evening's theme. Below, her recipe for this easy-to-make treat:
Ingredients:
1/2 lb of Gruyère cheese (grates to 2 cups)
1/2  lb of Emmentaler cheese (grates to 2 cups)
2 tbsp cornstarch
1 cup dry white wine (sauvignon blanc or pinot grigio)
Directions:
Grate both cheeses and mix with cornstarch in a large mixing bowl. In a 2-quart saucepan, heat white wine on medium heat until it starts to steam. Reduce heat to low, and add a large handful of cheese to the wine, stirring constantly until it melts. Continue adding handfuls of cheese and stirring until the mix is smooth and melted completely. Transfer cheese mixture to pot to serve.
What to dip:
You can't go wrong with a fresh loaf of wheat or pumpernickel bread, boiled potatoes, and carrots in shades of purple and red. But feel free to substitute your own favorites instead. "The options for what to dip are limitless," Michelle says. "You can easily replace bread and potatoes for lighter fare like roasted asparagus, mushrooms, or broccoli."
The (Not So) Invisible Spirit 
For this eerie occasion, Michelle stirred up a Chambord blackberry cocktail she calls the Bleeding Ghost. Colorful, sweet, and eye-catching by way of dry ice, it has just a few ingredients and takes no time to make.
Ingredients (serves 1):
5 blackberries
*Ice
1 oz Chambord
2 oz vodka
Club soda
Lime wedge

Directions:
Muddle blackberries at the bottom of a low glass. Add ice, Chambord, and vodka, then stir. Top with a splash of club soda and a squeeze of lime.
*For our cocktail, we used dry ice for its smoky effect. Should you decide to do the same, warn your guests not to touch the dry ice, and be sure to buy it the day of your party so that it sustains its smoky effect.