"One crawled behind the refrigerator. It'll show up in our bed at night!" says Alvy to Annie in one of film's most memorable scenes. "Maybe if I put down a nutcracker with a big stick of butter, it'll come out the other side." Pots clang, neuroses are triggered, laughter prevails. The movie, of course, is Annie Hall, and what's crawled is one of the lobsters on the menu for a dinner in the Hamptons.
A few miles farther east, in Montauk, Matt Albiani channeled this bit of cinematic history (minus the kitchen freak-out, of course) with a festive Thanksgiving dinner for friends featuring lobster as the main event. While November 22 will find the New York-based photographer spending a boisterous holiday with family in Boston ("We walk around the neighborhood, sing Christmas carols to unwitting neighbors, and move for-sale signs from house to house," he says), the nautical aficionado didn't miss the opportunity to host a coastal-inspired gathering at his weekend home.
From the seafood-centric menu (featuring Matt's grandmother's stuffing recipe), to the Dark 'n' Stormy and Moscow mule bar to the table set to match Matt's signature savoir faire, this is one gathering we'd look forward to every year—and it's full of stylish ideas that work in every season.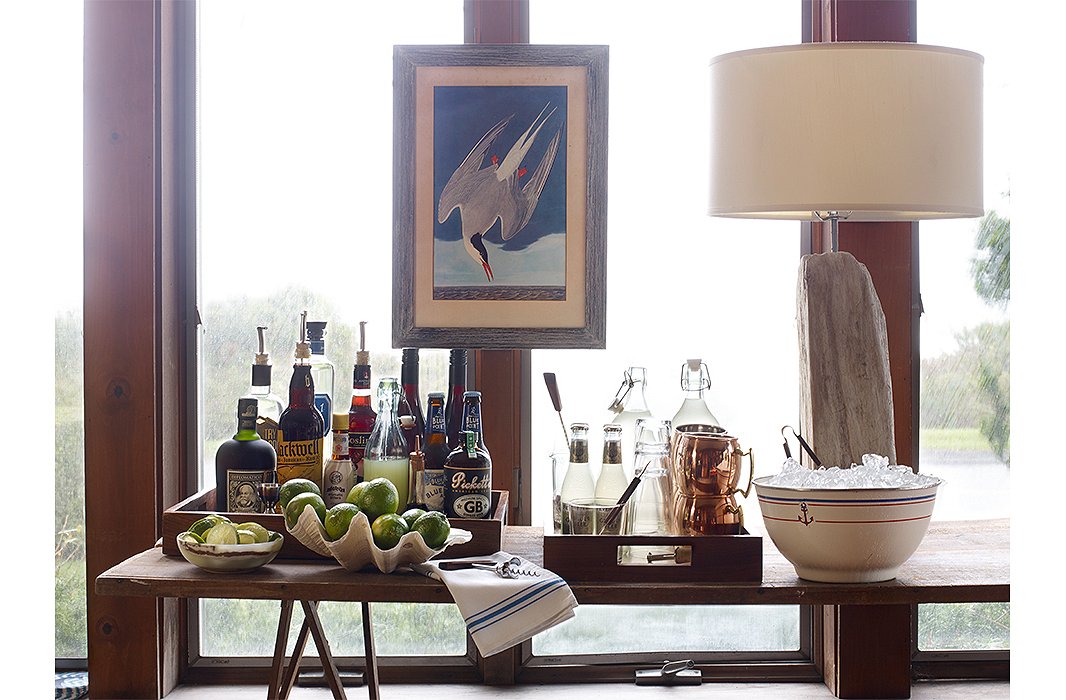 Thanksgiving is really about the people you spend it with and new traditions are sometimes the best remembered, so shake things up!
Make It a Double
And by double we mean two types of cocktails crafted with (almost) the same ingredients: a Dark 'n' Stormy (Matt's go-to) and a Moscow mule. Apart from the liquor, you'll have the ingredients for both if you have them for one. Plus, the ginger beer lends each a kick that's just right for the season.
Classic Moscow Mule
Ingredients
3/4 oz fresh lime juice
2 oz vodka
Ice
Ginger beer
Directions
In order, add all of the above to a copper mug and garnish with a lime wheel.

Dark 'n' Stormy
Ingredients
1/2 oz fresh lime juice
2 oz dark rum
Ginger beer
Directions
In order, add all of the above to a tall collins glass and garnish with a lime wheel.
The All-Important "Grazing Station"
Whether or not you live in an open-plan home, guests will always find their way to the kitchen: cozy in theory but a bit stressful when holiday emotions are running high. To prevent a "too many cooks" situation sans any hurt feelings, set up a low-lift grazing station (fancy cheese, crackers with rosemary, pistachios). That way, whoever ventures back to see how the lobsters are doing will have something else to focus on while you're busy at the stove—a hospitable distraction, if you will.
The Shipshape Setting
A theme takes the guesswork out of choosing the right decor. For Matt's dinner the look was all about sea-to-table, starting with a raw-edge runner in the same shade as a sandy dune and place settings in a nautical palette of red and blue embellished with seaside motifs. Taper candles in glass bottles heighten the ambience, while a handful of air plants and white mini pumpkins offer a low-fuss answer to holiday greenery.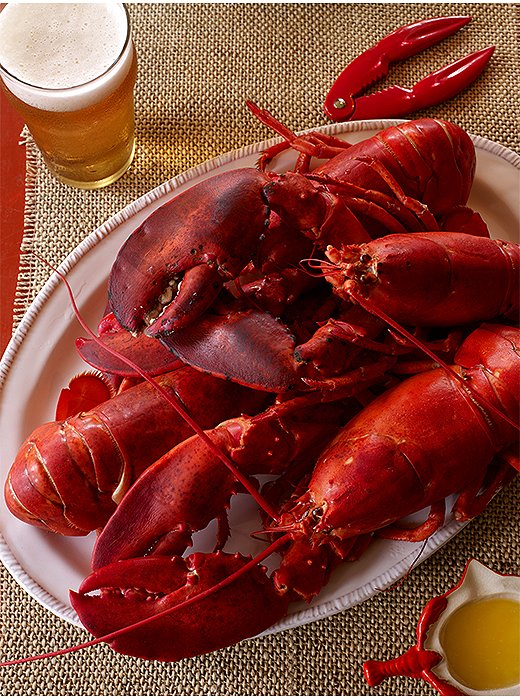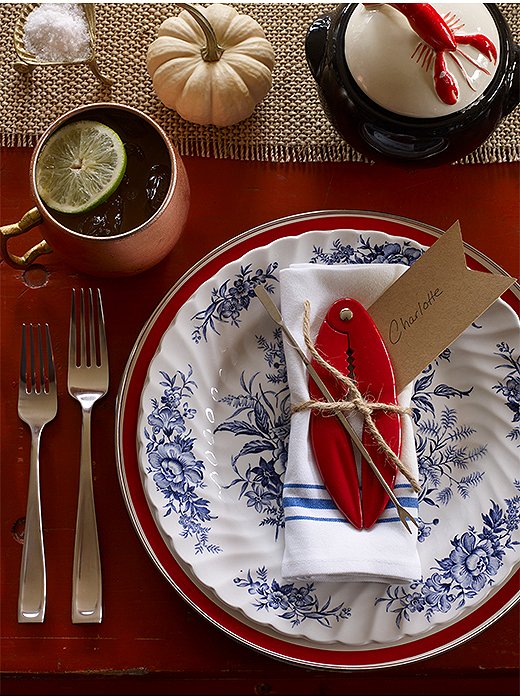 Notes on the Main Dish
There are a number of reasons that lobsters make a fitting substitute to the classic bird. For one, they can be bought fresh and cooked in less than 20 minutes, so you can skip the hours of brining and basting (and the nightmare of that one year you forgot to turn the oven on). Two, except maybe for the cranberry sauce, lobsters pair well with pretty much all of your favorite Thanksgiving fixings: Grandma's stuffing, mashed potatoes, and green bean casserole are all flavorfully on-point complements. But perhaps the best reason for serving lobster—not to mention the most fun—is the thematic decor this main dish inspires, which makes for a fun twist on a Thanksgiving table and includes pieces you'll reuse for seafood feasts throughout the year.
Note: The lobsters shown here are cold-water lobsters, which, unlike their southern brethren, have claws. Whichever variety you choose, we highly recommend steaming rather than boiling in order to preserve the flavor (and avoid a water-filled shell of a mess). Serve the lobsters family style with some melted butter, your sides of choice, and a batch of Matt's signature stuffing (recipe below).
How to Cook a Lobster
1. Prior to cooking, sedate lobsters by freezing them for 20 minutes. (This will prevent any escapees.)
2. Add two inches of water to a large pot fitted with a steaming rack. Add two tablespoons of salt to the water per lobster being cooked.
3. Bring water to a rolling boil and place lobsters into the pot. (Note: A 1-pound lobster will need to steam for 12-15 minutes. It will turn a vivid red when done.)  
4. Remove lobsters from the pot once cooked through.
How to Crack a Lobster
1. Twist and separate the claw from the body.
2. Use a cracker to break open the claw. Pull out the meat and set aside.
3. Separate the tail from the body. Take the tail meat out in one piece by cutting down the center of the underside with scissors. Use your hands to separate. With enough pressure the meat should come out of the shell in one go.
4. There's going to be some green stuff, which is the liver (also called the tomalley). It's salty and briny in flavor, and some people like it—but if it's not your thing, just discard.
Matt's Signature Stuffing

Ingredients
1 white onion
3 tbsp of butter
2 cups of sausage meat
1 cup of sautéed spinach
3 cups of cooked white rice
Salt and pepper
Directions
1. Sauté the onion in a large pan with 1 tablespoon of butter. Add sausage and cook until brown.
2. Add sautéed spinach and stir until well mixed.

3. Add mixture to bowl of cooked white rice, then add the rest of the butter and salt and pepper to taste.