When it comes to setting a festive holiday table, where better to gather inspiration than from the fabulous scenes dreamed up by some of our favorite designers? From decorating doyenne Alessandra Branca's classically red and white with greenery dining room to Hutton Wilkinson's more-is-malachite scene, these dazzling settings are sure to inspire your own celebrations this season. Read on for ways to bring their sparkling look to your holiday table.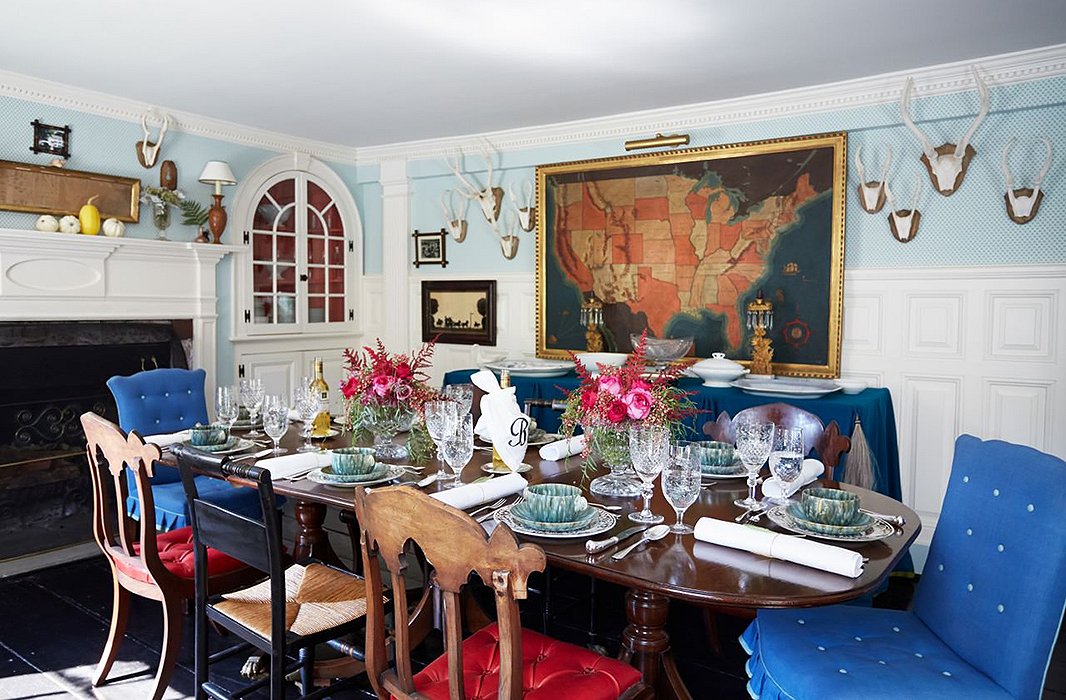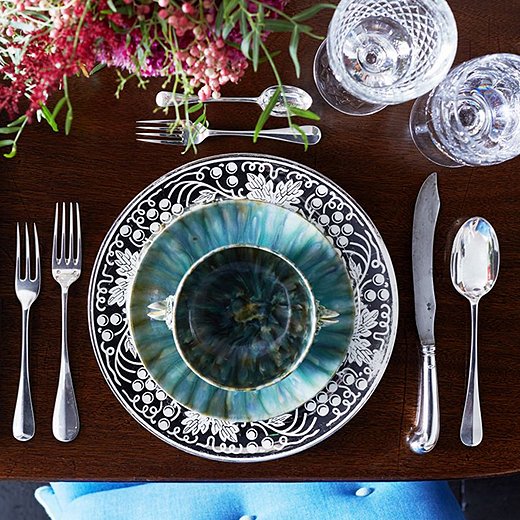 Jeffrey Bilhuber Embraces Heirloom Beauty
Holiday entertaining is a well-thought-out affair for designer Jeffrey Bilhuber, who breaks out his collections of vintage silver, cherished dishware, and heirloom pieces every year.
Setting the scene: Jeffrey brings his signature sophisticated style to his holiday dining scene each year. An English Regency dining table, mismatched antique chairs, and a vintage map help set a traditional and elevated tone.
For his place settings… Lusterware chargers and English pottery bowls pair up for an elegant mismatched look, while Jeffrey's prized heirloom silver and cut-crystal glassware add gleam and sparkle.
Ideas to steal: Forgo a tablecloth to bring focus to your place settings. You can't go wrong with a mix of vintage pieces (Jeffrey used his hotel silver, crystal stemware, and vintage monogrammed linens). Try crystal bowls for bright but unobtrusive centerpieces.
The greatest quality of collecting silver is that it can be purchased at any point in one's travels. I encourage everyone to start collecting!
Hutton Wilkinson Keeps it Maximalist
A firm believer that "more is more," Hutton Wilkinson brings his delightfully bold, over-the-top aesthetic to entertaining with a table of all-out pattern and golden touches.
Setting the scene: A magnificent table feels right at home in an equally magnificent room, complete with matching malachite wallpaper and loads of gilded antiques. The small round table balances out the grandiosity of the space and prevents the bold look from feeling like too much.
For his place settings… Hutton doesn't shy away from layering pattern on pattern, as seen here with his ikat and malachite dinnerware. The gold bamboo flatware provides a polished finish, matching appropriately with the gilded rims of the dishes.
Ideas to steal: Borrow accents from other areas of your home for a one-of-a-kind centerpiece. The bolder the better: Here, ceramic parrots, a cluster of crystals, and an unlikely fruit bowl play up big personality. Layer deep blues and greens for a timeless palette with impact.
If it isn't fabulous, it's meaningless.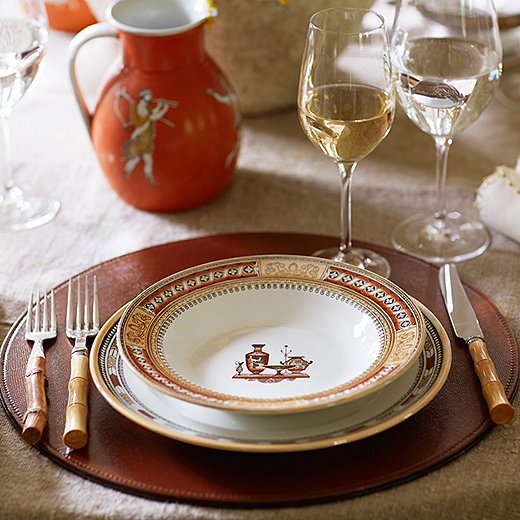 John Dransfield and Geoffrey Ross Double Up the Cozy Charm
In line with their magpie collector's aesthetic, decorating duo John Dransfield and Geoffrey Ross combine whimsical antiques and an autumnal palette on their table—a look that works perfectly for holiday entertaining.
Setting the scene: John and Geoffrey opt for two round tables in the dining room to encourage conversation. Ever-classic Chiavari chairs and layered linen tablecloths provide a polished foundation for table settings.
For their place settings… Beautifully detailed dishes, simple crystal stemware, round leather place mats, and flatware with bamboo handles provide a collected, classic look.
Ideas to steal: When in doubt, consider an elegant color palette of warm chestnut brown, burnt orange, terracotta, and tan leather. Skip the expected arrangement of colorful blooms for a centerpiece made up of seasonal greenery. Even small gold accents, such as napkin rings, can add major shine.
One of Geoffrey's best quotes is that every room needs a slap in the face. You need to shake it up somehow with something unexpected. We try to do that in every space we decorate.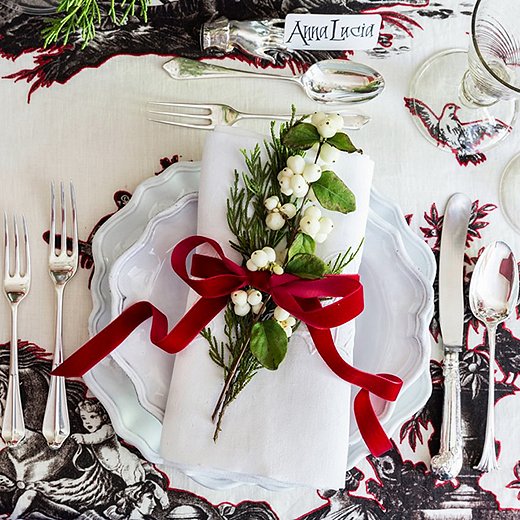 Alessandra Branca Adds Lots of Whimsy
Classic and playful are the two guiding themes behind Alessandra Branca's Christmas tablescape, which is made fresh and festive with vintage silver, quirky details, and gorgeous greenery.
Setting the scene: A traditional table, along with a matching set of dining chairs, builds a solid foundation while allowing color, pattern, and all the fun details to take precedence.
For her place settings… Silver flatware, Astier de Villatte dishes (which Alessandra has had for decades), handblown Belgian glassware, and monogrammed napkins make for crisp and thoughtful settings. For an organic finishing touch, Alessandra tied velvet ribbons around the napkins with a sprig of white berries.
Ideas to steal: Break out your eclectic and unexpected pieces as Alessandra does with her place-card holders in the shape of hands (a gift from her mother). Bring whimsy with sculptural white ceramics, such as scalloped plates and quirky vessels like Alessandra's elephant vases. Go big on greenery, garlands, and gorgeous scented pine.
Christmas should be playful. And the idea is that your table is your opportunity to have fun.