It's time to deck the halls with boughs of holly, faux or live. Greenery adds wonderful texture to a holiday home, and you don't have to opt exclusively for faux or for real, anymore than you need to select just one type of flora. Below are tips for making the most of all your options.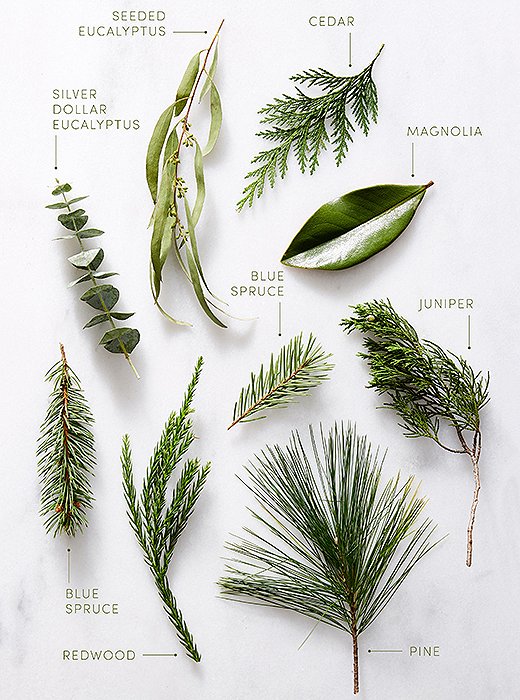 The arsenal of holiday greenery spans everything from eucalyptus to magnolia to pine. Each type has a particular feel to them. Juniper, blue spruce, pine, and redwood stems offer a classic holiday look with their lush feel and potent fragrance. You can easily mix various sizes to create a layered look. Seeded and silver dollar eucalyptus, along with magnolia leaves, are wonderful options for a bit of unexpected holiday flair. Eucalyptus plants are all the rage on Pinterest and Instagram these days, while magnolia leaves bring a sense of Southern gravitas to a space. If you love their look but want to add a bit of glam, try spray-painting them silver or gold.  
Picking between live and faux greenery comes down to personal preference with good arguments on both sides. Live greenery is fragrant, while faux greenery lacks a scent. Because it can be used year after year, faux greenery saves money in the long run, while real greenery might be more inexpensive up front. Live greenery has texture and imperfections that can be difficult for faux greenery to replicate. Faux greenery makes a good dupe when dealing with allergies or pets, but live greenery has a certain earthy quality that brings the outdoors in. 
"On camera, faux works well," says Catherine Dash, whose prop styling and floral work has graced the covers of publications like Real Simple and HGTV Magazine. "So if you're in it for the holiday photo ops and you don't want to worry about the potentially messy cleanup of fresh greenery, faux might be right for you." 
Catherine's Expert Styling Tips
"I like bringing in greenery in unexpected places," Catherine says. Doing so takes your holiday decor to an expert level. There are three places in particular where Catherine loves to add holiday greenery to keep that holiday cheer flowing.
Frame an entryway or mirror. The garland used in this trick should be lush and overflowing, almost as if it grew there on its own.
Place little sprigs of greenery in stockings so that they poke out the top. This is a fun way to create continuity between the Christmas tree and the mantel.
Mix various types of evergreen branches on the table. A mix of styles gives guests something to admire during dinner.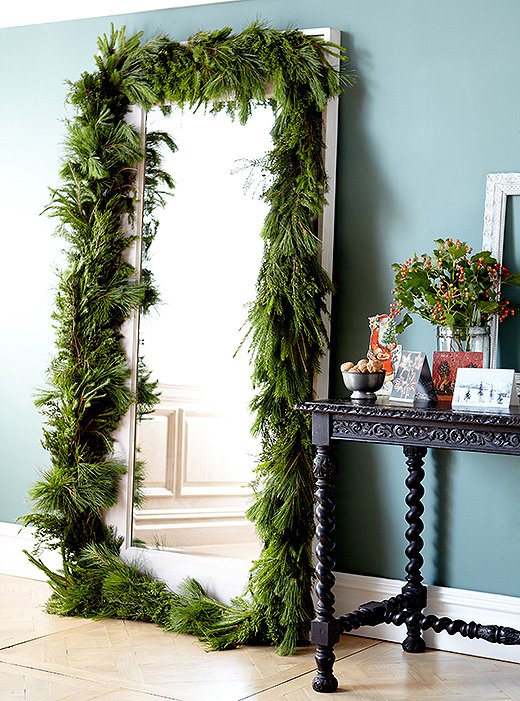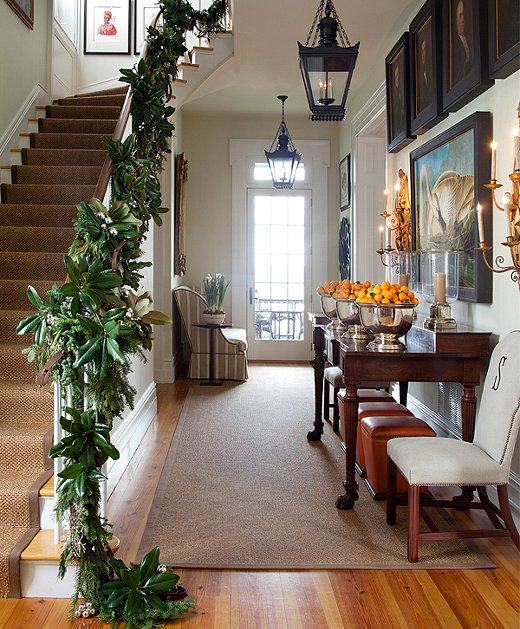 Each space in the home offers a chance for you to mix real and faux elements. The banister is a great place to wrap a faux garland. It will stand up to traffic, and you won't have to worry about shedding needles all over your staircase or landing. You can integrate fresh pieces of pine, spruce, or any of your other favorite stems to make it fragrant and lush. 
Garlands running down the middle of the dining room table also make a wonderful statement. If you want to avoid any potential allergy mishaps at dinner, go faux. If you want to engulf your guest's sense with holiday scents, go real. 
Christmas trees are perhaps the most hotly contested piece in the live v. faux debate. Personal preference should dictate this choice. Real trees require a lot of upkeep and maintenance throughout the holiday season—but they also smell amazing and look beautiful. Faux trees require little to no maintenance. What's more, many come with lights already strung, so you can skip the argument about who should hang the lights this year. 
Both live and faux greenery bring an extra dimension of holiday decor that shouldn't be overlooked in your holiday prep. Click here to read more stories on styling holiday greenery.