The right rug is key to making any room look and feel complete. But when hunting for the perfect foundation, remember that sometimes the answer is more than one. Whether it's to fill a large space or simply to double up on texture, there are lots of reasons to go the more-is-more route with your rugs. Read on for a few of our favorite layered looks.
Embrace Your Wild Side
Give any space a touch of fashion-forward flair by layering a hide rug atop a natural-fiber style. One of our favorite decor pairings, these pieces create an intriguing play of earthy textures and contrasting shapes—and let you add just a hint of pattern without overwhelming the room.
Layer Pattern on Pattern
A traditional Moroccan rug (Berbers, Beni Ourains) or Turkish kilim adds gorgeous texture, color, and pattern to a room—not to mention worldly flair. What could be better? One of each, of course!
To make the look your own, start with a plush, neutral-color Moroccan rug that suits the size of your room. Then center a vibrantly hued Turkish flat-weave on top. We love how the tassels peek out from the bottom here, giving the whole ensemble a relaxed softness.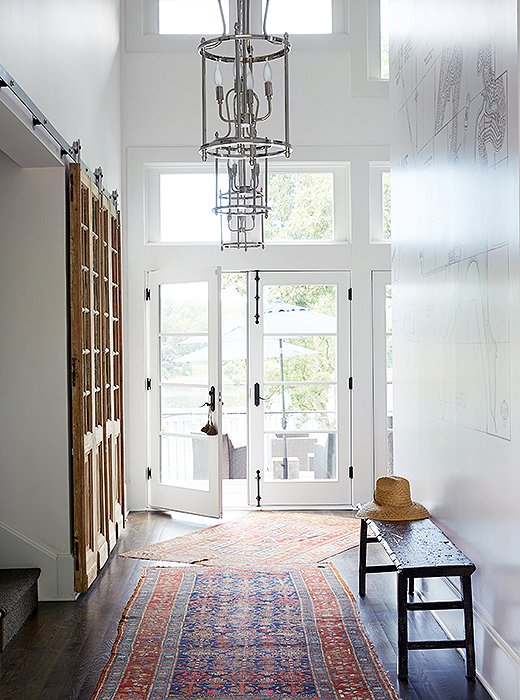 Go Long
Need to fill a long narrow space such as a foyer or a hallway? Skip the conventional runner in favor of two small or midsize flat-weave rugs. Place one or both at a slight, jaunty angle, and make sure the edges overlap to create a unified look. When done with traditional rugs, as shown here, the effect is effortlessly elegant; try it with colorful modern pieces for a more eclectic look.
Create a Landing Spot
A large area rug makes any bedroom instantly more cozy—and there's nothing wrong with stopping there. But for even more softness underfoot, and to give the bedside an inviting feel, layer a flat-weave accent rug atop the larger one. We love the pairing of two muted patterns above, but the look works equally well with solid styles.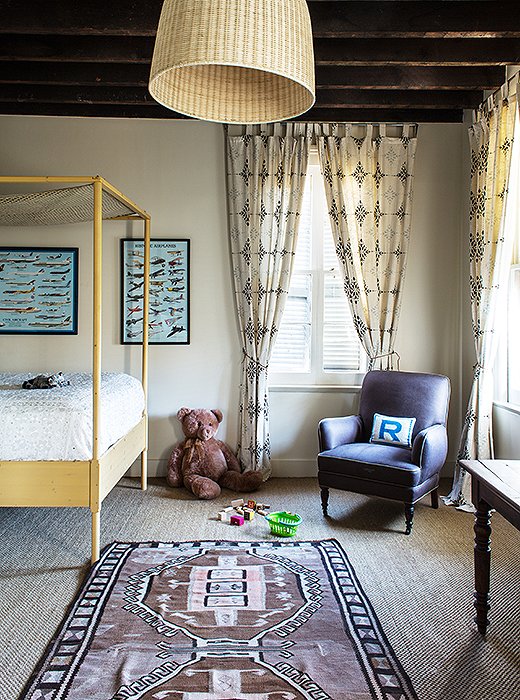 Make It (Extra) Cozy
Think you can't layer a rug over wall-to-wall carpeting? Think again. In this stylish kids' room, a midsize kilim creates an extra-cushy spot on the floor—while pulling in the rest of the room's richer, darker hues.
This is also a great solve if you don't love a room's existing carpet. In that case, go bigger with your top rug to camouflage as much of the offending foundation as possible.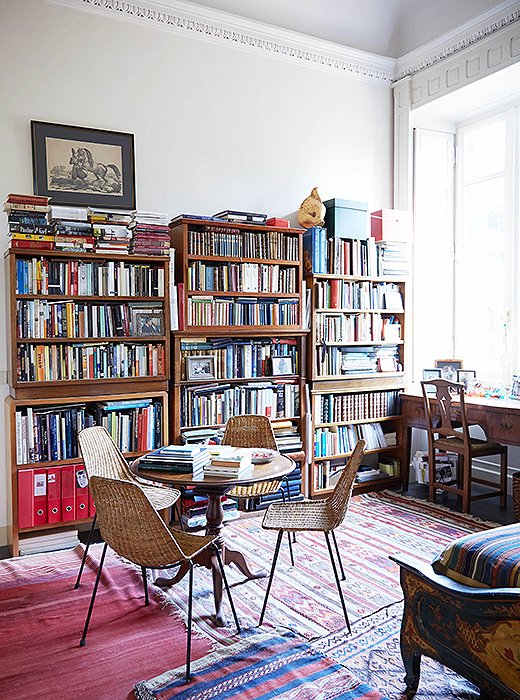 Think in Multiples
A patchwork of vintage flat-weave rugs, placed with their edges slightly overlapping, gives this library a worldly, bohemian-chic vibe. To pull off this eclectic yet cohesive look, stick to a limited color palette—such as the red and blue tones here—and keep the scale of the patterns consistent. Use a rug pad to keep everything neatly in place.