Usually custom furniture means you choose the frame and the upholstery. Palette by One Kings Lane lets you do that—and much more. In the debut assortment, produced in partnership with Cloth & Company, you can also customize the colors and scale of your fabric pattern. What's more, you can choose numerous finishing touches, such as the style and finish of your chair legs or whether to add nail-head trim to your headboard. And at the risk of tooting our own horn, it all costs far less than most other custom furnishings, and your furnishings will ship for free within three weeks.
The options include 15 product styles, 20 solid fabrics and 8 patterns, 3 pattern proportions, and numerous colors. When you visit the Palette page on our site, you'll see how easy (and fun) designing your own furniture can be.
Find all these choices a bit daunting? Take a look below at the eight patterns and some suggestions for making them work for you.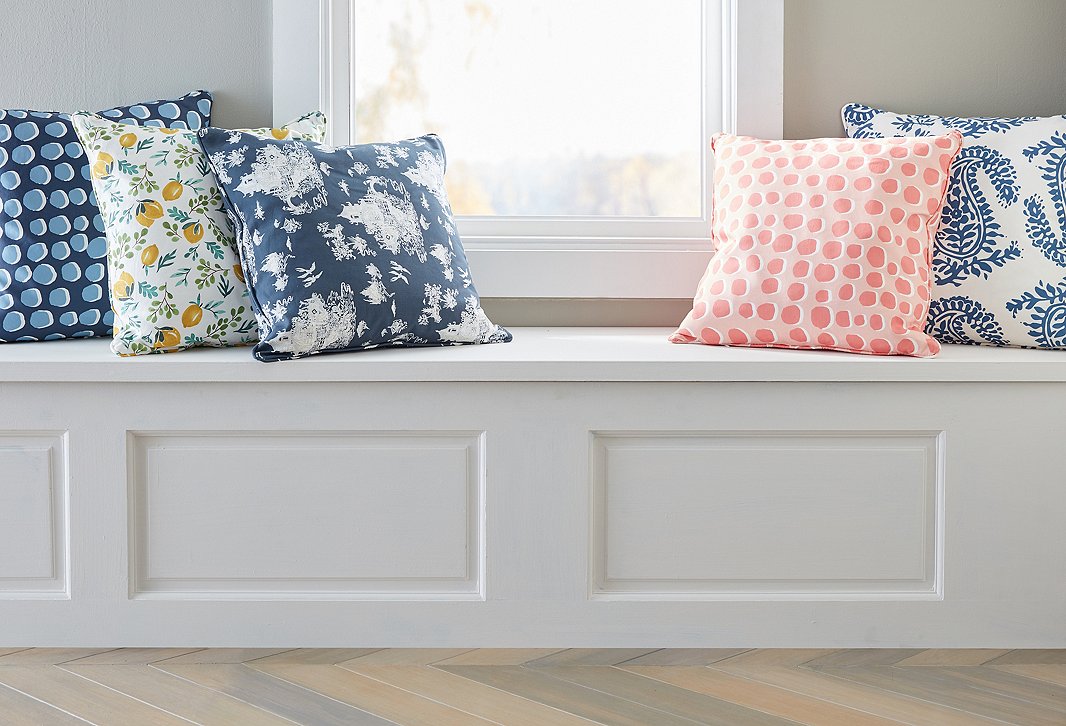 Pagodas
In a small or midsize scale and in classic blue and white, this chinoiserie fabric on, say, the Daphne Slipper Chair adds timeless elegance to a room. But once the pattern's scale is enlarged and rendered in unorthodox hues such as raspberry and teal, you have a playful addition to a den or even a kid's room. Enlarging the pattern really shows off its fine detailing too.
Stars
Where better to place this fabric than in a bedroom, as an echo of the star-studded night sky? Petite ivory stars against a navy or black background on any of the four headboard styles would create an ideal ambience for sweet dreams. For a finishing touch, add a couple of decorative pillows with the colors reversed—dark stars on a pale background—or the pattern in a larger scale.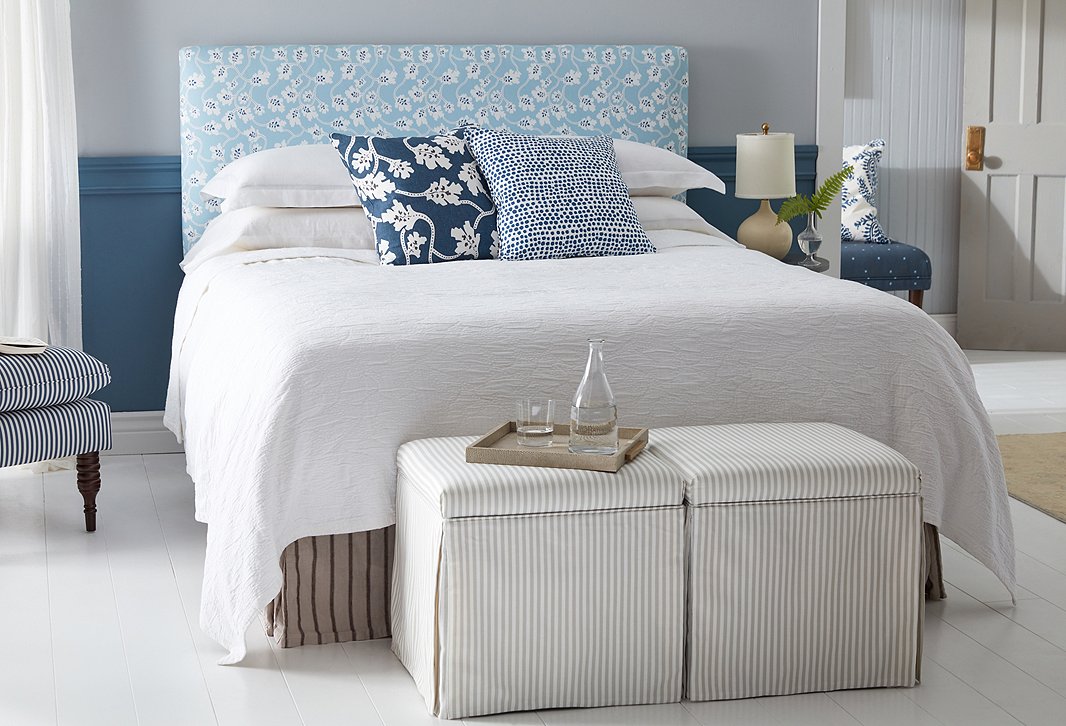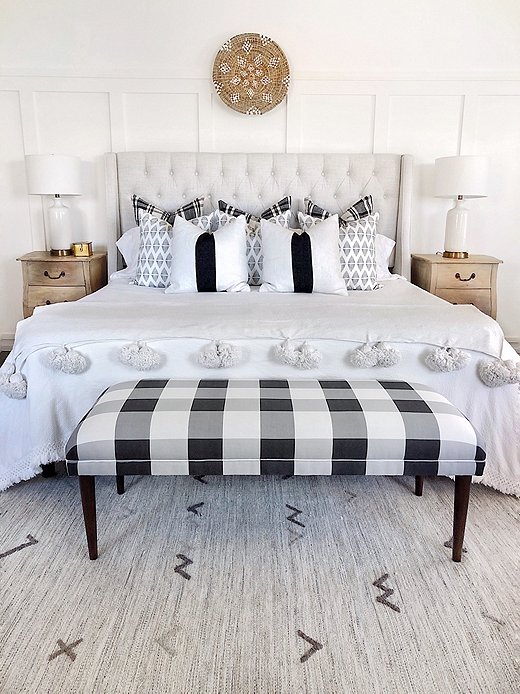 Paisley
As with Pagodas, you can make this classic pattern whimsical or bold simply by ramping up the size of the print or choosing a quirky combination of colors. Alternatively, if you're just dipping your toe into the wonderful world of pattern, start with a tone-on-tone color duo, such as silver on ivory, scaled down to small on a clean-lined piece such as the Alameda Bench.
Gingham
You can't go wrong with gingham for bringing breezy, time-honored charm to a room. Petite red checks on the Anne Skirted Storage Ottoman in a rustic entry; large orange checks on the Carson Accent Chair in a modern-leaning bedroom—so many possibilities!
Lemons
With its parade of fruits and leaves, this pattern can be delightfully retro or vibrant and zesty. For the former effect, opt for classic green leaves and yellow lemons; for the latter, go wild with your colors—raspberry! teal! coral!—and scale up the pattern to large. Whichever direction you go in, this pattern on the Marie Accent Chair or the Bacall Settee will brighten up any eat-in kitchen.
Stripe
Slender chambray and ivory stripes on the Daphne Slipper Chair bring a dollop of French countryside charm to a living room. Midsize pebble and black stripes on a set of Marie Accent Chairs smarten up a dining room. And large stripes in a bold color pairing—raspberry and yellow, for instance—whether on the Bacall Settee or a pair of pillows, will rev up any space.
Vines
This lyrical pattern has a traditional feel. Rendered in soft neutrals such as stone, gray, or dusty green on the Holmes Accent Chair or the Hayworth Storage Bench, it would feel right at home in an English sitting room or a Southern-style entry.
Dots
These artfully irregular dots look so cosmopolitan when rendered in midsize white on black (or black on white, for that matter)—especially on the Quinn Swoop-Arm Chair or the sleek Novak Headboard. For a guest bedroom your visitors will remember long after they've returned home, try a fresh color combo such as coral and sky blue, scale the pattern to large, and use it on the Tallman Headboard.