Whether it's referencing his design book for tips or seeing what he's up to on Instagram, the work of Nate Berkus is pretty much a constant source of inspiration for us. We asked Nate to lend a hand with some of your decorating dilemmas and, not surprisingly, he was totally game. Your questions came flooding in from Facebook, Twitter, and Instagram; see below for his gems of decorating wisdom.
What's the best way to brighten up an apartment that gets very little natural light?—@maxbrownawell
I have lamp problems. I tell myself, "No more lamps," and then I buy one on One Kings Lane that same day. Fact is, most people don't have enough lighting in their home. Every space needs three to five light sources. For a space that doesn't have a lot of natural light, it is essential to have multiple light sources. Also stick with lighter walls and fabrics for the larger-scale pieces in the room.
What is your least favorite color to decorate with? What is your favorite color to use?—@chrisclark182
I gravitate toward a neutral palette. Living in a city like New York, doing what I do, I like to come home to something that feels simple and pared back. My go-to color scheme right now is black, white, and tan. Gray is also a huge favorite. The thing is, it's a lot easier to change out a pillow or a throw than it is a paint color or an important piece of furniture. But my least favorite: probably red.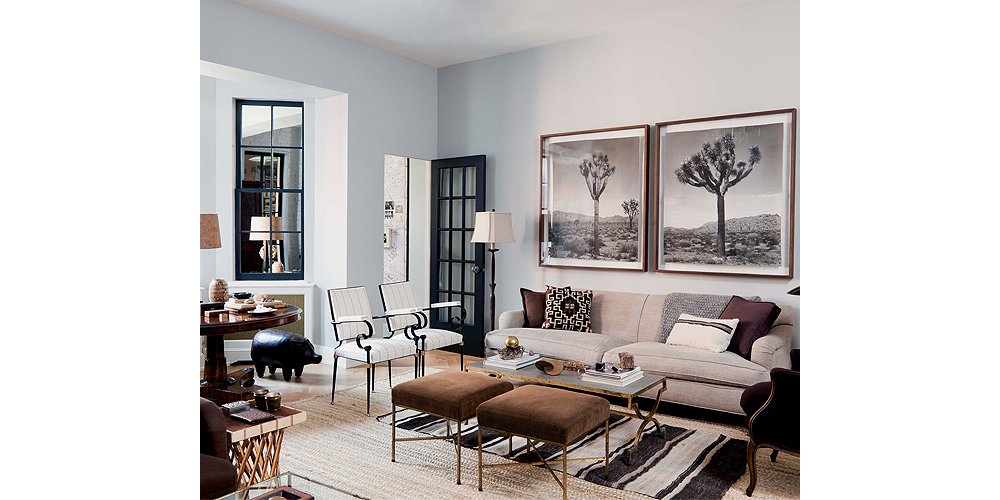 I like the simplicity of white walls, but my living room walls seem bare. Any way to spruce them up without painting?—@alinatrach
White walls are so elegant, but every wall needs character. I always love a gallery wall or an oversize mirror. Or take a page from the playbook of the contestants from American Dream Builders and make your own art. At the start of the season I said it bugged me when people made art because it often looks off. But by episode 2 in Palm Springs I had eaten my words!
What are your tips for creating spot-on vignettes?—@FranceButterfly
Every surface in your home is an opportunity to create a scape, a story. Pick a favorite accessory, and start adding other pieces in a mix of materials, textures, and heights. Always think in terms of three, five, and seven: Groups of odd numbers tend to work better.
I have pretty eclectic tastes. What's the best way to tie together all the various elements to make each room individually great and the overall look cohesive? PS: You are my design crush!—@runtoradiance
There really aren't any rules except one: If you love it, you can live with it. Mix French chairs with a Eastern sideboard. Mix country and city. The best design is one where someone took a risk. It's all in how you edit the different genres and styles together to create a look that's unique to you.